This listing is no longer available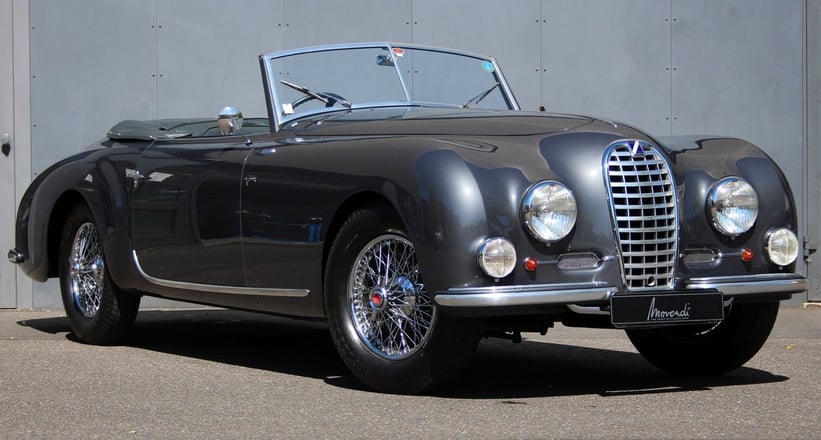 1948 Talbot Lago T26
Record Graber
Location

Performance

170 PS / 126 kW / 168 BHP
Description
- Graber Karosserie
- Schnell und zuverlässig
- Concours Restauration
Fahrzeughistorie:
1935 übernahm der Italiener Antonio Lago das Talbot-Werk in Suresnes. Unter seiner Leitung und dem neuen Firmennamen Talbot Lago wurden bis 1937 zwei völlig neue Automodelle mit Sechszylindermotoren (2,7 und 3 Liter Hubraum) entwickelt. In den folgenden Jahren entstanden in Kooperationen mit den namhaftesten Karosseuren Europas einige der aufregendsten Fahrzeuge der Vorkriegsgeschichte. Zu diesen Karosseriebauern gehörten: Figoni Falaschi, Chausson, Saoutchik, Partout und Henri Chapron. Es wurde sogar ein Cabriolet von Graber und eines von Ghia gefertigt. In der Rennsaison 1939 wurden in Suresnes zwei Grand-Prix-Fahrzeuge entwickelt. Nach dem Zweiten Weltkrieg stellte Lago den Talbot Lago Record und den Grand Sport mit einem 4,5-l-Motor vor und konnte damit sportliche Erfolge, wie zum Beispiel den Le-Mans-Sieg 1950 mit Louis Rosier am Steuer erzielen.
Ausgeliefert wurde dieser Talbot Lago 1948 in die Schweiz an Herrn Dr. med. Victor in Zürich, der den Talbot Lago mit dieser wunderschönen Graber Karosserie versehen ließ. Der Wagen wechselte noch einige Male den Besitzer, bevor er nach einem sehr schönen Artikel in der Motor Klassik, die diesen Talbot Lago zeigt, zum jetzigen Besitzer überging. Dieser Besitzer führte den Talbot Lago seiner exklusiven Sammlung zu. Er wurde dann von dem renommierten Restaurationsbetrieb Zweimüller für ca. 456.000,- Euro komplett neu aufgebaut.
- Graber body
- Fast and reliable
- Concours restoration
Vehicle history:
In 1935 the Italian Antonio Lago took over the Talbot company in Suresnes. Under his leadership and the new company name Talbot Lago, two completely new car models with six-cylinder engines (2.7- and 3-liters displacement) were developed by 1937. In the years that followed, some of the most exciting vehicles in pre-war history were built in cooperation with the most famous coachbuilders in Europe. These coachbuilders included: Figoni Falaschi, Chausson, Saoutchik, Partout and Henri Chapron. A Graber and Ghia convertible were also produced. In the 1939 racing season, two Grand Prix vehicles were developed in Suresnes. After the Second World War, Lago presented the Talbot Lago Record and the Grand Sport with a 4.5-liter engine and was able to achieve sporting successes such as the Le Mans victory in 1950 with the driver Louis Rosier.
This Talbot Lago was delivered to Switzerland in 1948 to Dr. med. Victor in Zurich, who had the Talbot Lago fitted with this beautiful Graber body. The car changed hands a few more times before it came to the current owner after a very nice article in the Motor Klassik magazine showing the Talbot Lago at hand. Its owner added the Talbot Lago to his exclusive collection. It was then completely rebuilt by the renowned restoration company Zweimüller for around 456,000 euros.