This listing is no longer available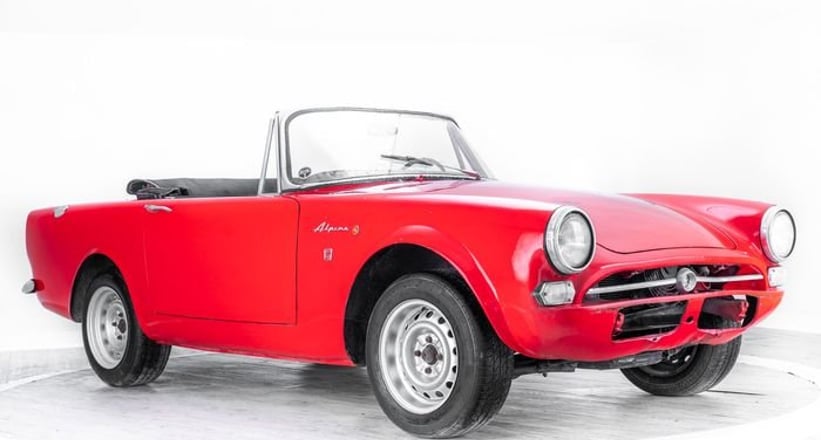 Location
Description
The Alpine is a car built under the Sunbeam brand name, from 1953 to 1975.
It was a two-seater sports car with a roadster or coupé and was produced in five series.
The fifth and final series was marketed from 1965 to 1968. The final version had a five-bearing engine with 1725 cc displacement, two carburettors and 100 hp of power.
This Sunbeam was auctioned on 12 April on Catawiki; the buyer could not complete the purchase for personal reasons despite having viewed the car in person and finding it to be as described; it is therefore being offered again at auction.
This car is one of the last produced in 1968, a 5 Series version with a 1725 cc engine with more power and higher performance. Fitted with optional period kit with Weber DCOE carburettors made in Bologna.
It has had only one owner, it still has original number plates and registration certificate; it was delivered new in Italy and was probably assembled by the Carrozzeria Touring, where a census is being taken. Rare and special black "MIGO" plate of first registration.
It has not been used since the death of the owner and has always been stored in the garage.
The body has an attractive design with the "big" tail wings typical of the last series; it is in good condition, very solid but with several surface imperfections and signs of ageing.
Interior with vinyl seats and dashboard, complete and well preserved; it shows signs of normal use.
The hood is in good condition; it opens and closes easily.
The chassis and undercarriage are solid, with normal signs of use.
The mechanics have not been used for over 30 years and does not start, so the car needs to be fully serviced before being used on the road; the braking system needs to be overhauled. The former owner had used the car for some competitions but we could not trace the racing history.
It is extremely rare to find these cars delivered new in Italy with their black registration plates and only one owner.
The feeler gauge test was carried out on the body and showed no major accidents (as shown in photos).
A video of the car is available; please, contact Catawiki.
Bidders are welcome to view the vehicle which is located in Quarrata 51039, PT, Italy. Send a message to Catawiki to ask for an appointment in person; you can also book a video call from your smartphone.
We can arrange transfer of ownership or exports documents remotely. Affordable shipping to Italy, Europe and rest of the world. You can also conveniently pick up the car on site, as it can stay 15 days at our storage facility free of charge.
We recommend viewing the vehicle before the end of the auction, even via a video call on your smartphone (WhatsApp, FaceTime). Send a message to Catawiki for an appointment. The seller reserves the right to claim compensation if the buyer does not pay for the purchase in accordance with the sales contract, which automatically comes into existence with the winning bid and obliges the buyer to make payment (which can be made through the seller's website).
Follow our NO RESERVE auctions.This Classic Car is for sale on Catawiki. To have more information or to place a bid click on the "BID NOW" button.