1934 Rolls-Royce Phantom II
Mulliner-Karosserie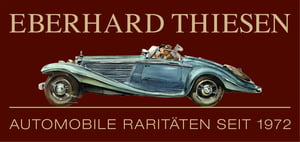 Eberhard Thiesen GmbH & Co. KG
Location
Description
• Baujahr: September 1934
• Farbschema: schwarz und dunkelrot mit brauner Lederausstattung
• Karosserie: H.J. Mulliner
• Motor: 7.668 ccm 6-Zylinder-Reihenmotor mit ca. 120 PS
• Lenkung: Rechts
• Fahrgestell, Motor und Karosserie sind nummerngleich
• Laut den angebrachten Chromschildern wurde der Wagen über den Rolls-Royce / Bentley-Händler Jack Barclay in London an den Earl of Warwick ausgeliefert.
• Lange Zeit Teil einer Schweizer Privatsammlung
• Der Wagen hat eine sehr schöne Ausstrahlung mit feiner Patina und vielen Details
• Verkauf zum Nettopreis. Das Fahrzeug wird mit einem Schweizer Fahrzeugausweis verkauft und muss eventuell noch vom Käufer importiert und versteuert werden.
Der Rolls Royce Phantom II wurde 1929 als Nachfolger des Phantom I vorgestellt. Er galt insbesondere wegen seiner exzellenten Konstruktion als auch dank der Nutzung modernster Fertigungstechniken als großer Fortschritt. Sein Reihensechszylinder mit 7668 cm³ Hubraum und hängenden Ventilen wurde vom Vorgänger übernommen. Das Aggregat war jedoch technisch modifiziert und leistete nun ca. 120 PS bei 3.500 U/min. Dieser Rolls-Royce war das letzte Modell mit Sechszylinder, dessen Entwicklung vom Entwurf bis zur Fertigstellung komplett unter der Regie von F. Henry Royce erfolgte. Die Kraftübertragung erfolgte über ein manuelles, unsynchronisiertes Vierganggetriebe an die Hinterräder. Ab 1932 wurden der 3. und 4. Gang synchronisiert, ab 1935 auch der 2. Gang. Das Fahrwerk mit einer starren Vorderachse an Halbelliptik-Blattfedern war ebenfalls vom Vorgänger abgeleitet. Hinten gab es jedoch eine Starrachse mit halbelliptischen Blattfedern statt der Cantilever-Federn. Sie wurden unter der Achse durchgeführt und boten so den Vorteil, sehr elegante Karosserien mit einer niedrigen Linienführung zu verwenden. Alle 4 Räder waren mit Trommelbremsen ausgestattet, die bereits eine Servounterstützung hatten.
Ausschließlich für den Phantom II gab es eine "Continental" Version, die für die Absatzregion Kontinental-Europa modifiziert war. Diese Ausführung hatte einen auf 3.657 mm verkürzten Radstand und wurde üblicherweise mit leichteren Karosserien versehen um Gewicht zu sparen. Wie damals bei Luxusfahrzeugen üblich wurden auch bei Rolls-Royce nur das Fahrwerk und Antrieb als "Rolling Chassis" hergestellt. Die Karosserien wurden dann nach Kundenwunsch von verschiedenen Coachbuildern aufgebaut. Die bekanntesten Karosseriebauer für Rolls-Royce waren Park Ward, Mulliner und Hooper. Insgesamt wurden bis 1935 1.681 Rolling Chassis am Standort in Derby gefertigt. Darunter waren 281 Continental-Versionen und 125 Exemplare linksgelenkt.
----------
• Date of manufacturing: September 1934
• Colour scheme: black over dark red with brown leather interior
• Body built by H.J. Mulliner
• Engine: 7,668 cc 6 cylinder in-line
• Steering: RHD
• Chassis, engine and body have matching numbers
• According to the chrome plates the car was delivered via RR/Bentley dealer Jack Barclay in London to the Earl of Warwick
• For a long time part of a Swiss private collection
• The car has a very nice appealing with fine patina and many details
• Price is a net amount. The vehicle is sold with a Swiss vehicle registration document and may still need to be imported and taxed by the buyer
The Rolls Royce Phantom II was introduced in 1929 as the successor of the Phantom I. It was considered a great step forward, especially because of its excellent construction and the use of the most modern manufacturing techniques. Its in-line six-cylinder engine with 7668 cm³ displacement and overhead valves was taken over from its predecessor. However, the power unit was technically modified and now produced about 120 hp at 3,500 rpm. This Rolls-Royce was the last model with a six-cylinder engine, whose development from design to manufacture was completely under the direction of F. Henry Royce. Power was transmitted to the rear wheels via a manual, unsynchronised four-speed gearbox. From 1932, 3rd and 4th gear were synchronised, and from 1935, 2nd gear as well. The chassis with a rigid front axle on semi-elliptic leaf springs was also derived from its predecessor. At the rear, however, there was a rigid axle with semi-elliptic leaf springs instead of cantilever springs. They were carried out under the axle and thus offered the advantage of using very elegant bodies with low body lines. All 4 wheels were equipped with drum brakes, which already had servo assistance.
Exclusively for the Phantom II, there was a "Continental" version, which was modified for the sales region Continental Europe. This version had a wheelbase shortened to 3,657 mm and was usually fitted with lighter bodies to save weight. As was usual for luxury cars at the time, Rolls-Royce produced only the chassis and drivetrain as a "rolling chassis". The bodies were then built to tailor-made customer specification by various coachbuilders. The best-known coachbuilders for Rolls-Royce were Park Ward, Mulliner and Hooper. A total of 1,681 Rolling Chassis were built at the Derby site up to 1935. Among these were 281 Continental versions and 125 left-hand drive examples.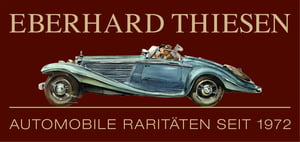 ---
Eberhard Thiesen GmbH & Co. KG
Contact Person
Kontaktperson
---