This listing is no longer available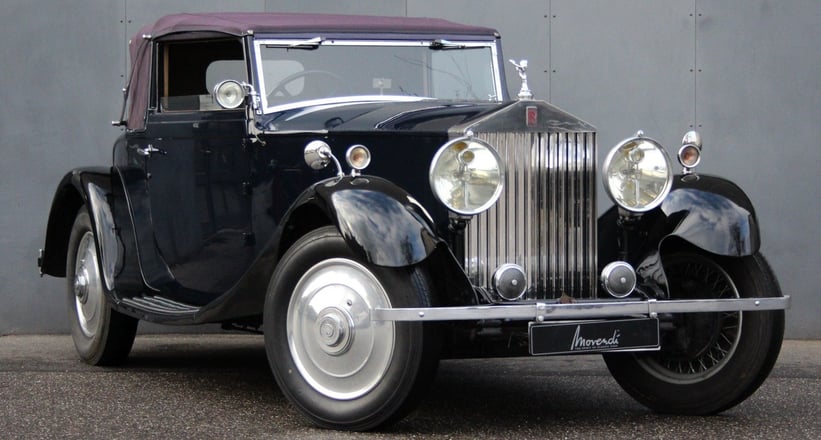 1932 Rolls-Royce 20/25 H.P.
Drophead Coupé
Location
Description
- Coachwork bei Windowers - London
- 1932 an Mrs. Martin nach Kingsmore geliefert
- Auslieferungskennzeichen YP 9394
- 4 Gang Getriebe mit Overdrive
- Vor einigen Jahren komplett restauriert
- Regelmäßig gewartet und bei vielen Ausfahrten eingesetzt
Fahrzeughistorie:
Sehr ungewöhnlich für die damalige Zeit wurde dieses Rolls Royce Drophead Coupé an eine Frau nach Sunningdale in Kingsmore ausgeliefert. Es ist heute sehr schön erhalten und erhielt erst letztes Jahr eine Motorenüberarbeitung bei einem der bekanntesten Spezialisten für die edlen Engländer hier in Deutschland. Das 2 Position Drophead Coupé ermöglicht es durch seine Dachkonstruktion, entweder mit komplett geschlossenem Dach, nur mit der Fahrersitzbank offen oder komplett offen zu fahren. Seit 2008 gibt es eine Zulassung in Deutschland. Das originale, englische Kennzeichen YP 9394 ist nach wie vor montiert. Insgesamt ein sehr schön authentisches Gefährt mit einer attraktiven Windowers Karosserie aus London. Die großen Scheinwerfer von Marchal und das noch rot unterlegte Logo von Rolls Royce, also noch produziert kurz vor dem Tod von Sir Henry Royce, sind schöne Details, die an eine lange vergessene Zeit erinnern. Umso schöner, wenn man damit noch fahren kann. Der aktuelle Besitzer dieses Schmuckstückes bewegte es gerade noch von seiner 80 km entfernten Heimat zu uns in den Showroom.
- Coachwork at Windowers, London
- 1932 delivered new to Mrs. Martin at Kingsmore
- Delivery number plate YP 9394
- 4 speed gearbox with overdrive
- Completely restored a few years ago
- Regularly maintained and used on many trips
Vehicle History:
Very unusually for the time, this Rolls Royce Drophead Coupe was delivered to a woman in Sunningdale in Kingsmore. It is beautifully preserved today and just last year received an engine overhaul at one of the best-known specialists for the noble Englishmen here in Germany. The 2 position drophead coupe's roof design allows it to be driven either with the roof completely closed, with just the driver's seat open, or completely open. Since 2008 the car is registered in Germany. The original, English license plate YP 9394 is still mounted. Overall, a very nice authentic vehicle with an attractive Windowers body from London. The large Marchal headlights and the Rolls Royce logo, which is still red and was produced shortly before the death of Sir Henry Royce, are nice details that remind of a long-forgotten time. All the nicer if you can still drive it. The current owner of this Rolls-Royce moved it from his home 80 km away to our showroom.