This listing is no longer available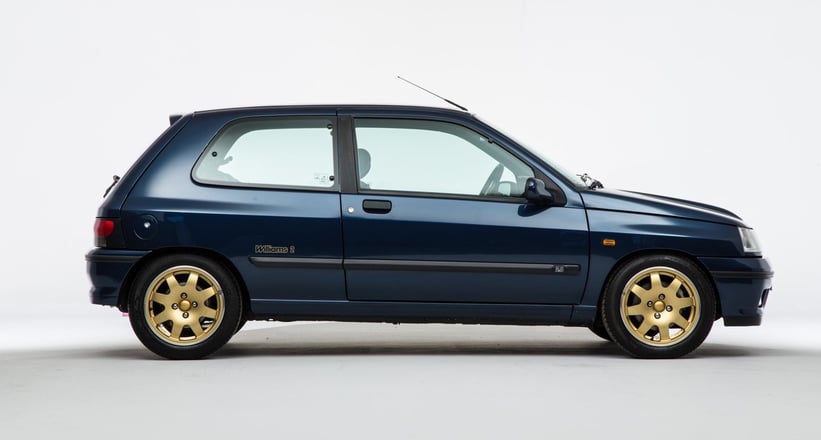 1995 Renault Clio
WILLIAMS 2 // ONLY 6K MILES // TIME WARP CONDITION
Location
Description
FOR SALE; ONLY 6k miles // Time warp condition
EQUIPMENT
SuperGloss Metallic paint, 449 Sports Blue, Body Coloured bumpers, Speedline light Alloy wheels, Tinted Glass, Heated rear window, Rear wiper, Fog lights, Power Steering, Coolant temperature, Oil pressure, temperature and level gauge, Sports Seats, Electric adjustable mirrors, Electric Front Windows, Opening rear quarter windows, Sports Steering wheel, Stereo Radio/Cassette.
EXTERIOR
Finished in a deep and glossy shade of 449 Sports blue this Clio Williams 2 is outstanding in everyway. Having had just 2 owner and garaged from new while only covering a mere 6k miles it is no surprise that the condition of this hot hatch is more reminiscent of a new car sat in a Renault showroom in the 90s than a used example.
The paint is completely original all over and shimmers with an almost wet look. The black plastic trim is unmarked with no fading or damage to speak of with a deep textured matt finish as was when new.
Lights remain crystal clear as do mirrors and badges around the body, window glass scratch and scuff free with original stickers from Elf and the supplying dealer in perfect condition and sat proudly in the rear screen. The only signs of use on this timewarp classic is a couple of small stone chip on the bonnet bulge.
INTERIOR
The interior echos the exterior condition and in keeping with its new car presence with the cabin exuding a freshly built smell. The steering wheel, like the gearknob retains its deep texture and quite frankly looks like it has never turned a wheel.
The original radio sits neatly in its cubby hole, positioned centre dash with a closable cover and removable part fascia for security. The usual questionable Renault build quality of the 90s is not yet present here with the dash firmly put together with all switch gear solid with positive action and a satisfying clicks.
The rear seats appear never to have been used and the rear parcel shelf, prone to sagging, is in perfect condition with its luggage case neatly attached below.
ENGINE & TRANSMISSION
The 2L 16v engine presents as new, sat in a spotless engine compartment. There is no rust to be found with all nickel plated bolts and fittings perfect with no signs of aging just a rich gold appearance. The heat shield (prone to falling apart) reflecting heat from the Williams specific 4 branch manifold is in excellent condition.
The jack, neatly stored in the scuttle is still present having never been used and still in impeccable brand new condition.
WHEELS, TYRES & BRAKES
The 15 inch Speedline alloy wheels have never been refurbished and as such show their markings and designations clearly in the correct shade of gold. The polished lips of the alloys retain good lacquer the only signs of use a small scuff on the front passenger wheel.
The wheels are wrapped in period Michelin Pilot HX tyres ll round running 185/55/15 tyres.
HISTORY FILE
Incredibly this iconic hot hatch has only ever had 2 owner, its V5 showing 1 previous owner. It was sold by us for its first owner a few years back who was clearly a perfectionist. This lucky Renault has been garaged from new and looked after with the greatest of care by both of its owners. Common usable items such as the bonnet pull, bonnet stay and wheel brace were wrapped in electrical tape from new to stop them and their adjoining parts being marked during use, such was the commitment of the first owner to keep his prised possession perfect!
The history is packed with original sales brochures, both the Frank Williams title and Renault Williams 2, and magazine and internet reviews.
The original plastic owners wallet is still present with all manuals and operating handbooks. The Williams supplement carefully bagged to ensure longevity.
There is an MOT record to verify the low mileage and two keys with alarm fobs.
Please visit our website for a full write up and additional photographs.
The car is supplied having had an extensive intake inspection. Warranty, Finance, Part Exchange and Worldwide shipping are all available on request.
Buy with confidence: we operate from a 10,000sq ft indoor showroom with the support of a fully functioning 4000sq ft preparation and service centre that includes a professional photo studio that is used by Top Gear, McLaren and Alpine Stars. We have a passionate team that work incredibly hard to ensure all our motor cars go through our rigorous and unique sales process so they are presented in the best possible condition and light, then found homes all over the world.
Keep up to date: Follow us on Facebook, Twitter and instagram. Register on our webpage for the latest stock updates.
** SIMILAR VEHICLES ALWAYS REQUIRED**
Selling? Our commission sale or SOR (Sale or Return) program is a great way to utilise and access our services and facilities while still maximising the return from your vehicle with minimal hassle, If you'd like to take advantage of this then please get in touch for further information. Alternatively If you'd like to move your vehicle on quickly and efficiently with minimal delay then we can make an offer on an outright purchase basis with payment and collection arranged soon after.