This listing is no longer available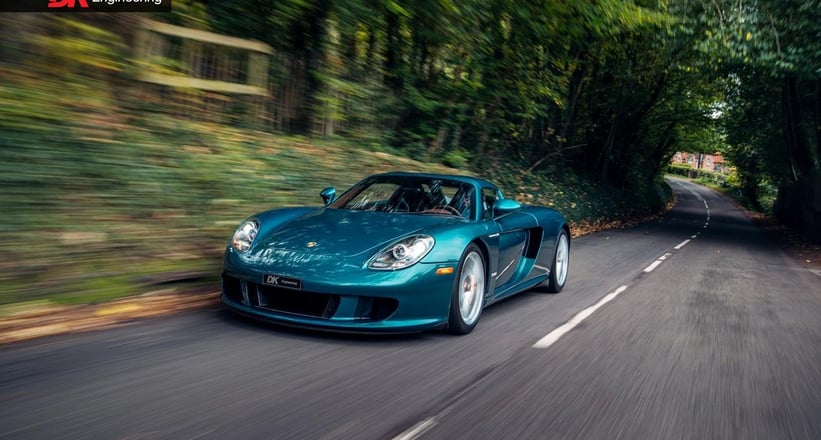 2005 Porsche Carrera GT
Turquoise Green Metallic & Recent Major Service by PGB
Summary
Location
Description
In 1998, Porsche planned on a new Le Mans prototype for 1999. Initially intended to use a turbocharged flat-six cylinder engine, it was later redesigned to use a new V-10 engine, pushing the project back to planned completion in 2000. The V-10 was a unit secretly built by Porsche for the Footwork Formula One team in 1992 but had been shelved. The engine was resurrected for the Le Mans prototype and increased in size to 5.7-litres. Unfortunately, the project was cancelled after two days of testing for the first car, in mid-1999, mostly due to Porsche's wish to build the Cayenne SUV with involvement from Volkswagen and Audi, thus requiring engineering expertise to be pulled from the motorsports division. It was also speculated that VW-Audi chairman Ferdinand Piëch wanted Audi's new Le Mans Prototype, the Audi R8 not to face competition from Porsche in 2004.
Porsche did keep part of the project alive showing a concept car at the 2000 Geneva Motor Show, mainly in an attempt to draw attention to their display. Surprising interest in the vehicle and an influx of revenue provided from the Cayenne helped Porsche decide to produce the car, and development started on a road-legal version that would be produced in small numbers at Porsche's new manufacturing facility in Leipzig, Germany. Porsche started a production run of Carrera GTs for the 2004 model year, the first Carrera GT went on sale in the US on January 31, 2004.
The production-ready Carrera GT didn't stray far from its original race-bred intentions, and was powered by a 5.7-litre V-10 engine producing 612 horsepower closely related to engine. Porsche claims it will accelerate from 0 to 62 mph in 3.9 seconds and has a maximum speed of 205 mph, although road tests indicated that in reality the car can accelerate from 0-60 mph in 3.5 seconds! The Carrera GT had a basic five colour paint scheme which included Guards Red, Fayence Yellow, Basalt Black, GT Silver and Seal Grey. Custom colours were also available from the factory. A traditional six-speed manual transmission is the only available.
In addition to the engine, elements pointing to the cars stillborn Le Mans routes are abundant throughout the car. Attached to this gearbox is a Beechwood gear knob which pays homage to the wooden gear knob used in the Porsche 917. In typical Porsche fashion, the ignition is to the left of the steering wheel. A Porsche fixture, this placement dates back to the early days of Le Mans racing when drivers were required to make a running start, hop into their cars, start them and begin the race. The placement of the ignition enabled the driver to start the car with his left hand and put it in gear with his right.
Delivered new to E.B. Robinson Jr in Jackson, Mississippi through Higginbotham Automobiles (the official Porsche dealership in Jackson) in November of 2005, this U.S.-specification Carrera GT was originally finished in GT Silver over an Ascot Brown interior. It was optioned with the high-amp battery, air conditioning, and the Becker Porsche sound system. Rather than keep the car locked up in his garage, the car was driven on a regular basis over the ensuing years by its first owner. From 2004 to 2011, the car accrued some 37,500 miles with its original owner, averaging just over 6,000 miles a year during its time in the U.S. As one would expect given its regular use, while in the U.S. it was fitted with a RUF nose-lift kit, improving the car's usability. Its history file includes invoices from 2005 to 2011 showing regular servicing throughout its life in the U.S. at Higginbotham Automobiles, Stevinson Imports (the official Porsche dealership in Littleton, Colorado), and Niello Porsche in Rocklin, California.
In 2016, the car was exported to Belgium where it remained in a private collection and it was registered in the EU. Just last year, the car was imported to the U.K. with its fourth owner from new and subsequently U.K. registered in July 2021. Its last major service was carried out in February 2021 by Porsche Centre reading at 38,253 miles and at this time, its camshafts were replaced which also included new tappets, air purge lines, and adjusting discs, along with all ten ignition coils and the starter motor. All new tyres were fitted along with the front brake discs and pads, and this service totalled £52,325. A clutch reading at the time showed a measurement of 30.67 mm (98.9% of its original width).
After coming into DK Engineering's custodianship earlier this year, upon an inspection of the car, it was determined that although original, the car's paintwork exhibited many stone chips throughout and was in need of a repaint. Rather than repainting in the original colour, the most common colour on Carrera GTs, we decided to go a slightly different route.
Inspired by the Paint to Sample 993 GT that we currently have on offer, the decision was made to repaint the Carrera GT in Turquoise Green Metallic to match. A Paint to Sample colour available at the time of the Carrera GTs production, to our knowledge, no other example has been finished in this colour, making this Carrera GT wholly unique in its current livery. The colour presents beautifully; originally a 993 colour it appears blue in direct sunlight but green as the light wains. The colour change was completed by Porsche GB at Reading. It was fully stripped of all its body panels to complete the repaint and after removing the panels, Porsche Centre Reading found that there were no obvious signs of previous repairs or damage. This is further supported by a clean Carfax report from its time in the U.S. The whole process was fully documented and these images are available on request.
Undoubtedly one of the most unique and eye-catching Carrera GTs in existence today, this presents a very interesting proposition. Cosmetically, the car presents in wonderful condition throughout, with the repaint having been completed in October 2021. With just under 38,500 miles on the odometer, it was clearly well used and enjoyed by its original owner in the U.S., and given its major service in February of this year, it is ready to be used and enjoyed as its manufacturers intended. Road registered in the U.K. and modified to comply to U.K. regulations with a valid MOT, it can be used here worry-free. Alternatively, its U.S. specification components have been retained, and it would be possible to return the car to the U.S. to be used and enjoyed there.
Ready to be inspected at our facilities just outside of London, this is undoubtedly the most interesting Carrera GT on offer today and one that begs to be used as its manufacturers intended.
Please refer to our main website www.dke.co.uk for full details, additional photos, our terms of sale and accurate pricing as some websites may use out of date currency exchange rates: https://www.dkeng.co.uk/ferrari-sales/1538/blue_chip_competition_cars/porsche_carrera_gt.html