This listing is no longer available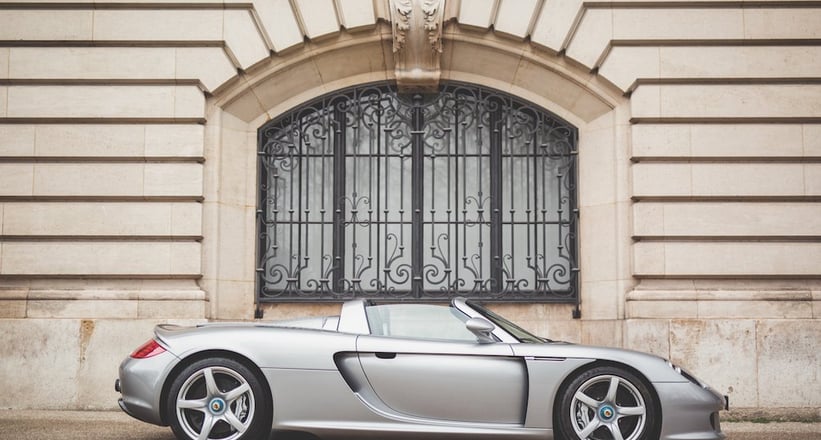 Summary
Location

Performance

612 BHP / 621 PS / 457 kW
Description
Septembre 2000, un concept car étrange descend lentement les Champs-Elysées. L'auto se dirige vers le Caroussel du Louvre où elle est attendue par une centaine de journalistes invités par le constructeur. Porsche avait promis une surprise, mais personne ne s'attendait à une telle révélation et la Carrera GT en a scotché plus d'un. Il faudra attendre plus de deux ans pour voir la Carrera GT passer des moquettes de salon à l'asphalte.
Point de départ du projet Carrera GT, un V10 de compétition lubrifié par carter sec. A la fin des années 90, Porsche cherche une succession à la 996 GT1 de course (qui a également été produite en version civile à 25 exemplaires). Mais un changement de règlement fait avorter le projet. L'idée d'utiliser ce bloc conçu pour la compétition dans une routière de haut niveau fait peu à peu son chemin. Reste à développer toute la technologie qui va avec. Porsche conçoit donc un châssis monocoque ouvert en fibre de carbone et plastique composite (CFP). Le moteur est relié à cette structure grâce à un "faux" châssis en carbone. Un berceau au final ultra rigide et extrêmement léger.
L'apparition du deuxième berceau permet à Porsche d'abandonner le moteur porteur qui était dans le concept. Les désagréments d'une telle monte étant trop importants pour une auto destinée à des clients. Le premier concept présentait donc le fameux V10 5,5 litres ouvert à 68°. Sa puissance était alors de 558ch. Sur la version finale elle passe à 612cv. Il est accouplé à une transmission manuelle avec un embrayage en céramique. Cette technique permet de réduire le poids et d'abaisser le centre de gravité de l'auto.
La Carrera GT tout comme la Ferrari Enzo ont été à l'origine du renouveau des supercars. Ces autos ont permis d'entrer dans une nouvelle ère sportive en proposant des performances spectaculaires. La Carrera GT réalise le 0 à 100km/h en 3"9, atteint 200km/h en moins de 10 secondes et franchit la barre des 330km/h. Pour parvenir à de tels résultats Porsche a énormément travaillé afin d'obtenir une auto légère (1380Kg) et un centre de gravité le plus bas possible.
La Carrera GT sera produite à 1 270 exemplaires, dont la moitié en specs américaines.
L'auto présentée est une Porsche Carrera GT de 2004. Livrée neuve en France, l'auto a connu 2 propriétaires.
Elle est dans une livrée Argent GT, intérieur en cuir noir.
L'auto a toujours été parfaitement entretenue et n'a évidemment jamais été accidentée. Elle est en partait état de présentation. La carrosserie ne souffre d'aucun défauts. les jantes sont en parfait état. Toutes les factures d'entretien sont présentes (plus de 65 000 euros de factures d'entretien), ainsi que bien entendu les livres de service.
Le dernier gros entretien a été fait en mars 2017 à 21 240 km (entretien des 20 000, remplacement des plaquettes, amortisseurs AR, arbres à cames, ... pour un montant de 39 000 euros). A noter que l'embrayage de l'auto a été changé en 2012 à 13 000 km, il fonctionne toujours parfaitement. Une housse sur-mesure équipe l'auto.
Le contrôle technique de l'auto est à jour et est vierge de défauts.
N'hésitez pas à nous contacter pour davantage de renseignements.
Crédits photos Mathieu Bonnevie pour Eleven Cars
------------------------------------------------------
September 2000, a strange concept car slowly descends the Champs-Elysées. The car heads for the Caroussel du Louvre where it is awaited by a hundred journalists invited by the manufacturer. Porsche had promised a surprise, but no one expected such a revelation and the Carrera GT has taped more than one. It will take more than two years to see the Carrera GT go from living room carpet to asphalt.
Starting point for the Carrera GT project, a competition V10 lubricated by dry sump. At the end of the 90s, Porsche sought a successor to the 996 GT1 racing car (which was also produced in a civilian version in 25 copies). But a change in regulations aborted the project. The idea of ​​using this block designed for competition in a high level road is gradually gaining ground. It remains to develop all the technology that goes with it. Porsche therefore designs an open monocoque chassis in carbon fiber and composite plastic (CFP). The engine is connected to this structure through a "false" carbon chassis. A cradle in the end ultra rigid and extremely light.
The appearance of the second cradle allows Porsche to abandon the carrier engine that was in the concept. The inconvenience of such a ride being too great for a car intended for customers. The first concept therefore presented the famous 5.5 liter V10 open at 68 °. Its power was then 558hp. On the final version it goes to 612hp. It is mated to a manual transmission with a ceramic clutch. This technique reduces weight and lowers the center of gravity of the car.
Both the Carrera GT and the Ferrari Enzo were responsible for the revival of the supercars. These cars have allowed us to enter a new sporting era by offering spectacular performances. The Carrera GT achieves 0 to 100km / h in 3 "9, reaches 200km / h in less than 10 seconds and crosses the bar of 330km / h. To achieve such results Porsche has worked hard to obtain a light car (1380Kg) and the lowest possible center of gravity.
The Carrera GT will be produced in 1,270 copies, half of which in American specs.
The car presented is a Porsche Carrera GT from 2004. Delivered new in France, the car has had 2 owners.
It is in a Silver GT livery, black leather interior.
The car has always been perfectly maintained and obviously has never been in an accident. She is leaving state of presentation. The body does not suffer from any defects. the rims are in perfect condition. All maintenance invoices are present (more than 65,000 euros in maintenance invoices), as well as of course the service books.
The last major maintenance was done in March 2017 at 21,240 km (maintenance of 20,000, replacement of pads, rear shock absorbers, camshafts, ... for an amount of 39,000 euros). Note that the clutch of the car was changed in 2012 to 13,000 km, it still works perfectly. A tailor-made cover equips the car.
The MOT of the car is up to date and is free of faults.
Do not hesitate to contact us for more information.
Photo credits Mathieu Bonnevie for Eleven Cars