This listing is no longer available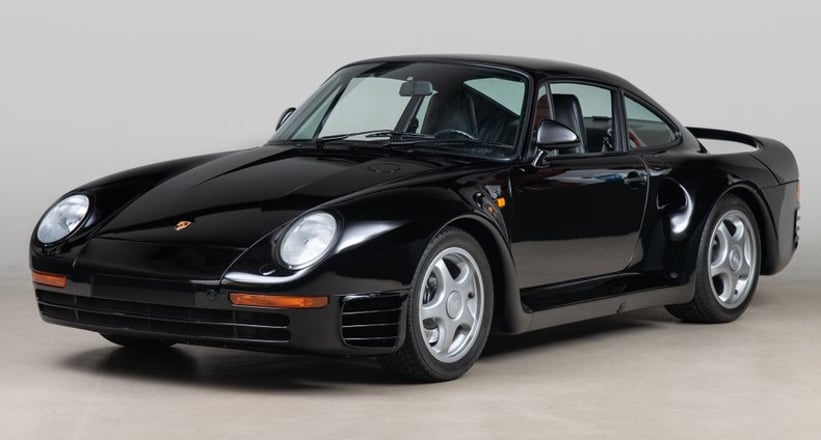 Summary
Location
Description
Extremely rare - special order and special wish example
Unique one-of-one configuration in black over a black leather interior
Upgraded to Porsche factory Stage II with 542 horsepower, 438 lb-ft torque
6,550 original miles (10,541 kilometers) – Recent major Canepa service
Matching numbers per Porsche Certificate of Authenticity
Records, receipts, and documentation from new
Exact production numbers have always proven to be difficult to source, however the commonality across the board shows that around 250 Komfort models were produced, with a total of around 340 Porsche 959s produced. Initial orders were in the realm of $300,000, however the Porsche 959 was a losing proposition for Porsche (at least monetarily) as every car was rumored to cost more than double to produce, and almost bankrupt Porsche. This translated into what amounted to be a deal of the century for anyone able to purchase a Porsche 959.
Any Porsche 959 can be considered a unique and special machine, engineered to the maximum level of what was attainable by Porsche. There are few that stand out among the rest, a rare spectacle, but this black-over-black 959 does this without effort. Underneath the hood remains the factory option code sticker, but instead of 3-digit option codes, there are three 5-digit codes. These codes help illustrate its uniqueness and rarity among even what is arguably a small batch of cars ever built. It was built new by special order for Porsche client Tobias Hagenmeyer, who's family founded the world famous GETRAG gearbox company of which he was president at the time. These three option codes were only recently shed light on by the Porsche Client Services department, nodding to that this 959 was a complete "Special Order/Special Wishes" example. It was optioned with the following:
Special color to sample exterior in black
Special color to sample interior in black
Special carpeting to sample in black
Sport Seats Left and Right in Solid Colors
Electrically Operated Seats Left and Right
Special Bridgestone Tires
Vehicle to Domestic German Road-Rule Specifications
Factory Direct Delivery with Road Registration
Building of Hagenmeyer 959 took place in the Fall of 1988, assembled by Baur. To this day, the 959 retains its matching numbers engine and transmission per the Porsche Certificate of Authenticity. The car was delivered on October 28th, 1988 per the original warranty booklet with matching under hood sticker. To add even more prestige to this special 959, it sports a very rare occurrence: an almost full-service warranty booklet. The car was serviced no less than 13 individual times between 1988 and 2013 at Porsche's Client Services in Stuttgart, supporting the documented low mileage of this rare 959.
In 2012, after 24 years of trouble-free enjoyment, this 959's front bumper cover sustained minor issues and required it to be replaced. The necessary repairs were taken care of at Porsche Client Services under the supervision of Jan Heilman. At the same time, it was decided that the 959 would be fully updated to Porsche Factory Stage II. Including removing the entire drivetrain and being completely overhauled, a variety of improvements including smaller and faster spooling turbos, more efficient intercoolers, a remapped ECU and a plethora of other items were added. After the completion of the repairs and Stage II upgrades, Porsche placed this 959 on a dyno to determine the final power numbers and they did not disappoint: 542.5 horsepower and 438 lb-ft of torque, an impressive increase over the standard 450 horsepower and 369 lb-ft of torque.
In April of 2013, after the long list of upgrades and repairs were made by the Porsche factory, the Hagenmeyer 959 was purchased by Philip Radziwill, a prominent businessman and classic car collection from Monaco.
After arrival in Monaco, Radziwill decided that the paint on the front bumper was not an exact match. He shipped the car to paint specialists, Ross Packard Paintwork of New Milton, Hants, UK. The work performed was so far above the standards of the 1980s, with the quality at such a level that it has on several occasions fooled even the most knowledgeable experts who after inspections believed that it was never painted. The 959's paintwork was completed in January of 2016, and was then sold to an American collector in California who had the car join his fantastic collection of Porsches, Ferraris, and other marques. The most recent owner acquired this car in 2018, putting very few miles on the car since his ownership. During this time he sent the car to Canepa in late 2019 for a complete service, which included: engine oil and filter change, engine coolant flush, transaxle and front differential fluid change, brake bleed, adjustment of the hydraulic clutch, replacement of fuel pumps and replaced old hoses, and the evacuation and recharge of the A/C system which totaled $12,316.47.
Canepa has been involved with the Porsche 959 platform for over 33 years, with Bruce Canepa driving the first 959 on American soil in 1987. Canepa helped pass the Show or Display law in order to allow the importation of these amazing supercars into the country and allow them to drive on US roads. For 20 years Canepa has also been modifying and improving the 959 platform through countless hours of testing, miles, and ingenuity.
Included with this car are its original owner's manuals, warranty booklet with service records, Porsche Client Service receipts for the Porsche Factory Stage II upgrades, Porsche Certificate of Authenticity, tools, jack and safety kit, tire inflation kit and tire gauge, and its first aid kit.