This listing is no longer available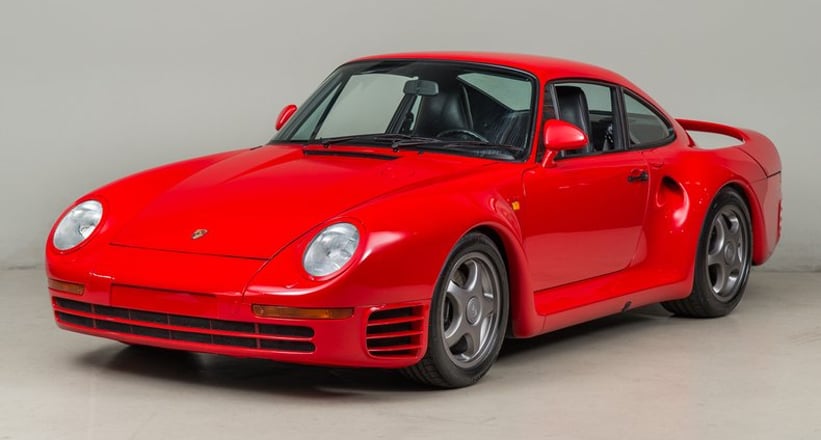 Summary
Location
Description
1987 Porsche 959 Komfort
View high resolution photos https://www.flickr.com/gp/[email protected]/tC62J6
Purchased by Canepa in as-new condition from Japanese Matsuda Collection museum
Porsche Certificate of Authenticity
Showroom-like condition - 100% original Guards Red paint and black leather interior
576 horsepower, 501lb/ft of torque 2.85-liter twin-turbocharged engine
959S suspension with titanium coil-over springs and Bilstein shock absorbers
Rare black leather-to-sample interior
Includes service documents, tools, jack, road reflector, first aid kit
Porsche's legendary 959 was shrouded in mystique starting when it was first announced, and still to this day the all-wheel-drive supercar still emits an undeniable aurora of prestige. Designed to compete in Gruppe B rallying but was never able to participate, the 959 was famously overbuilt and decades ahead of its competition with its advanced technology. Twin turbochargers, advanced torque vectoring, 6-speed manual transmission, adjustable suspension, all while retaining the comfort and refinement from Porsche that everyone had grown to know and appreciate. However, Americans were greeted with the unfortunate fate of the 959 not being allowed into the United States initially causing an uproar. Only after a few special determined individuals in the U.S., including Canepa, helped create the Show or Display law were 959s finally allowed on U.S. soil. Now Canepa was finally able to get their hands on and begin the now-famous Canepa upgrades for Porsche's 959.
The 125th of just 292 examples built by Porsche, this 959 Komfort was completed on December 18th, 1987, and sold to well-known Japanese enthusiast Yoshiho Matsuda. With his own personal Porsche museum in Hakone, the 959 was a fantastic addition. Matsuda ordered his car in the rare specification of leather to sample with an all-black interior. The Porsche 959 spent its entire life in Matsuda's museum until being purchased by Canepa, remaining in as-new condition while in Japan. In 1999, Canepa purchased the 959 directly from the Matsuda Collection, then immediately sold it to Jamie Mazzotta of Newport Coast, California, a friend of Bruce Canepa, a collector and a vintage racer.
Canepa imported the 959 into the United States on September 30th, 1999, and was stored in the Foreign Trade Zone until the car's Show or Display exemption was approved on March 2nd, 2001.
Once the 959 arrived at Canepa's facility, the work finally began to federalize and update the legendary supercar to meet the stringent requirements to drive on U.S. and California roads. The 2.85-liter engine system was spec'd to meet the Federal and California emissions requirements, becoming a true 50-state vehicle. This was no small task, as Porsche 959s were never intended to meet the U.S. EPA emissions requirements.
Due to Canepa's ingenuity in the engineering of the upgrades for the 959, the now smog-legal supercar had its power pushed up to 576 horsepower and 501lb/ft of torque. A substantial increase of 132 horsepower over the stock configuration, the already-respectable 0-60mph time was dropped to just 3.2 seconds.
While the engine upgrade was underway the 959 received other Canepa upgrades to increase driving performance. This included the 959S suspension conversion and modifying the magnesium hollow spoke wheels to accept contemporary high-performance Michelin tires.
In 2017 the 959 would find its way back to where it received a comprehensive service and concours-level detailing of its 100% original Guards Red paint finish and black leather interior. The Porsche 959 is a special car, a car that was on the walls of millions of car enthusiasts, with now being the opportunity for you to take it off the wall and enjoy driving it. Finding a Porsche 959 in the showroom-like condition such as this example is a very rare instance. The combination of Porsche's top-notch engineering paired with Canepa's tasteful and industry-leading upgrades, with the added bonus of being a former integral part of the Matsuda Collection in Japan, you'll be feeling like you're on cloud 9(59).