Location
Description
Click here to view high resolution photos https://www.flickr.com/gp/149927902@N02/u480DX
<font size = "4">New Condition! 40 original miles
<font size = "4">One of only fifteen 924 Carrera GTS "Club Sport" homologation specials
2.0 litre 270 HP 2337 lbs total weight
Delivered new by Bob Hagestad Porsche-Audi in Denver, Colorado
Extensive documentation paperwork, and service records
Porsche Certificate of Authenticity
The Porsche 924 was initially developed between Volkswagen and Porsche to replace the victorious 912 and 914. The 924 would become the new entry level car for Porsche. It was designed using a front engine and rear wheel drive layout, making it Porsche's first road-going front engine production configuration. The 924 was revealed in November of 1975, featuring a 4-cylinder normally aspirated engine. Three years later, a turbocharged version was introduced to the market, and it was an instant hit around the world.
In 1981, Porsche decided to enter Group 4 racing utilizing the 924 production model. The 924 Carrera GTS variant would be 330 pounds lighter, with a lowered suspension and feature an upgraded engine producing 210 HP, the first step into making the 924 a true race car.
Following this, Porsche took another step by creating 50 street legal samples named the Carrera GTS. The car featured fixed headlights, slightly wider wheel arches, and a lightweight hood held in place with hood pins. 3 of these examples competed at the 1981 24 hours of Le Mans and finished in an amazing 6th, 12th, and 13th overall. With this successful recipe, Porsche created 15 examples of the Carrera GTS Club Sport, featuring a larger 2.0L 270HP engine and additional oil coolers, making it one of the fastest production cars Porsche had ever built at the time.
This example was hand-built and completed on 11 February 1981 at the Weissach facility, then shipped to Bob Hagestad Porsche-Audi in Denver, Colorado. It was sold to its first owner, Dr. William Jackson, an ophthalmologist and well-known Porsche collector from Pine Cliff, Colorado, on 23 July 1982.
Known for his discerning eye and exceptional taste, Dr. Jackson was one of the first American collectors to appreciate the significance of early Porsche racing cars. At its height, Dr. Jackson's collection included some of the most important examples of the marque, from four-cam Spyders and rear-engine prototypes to significant Turbo era 911s.
After 24 years in his personal collection, Dr. Jackson sold the Carrera GTS to John Dixon at the Taj Ma Garaj in Dayton, Ohio in August 2005. The vehicle was subsequently purchased out of that collection in 2019 and entered the respected care of Garage 26. Recently serviced in 2021, the car received new engine belts, engine oil, spark plugs, etc.
Upon arriving at Canepa, every vehicle is treated to the "Canepa Difference." This includes a complete mechanical inspection, services as needed, and ultimately road tested by Bruce Canepa. A concours level detail is part of the Canepa Difference, with everything cleaned and detailed to a show level finish-underbody/chassis, suspension, exterior finishes, trim, etc. The front engine compartment, trunk, as well as the interior are also cleaned, ensuring that the Carrera GTS is presented as though it had just rolled onto the showroom floor. With the remaining step being the exterior, the finish is polished and waxed to "as new" finish.
This rare and very desirable 924 Carrera GTS "Club Sport" is supplied with a tool kit, spare wheel, jack, factory literature, dealer correspondence, COA, and a file of service receipts. With its incredibly low mileage, this truly rare and exciting Porsche collectible is not to be overlooked.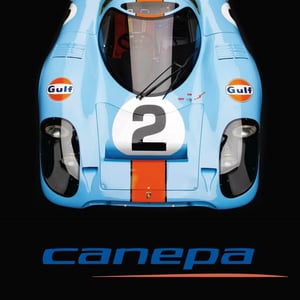 ---
Contact Person
Kontaktperson
---