This listing is no longer available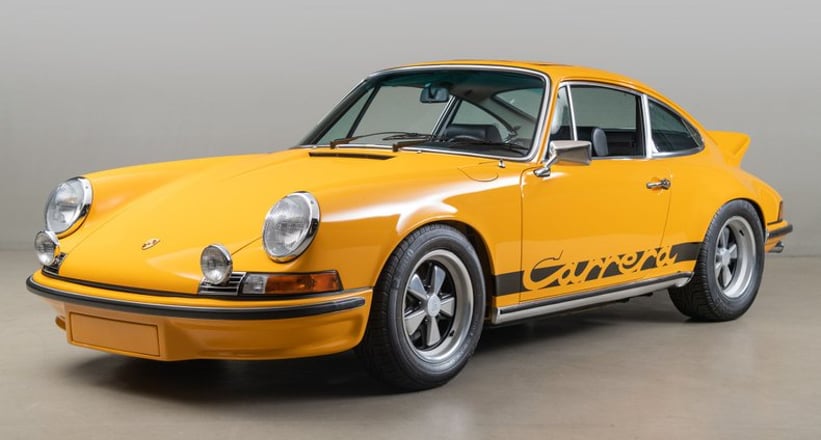 Summary
Location
Description
Click here to view high resolution photos https://www.flickr.com/gp/[email protected]/08y45z
1 of 84 produced in Signal Yellow
Numbers matching engine and transmission
Porsche Certificate of Authenticity
Documented restoration by Jim Newton's Automobile Associates
Highly optioned Carrera RS
2nd Series
Includes maintenance and restoration records
The Carrera RS is one of the most revered cars in the Porsche pantheon, and is regarded as one of the finest sports cars of the 1970s. Revealed at the 1972 Paris Auto Show, it was a factory special built to meet the homologation rules of FIA Group 4 racing. The RS (Rennsport, meaning motorsport or circuit racing) was almost invincible at Le Mans, Daytona and the Targa Florio, often winning outright against pure racing prototypes. It's not often you would see the same car on the podium one day, and passing you on the open road the next. The RS is conclusive proof that one of Porsche's greatest skills was building a car that was immensely competitive at the track, and equally useable as a street car.
Compared with a standard 911S, the Carrera 2.7 RS had a larger engine (2687 cc) developing 207hp (210PS, 154 kW) with MFI, revised and stiffened suspension, a "ducktail" rear spoiler, larger brakes, wider rear wheels and rear wings. In RS Touring form it weighed 1075 kg (2370 lb), in Sport Lightweight form it was about 100 kg (220 lb) lighter, the saving coming from the thin-gauge steel used for parts of the body shell and also the use of thinner glass. In total, 1580 were made, comfortably exceeding the 500 that had to be made to qualify for the vital FIA Group 4 class.
Carrera production started with chassis number 9113600011 (produced in 04/1972) till 9113601590 (produced in 07/1973). There were only 1580 original Carrera Rs divided in roughly three production batches of 500 each. Of those 17 were homologation specials, 200 were Sports versions with M 471 code, 1308 were touring version with M 472 code, and 55 were racing specials coded M 491.
0856 was registered by its first owner in April of 1973 in Germany. The second German owner purchased the car in 1978. He took it in part exchange for a Carrera 3.0 and stored the car until 1985 in a dry garage. At that time the car had only 58,640km (36,437 miles.) It was taken out of storage and completely mechanically and cosmetically restored. In August of 1988 it was appraised in Germany as being in as-new condition.
Sometime between that appraisal and August of 1989 the RS would come to the United States. The next owner of record is James Ladwig of Melrose, Illinois, with maintenance records dating from August 1989 to September 1993. The RS would move into the care of Jeffery Proval, of Chicago, Illinois in October of 1993. Proval would own 0856 for the next 18 years, and, as evidence by a slew of maintenance records, took excellent care of the RS.
In 2011 the RS was acquired by Mark Lunenburg of Farmington, CT and was immediately put in for a complete concours restoration. The two-year process was completed by Jim Newton's Automobile Associates of Connecticut. The extensive receipts show that every element of the car, both mechanical and cosmetic, was immaculately and correctly restored. Returned to its factory-original Signal Yellow paint the car presents exactly as it did in April of 1973.
All this exceptional work was rewarded with a "Best in Class" win and a "Grand Award" at the 2016 Concours d'Elegance of Texas. For the next 4 years, the car was preserved in a private collection, where it only accumulated a total of 60km before arriving to Canepa.
Since arriving at Canepa the Carrera RS was immediately placed into the "Canepa Difference" process, first going through service and reconditioning. Once completed, Canepa's in-house detailing department delivered one of Canepa's signature concours-level details. The underside was cleaned to a show quality standard. The exterior was hand washed, carefully polished and waxed. The interior, engine and trunk were treated to an equal level of cleaning, ensuring nothing was left untouched.
Beautifully restored, unquestionably correct and extremely well-maintained, this striking example personifies the pure and legendary first expression of Porsche's Rennsport 911 models.