This listing is no longer available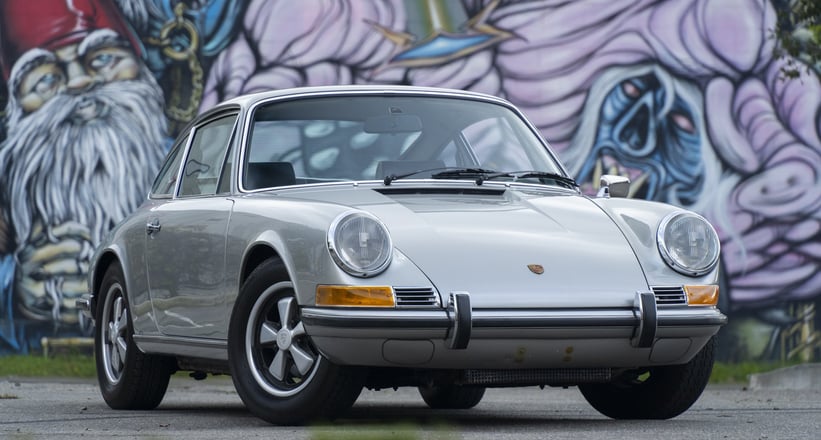 Location
Description
BaT Auction Preview: Substantially original, desirable 2.2L Coupe with rare factory A/C and original leather interior1971 Porsche 911E
VIN – 9111201067Engine No. - *6211754*Exterior Color – SilverInterior Color – Black Leather Engine – 2.2 Liter air-cooled flat 6 cylinderTransmission – 5-speed manual Current Miles – 47,112 Current Owner – Purchased in 2009 with 44,500 milesHighlights of This Car
Matching numbers original with known history from newFactory Air ConditioningBlaupunkt AM/FM radio"S" options include:
Rectangular mirrorLeather interiorAluminum deck lid and rear panelGeneral OverviewCombining classic looks with superb road manners, the Porsche 911 has become one of the most celebrated sports cars in automotive history. The first 911 arrived in the US in 1965, offering agile performance at a modest price. Though ideal for a wide range of uses, Porsche developed ongoing enhancements and each year. In 1968 the wheelbase was increased 2.25" to improve handling, (cleverly relocating the independently sprung rear wheel mounts without changing costly body tooling), and delicately flaring the wheel arches to allow room for wider wheels and tires. In 1969 Porsche introduced the 911E, a formidable blend of performance and technology featuring the Einspritzung (German for injection) 1,991cc six-cylinder, mechanically fuel-injected SOHC engine. Unlike the carbureted 911T and 911S models, the fuel-injected 911E fit nicely between the two models but also offered some luxury features including a leather wrapped steering wheel, velour carpeting, vented four-wheel disc brakes, and gold-toned script on the engine lid. The 911E would remain in the model line until 1973 when it was discontinued. Sales for the 1971 911E coupe totaled 1,124 units for the year, a mere 1.4% of the 81,000 total production for 911 models spanning 1965-1972. History of This CarStored for more than 20 years, this exceptionally rare, low mile 911E was optioned with S model features and factory Air Conditioning. Upon delivery to Century Porsche Motors, Dayton, OH, the car was sold to the original owner, Harold "Bill" Wampler III. Copies of service records saved with the car include a 1975 service with 32,529 miles, followed by a 1977 tune up and general service with 37,834 miles, June 6, 1979, when the A/C was charged, and an oil and filter change performed with 42,826 miles. With approximately 43,000 miles, Wampler placed the car in storage where it would remain from 1980-2002. In 2002 the title was transferred to Douglas Long, Pittsburg, OH. Long stored the car for approximately five years, selling it to Douglass Baker on February 16, 2007. At that time, the car had logged 43,852 miles. In October 2007, then showing 44,425 miles the car was sold to Michael Scott, Los Angeles, CA. The current owner purchased the car in 2009 with 44,500 miles.In 2007 the ignition control unit and coil were replaced, and the front suspension was rebuilt. With 44,495 miles showing in 2007 the transmission was overhauled, new oil return tubes installed, valves adjusted, motor mounts replaced, new cam seals installed, new plug wires fitted, CV joints repacked, and new sway bar bushings installed. Cosmetic work on the exterior of the car included a fresh clear coat on the hood and refinishing of the engine lid as well as PDR performed on the hood, door, and left front fender. In 2009 extensive detailing including removing the seats and carpet for deep cleaning, removing both bumpers to detail and finish, and other careful preservation-based finishing. In 2014 the car was serviced with a new fuel pump, pressure hoses, and a new oil hose installed. In 2016 the engine was tuned up, valves adjusted, new heat exchangers installed, the top of the engine resealed, dual batteries replaced, a Bilstein shock replaced, a new fuel pump installed, front brake calipers rebuilt, new front brake rotors installed, and a left front wheel bearing replaced. Further that same year the car received a new alternator, new rear shocks, and a new oil sender gasket. In 2018 a new coil was installed along with new points, and a new shift linkage.Condition OverviewToday this rare, late production number 1971 911E presents as a handsome original car with preservation-minded finishes consistent with evidence of long-term care by Porsche enthusiasts who value preservation and originality. The odometer indicates 47,112 miles which is consistent with the visual condition of the car, backed by receipts dated to 1975. The exterior finish is glossy and rubber trim is in very good condition with original pieces showing modest signs of age. The doors, hood, and deck lid all open and shut with a confident sound typical of original Porsches. The hood has been refinished with a recent clear coat and the engine lid has been repainted to match. The remaining surfaces of the car appear to retain the original paint as evidenced by digital paint meter readings displaying numbers consistent with factory original finishes. The various trim and emblems throughout the car are in very nice condition with excellent fit and polish to the original components. The chrome headlight trim, rectangular "S" model side view mirror, and door handles are in excellent condition, owing to the 20+ years of storage. The original rear and side glass are in very good condition overall with no major marks of note. The original windshield shows evidence of road use but is otherwise clean and free of major blemishes. The original 15" Fuchs wheels are preserved with no notable rim edge damage. A set of Vredestein SP Classic 185/70HR15 tires are installed. The interior appears essentially original and mercifully preserved. Fortunately, knowledgeable owners and mechanics made every effort to retain original features on the car including the original leather front seats which have a wonderfully relaxed appearance that only honest age can deliver. The door panels and rear seating display finishes and materials consistent with preserved factory original Porsches. Instruments are in excellent visual condition, retaining good function, bright contrasting dial faces, and clear lenses. The Blaupunkt AM/FM radio is in place, while the dash pad and rare factory AC under-dash venting are all in excellent condition as are the controls, radio, and dashboard finished. Even the black basket-weave dash band material remains in excellent condition. Beneath the engine lid, the matching numbers engine and tidy engine compartment reflect once again a handsome combination of originality and preservation. The engine bay and the 2.2 liter engine have been cosmetically and mechanically addressed while retaining the moderate patina through respectful detailing. Correct gold tone engine specification stickers, proper air box housing the fuel-injection unique to the E series 911, and correct engine lid mounted AC unit are just a few of the many preserved details of this 911E.The front storage compartment is in excellent condition and contains a matching Fuchs spare wheel. A correct tool roll, tools, and spare belt are also stored with the spare tire. The underside of the car is in remarkably preserved condition overall, not finished to show standards, but showing no damage or evidence of structural panel replacement. This is a very complete, documented, original, matching numbers Porsche 911E with known history since new and desirable original finishes. Ready to start the next chapter in ownership history, this handsome 911E will delight any 911 purist who enjoys driving and showing an original and rare Porsche. Items Included with the CarThe car is accompanied by a set of factory original tools in a tool roll, original owner's manual packet and Blaupunkt radio reference guides, two sets of keys, a series of "as found" photos of the car when removed from long term storage in 2002, and selected service records dating back to 1975.