This listing is no longer available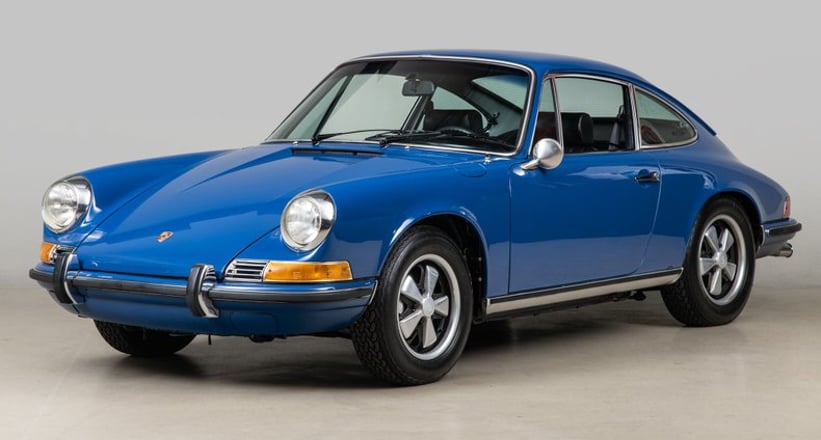 Summary
Location
Description
3 owners since new – 54,608 original miles
100% original Ossi Blue paint, original interior
Matching numbers engine and transmission per original Porsche factory invoice
Original Porsche paperwork, original factory invoice, period documents
2.0-liter 170 horsepower air-cooled flat six engine, 5-speed manual transmission
Has owner's manuals, service documents, tools, jack, and spare
An original Porsche 911 can easily transport a driver back in time through its unique factory touches like textures, smells and finishes. These unmistakable details are what some of the most serious collectors lust for, delivering an authentic charm that cannot be replicated. This original, three-owner 1969 911S Coupe is just that. Custom-ordered and delivered in Europe for delivery, this Ossi Blue over black interior 911 would remain with its owner for 48 years, loved each and every day. With a collection of original Porsche factory paperwork and in exquisite condition, this 911S Coupe is a stunning example of a well loved and cared for automobile.
With a background surrounded by various generations of Porsches, Edwin Shenk would become the first owner of this Ossi Blue 911S. An electrical engineer by trade, he recalled having quite a "thing" for Porsches from a young age. Before owning this 1969 car he had previously owned 3 new Porsches: a 1962 Porsche 356 Coupe, a 1965 Porsche 356SC, a 1966 Porsche 912, and then finally in 1969 purchased this coupe. At 33 years old, he wanted to make an occasion of its delivery, so he made his order and purchase in America but set out to pick up his car in Germany to tour the Europe. According to the original Porsche factory invoice, he optioned the car with factory air conditioning, black leatherette interior, lock for the front luggage compartment, steering wheel lock, tinted side windows, electric heated rear window, speakers, and a retractable antenna. In all, he paid a total of $7,521.06 (28,204 Deutsche Marks).
Picking up the 911S at the end of July, Edwin's tour of Europe consisted of driving through the beautiful countryside of Austria, Italy, Switzerland, and eventually ending up in Holland where he dropped the car off to be shipped to the U.S. in early August. Original shipping documents accompany the car.
After arriving in Westford, MA, the 911S would lead a loved and pampered life. Edwin kept his pride and joy inside of his garage while it wasn't being used for weekend jaunts on the roads of Massachusetts. Because of his undying care and love of the 911S, it still retains all of its factory original Ossi Blue paintwork. The interior is original, as are most of the factory components throughout the car. Being familiar with the Porsche brand and mechanicals from owning 3 cars prior and being mechanically inclined, Edwin performed all of the service work on the car while he owned it. Cared for religiously to remain immaculate and in fantastic working order, the 911S saw the required amount of driving that ensured that its mechanical components stayed fresh and working in proper order.
In his later years, Edwin began to drive the car less and less and recently decided that it was time for the 911S to move on to a new owner. The next owner, who knew about Edwin's car, immediately purchased the car and brought it to Werks 1, Inc. in Sea Cliff, New York where the car was treated to a service, new tires, and new batteries. Shortly thereafter it made its way to its most recent owner also based in New York, joining his well-curated collection of cars. During his ownership he recalled driving the car maybe a few hundred miles, but while in his collection his personal mechanical made sure it was in the proper running order. After a year of ownership, with numerous Porsches in his collection, he decided to let this one go. After a conversation with Bruce Canepa about what could be done with the car, the Ossi Blue 911S arrived at Canepa.
Each and every collector car that comes to Canepa is put through and extensive and diligent process called the "Canepa Difference." This includes a major and comprehensive mechanical inspection where all systems are checked and serviced as necessary. They also receive an award-winning concours-level detailing, a thorough cleaning of each and every surface that ensures that every car is a sight to behold. While taking care of the all original paint Canepa's technicians used only non-aggressive procedures, restoring the shine of its factory original single stage paintwork. Finishing off with a foam-pad-only polish to enhance the paint finish, each and every car is a perfect example and a personification of Bruce Canepa's impeccable attention to detail.
Purchased with the intention of driving it, Edwin started this 911S's life in the proper vein. Enjoying it from the beginning until letting it go until just recently, you can feel the history of this car by sitting inside. Original factory finishes and touches surround you, allowing you to picture how he might have felt picking up the car for the very first time in Germany. With a 911S Coupe in such incredible original condition, you'd be hard pressed to find another. It's a perfect pairing of rare original paint, original interior, and the high-horsepower 911S engine, a perfect companion for future journeys or stunning judges in preservation class events.