This listing is no longer available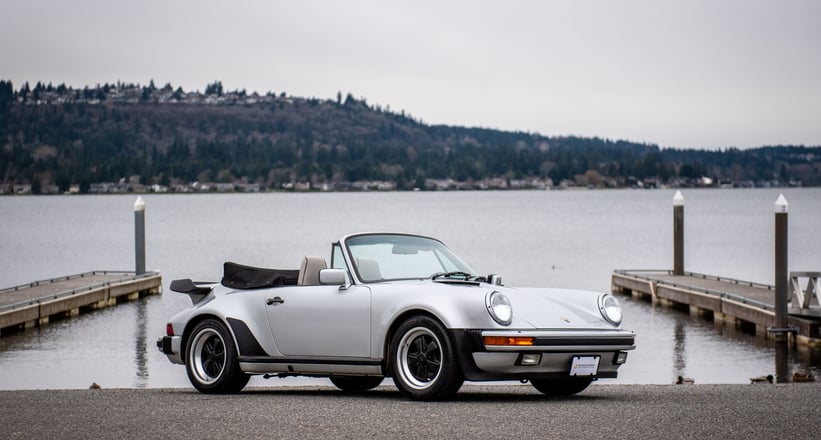 1989 Porsche 911 "Turbo"
Cabriolet
Summary
Location
Description
HIGHLIGHTS
Preservation Grade 32,000 Mile Factory Original Car
Rare Original Factory Preserved Silk Grey Leather Interior
Original Paint, Original Interior, Original Engine and Gearbox
One of just 600 US Delivery Cabriolets Offered in 1989
G50 5-Speed Manual, Offered Only in 1989, The Last Year of Production
OVERVIEW
Looking back on 1980s automotive history, there are precious few performance exceptions that stand out. And while car companies worked hard to meet the standards of enthusiast expectations, one company obliterated those standards in every category – Porsche. Not just any Porsche, an indomitable beacon of light, the Porsche 930 Turbo. Leveraging the iconic 911 body design and winning chassis layout, the 930 was nothing short of sheer performance genius. The wickedly wide rear end, prominent "whale tale" spoiler, and phenomenal performance brought even the most jaded sports car enthusiasts to their knees. The 930 Turbo set top speed records, track records, and inspired legions of dedicated enthusiasts to capture the challenge of piloting one of these cars at full tilt. Few could manage the challenge, yet Porsche continued to offer the car for years as demand grew and the world discovered this leader in sports car excellence.
The combination of ground-breaking engineering and dramatic body design propelled the 911 to iconic status when Porsche released the cabriolet version of this car, allowing unmatched performance in a fully open car. With total production running from 1975 to 1989, the final year offered a mere 600 cabriolet models built for US delivery. With Bosch Fuel Injection topping the venerable turbocharged 3,299cc flat-six engine, the 930 delivered performance numbers that still rival modern cars today. 0-60 was achieved in just 4.9 seconds and a top speed of 156 mph proved these Porsches clearly delivered on their supercar status. As a final farewell to this model Porsche offered the Getrag G50 5-speed manual transaxle, the only year this highly desirable transmission would be offered in the dominant and top of the line 930 Porsche.
According to the Porsche Certificate of Authenticity and further verified by the underside hood options sticker, this car was delivered from the factory with the following highly desirable options.
C02 - US Standard Emissions
070 - Tonneau Cover
158 - Blaupunkt Radio 'Reno'
195 - Prepared for Cellular Telephone System
220 - Limited Slip Differential
243 - Shorter Gear Shift Lever
494 - Amplifier System
Completed on November 4, 1988, this 930 was finished in Silver Metallic/87 paint and trimmed with Silk Grey Special Leather/QM. Beautifully finished with solid black Fuchs wheels and black convertible top, this rare Porsche was used sparingly throughout the years as evidenced by the recent Carfax showing uninterrupted mileage accumulating through the years without interruption. Having spent time in Ohio and Florida, this Porsche arrived in California in 2012, and has remained on the west coast including the current ownership, supporting the 32,000 miles displayed on the odometer today.
In addition to being a highly desirable 930 Turbo in stunning colors, this example still retains the original Porsche factory applied silver metallic paint, the original interior, the original engine, and G50 gearbox. Inspection performed in late 2020 included a compression and leak-down returning 145-150psi and 4-6%. And while Porsches often are available with fine restorations, every aspect of this original 930 is truly preservation level, not only being factory correct, but being of exceptionally fine cosmetic quality. In addition to the excellent original finishes, the mechanical features are just as satisfying as the car shows no oil leaks, displays no unpredictable noises, and no smoke on start-up. The car starts, runs, shifts, and drives beautifully with ice-cold air conditioning, and smooth convertible power top function.
Walking around the car, the first impression is that the original paint is wonderfully nice, surprisingly so for being over 30 years of age. Both lustrous and glossy, showing excellent depth, the paint flows smoothly over all body panels. Factory shut lines are perfectly aligned as are the front storage compartment lid and engine lid. Digital paint metering throughout the original factory metal confirms single digit readings of 5-7 mils in keeping with original paint finishes historically recorded on these models. The rubber and black trim are excellent throughout the car. The stance is perfectly positioned on correct and desirable 7" and 9" Fuchs wheels with 2015 date coded Michelin Pilot Sport tires, mounted approximately 6,000 miles ago. The glass, lenses, and lights are also in excellent condition and display factory codes and markings consistent with Porsche designations. The power convertible top is in beautiful condition fitting tightly to the windshield header, raising and lowering smoothly under power from the dash mounted switch. The rear plastic window is in excellent condition, clear and flexible, surrounded by lush black canvas material still retaining excellent factory stitching.
The beautiful and supple silk grey leather interior is soft and void of any significant marks, which is astonishing considering the years of ownership. Clearly the previous and current owners have done a great job of not only preserving this car but being careful when using it. The interior condition is simply beautiful not only for material continuity, preservation, and cleanliness, but beautifully so in these rarely seen colors. The rear seating area appears essentially new with no sun damage or dryness to the leather. Clearly this example has been stored safely indoors, professionally detailed, and honored for its rarity. The hinged rear seatbacks move smoothly, showing excellent finishes both on the leather and backside carpeted surfaces. The center console houses the G50 factory 5-speed manual desirable short lever gearshift, nested in a contrasting black leather shifter boot, surrounded by black floor mats and matching black center console. The smooth and clean dashboard displays black-dial instruments, high contrast orange needles, factory Porsche steering wheel, and analog controls, show virtually no evidence of use or long-term sun exposure, every bit of which is factory correct, save for the modern Porsche Classic radio (original unit retained and included with the car).
The engine compartment is original and mercifully unmodified, a welcomed triumph of persistent owners that diligently maintained the originality of this 930 Turbo. Given that so many examples have been altered over the years with performance exhaust, modified air intakes, or increased displacement engines, a truly correct and well-prepared car is all the more rewarding to find in such original condition. The engine and engine compartment are exceptionally clean and attractive, offering an authentic presentation. Factory engine and emissions stickers, wiring, hoses, and rare factory finishes are all beautifully preserved and properly presented just as the car left the factory floor 32 years ago.
The front storage compartment is stock in appearance with excellent carpeting lining the front storage area. The front tub houses a factory correct red rim space-saver spare tire, air compressor, factory paint sticker, and authentic original materials and finishes indicative of an original factory preserved Porsche of this vintage. Underneath the car, there is only modest evidence of sympathetic aging and honest patina, including the factory Cosmoline 'toning', once again supporting the originality of this car as this protective agent was applied by the factory to the chassis and drivetrain of cars shipped overseas in order to prevent saltwater surface corrosion while in transit. The various metal finishes display lighted heat-cycled hues, with proper gold and umber tones, consistent with preservation and mild use to the exhaust and various metal components. There is no indication of structural damage or compromise to the floor, suspension mounting points, or suspension members. The car is accompanied by the original and complete owners book set and pouch, air compressor, Porsche Certificate of Authenticity, the original Blaupunkt Reno Radio, and selected service records.
Rarely found in such fine original condition, this is a truly unique opportunity to acquire an astonishingly original, low-mileage, attractive final year Porsche 930 Cabriolet. 930s of all types have notably appreciated in recent years, with final year Cabriolet G50 5-speed models seeing particularly strong movement due in part to their fantastic driving manners, amazing power, and iconic looks. One of just 600 built, this final year Cabriolet 930 is both rare and beautiful, all of which ensures lasting desirability as the Porsche market continues to appreciate and enthusiasts seek out the very best examples of these remarkable and dominant sports cars.
Please contact Jason Harris at +1-206-355-7727 for more information on this 1989 Porsche 930 Turbo Cabriolet.