This listing is no longer available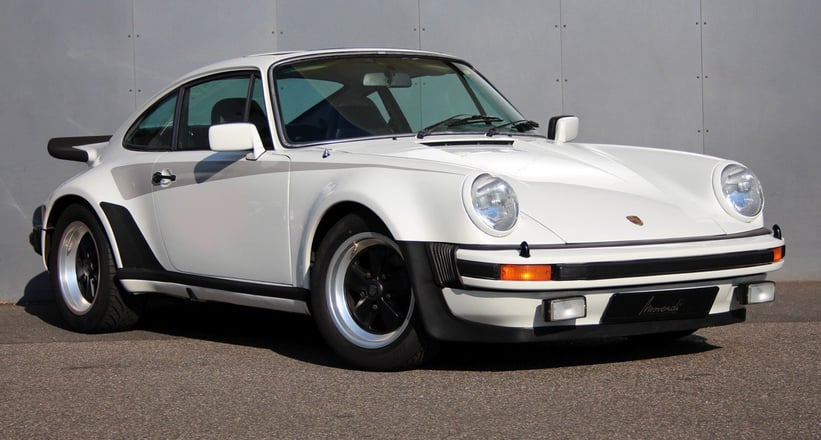 1977 Porsche 911 "Turbo"
930 3.0
Location

Performance

260 PS / 192 kW / 257 BHP
Description
- Matching Numbers & Colors
- Elektrisches Schiebedach, Klimaanlage
- Seit 2008 in Deutschland zugelassen
- Regelmäßig bewegt und gewartet
- Seit 2015 in letzter Sammlerhand
Fahrzeughistorie:
Im Dezember 1976 erstellte Porsche die Kaufrechnung für diesen frühen 3.0 Liter Porsche Turbo. Interessanterweise wurde das Fahrzeug nach Marokko ausgeliefert, gebaut nach französischem Ländercode. Von dort ging der schnelle Turbo nach Amerika. Im Jahr 2008 wurde der Wagen nach Deutschland verkauft. Viele Belege zeugen ab 2008 von einer regelmäßigen Wartung. 2015 wurde das Fahrzeug an einen Düsseldorfer Sammler weiterverkauft.
Für die ab 1976 gültige Gruppe 4 der Sportwagen-Weltmeisterschaft plante Porsche einen Leichtbau-911er. Dieser Rennwagen sollte den mit einem Turbolader ausgerüsteten Sechszylinder-Boxermotor des Porsche 911 Carrera RS 3.0 erhalten. Kurzfristige Änderungen der FIA im Reglement, bei denen das Fahrzeug-Mindestgewicht angehoben wurde, reduzierten die Gewinnchancen. Daher stoppte Porsche die Weiterentwicklung der Serie. Die mit der Rennwagenentwicklung gewonnene Erfahrung nutzte Porsche, um einen Sportwagen zu konstruieren, der an Ferrari und Lamborghini heranreichte. Wegen seiner vielen Änderungen gegenüber der Serie erhielt der Wagen mit der 930 eine eigene Typennummer. Um den Auftrieb und die Fahrstabilität bei höheren Geschwindigkeiten zu erhöhen, wurde ein Front- und ein Heckspoiler verbaut. Der große und flache Heckspoiler ähnelte einer Walschwanzflosse und wurde das Haupterkennungsmerkmal dieses ikonischen Sportwagens.
- Matching Numbers & Colors
- Electric sunroof, air conditioning
- Registered in Germany since 2008
- Regularly moved and serviced
- With recent owner since 2015
Vehicle history:
In December 1976, Porsche sold this early 3.0-liter Porsche Turbo as new vehicle. Interestingly, the vehicle was first delivered to Morocco, while it was built according to the French country code. Later the car was sold to America. In 2008 the car was sold to Germany. Much evidence from 2008 onwards shows regular maintenance. In 2015 the vehicle was resold to a collector in Düsseldorf.
Porsche was planning a lightweight 911 for Group 4 of the World Sports Car Championship, which came into force in 1976. This racing car was to receive the turbocharged six-cylinder boxer engine from the Porsche 911 Carrera RS 3.0. Short-term changes to the FIA's regulations, in which the minimum vehicle weight was increased, reduced the chances of winning. Therefore, Porsche stopped the further development of the series. Porsche used the experience gained in developing racing cars to design a sports car that came close to that of Ferrari and Lamborghini. Because of its many changes compared to the series, the 930 was given its own type number. In order to increase the lift and the driving stability at higher speeds, a front and a rear spoiler were installed. The large and flat rear spoiler resembled a whale's tail and became the main distinguishing feature of this iconic sports car.