This listing is no longer available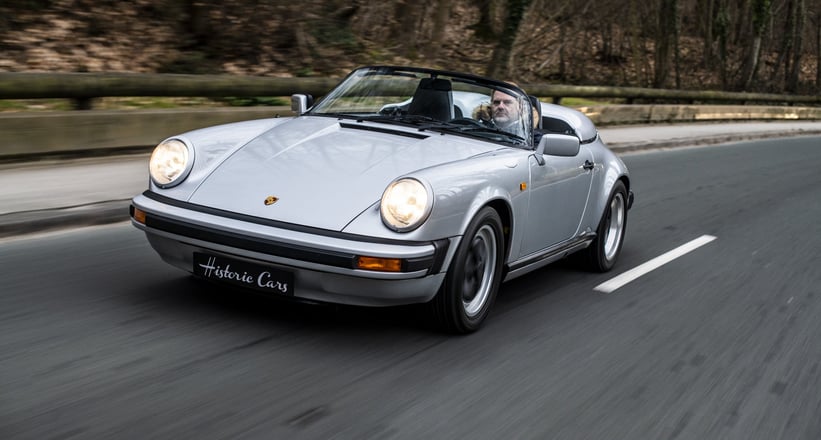 1989 Porsche 911 Speedster
911 Carrera 3.2L narrow body Speedster
Location
Description
En 1989, Porsche ressuscite l'appellation Speedster. Une version qui redonne le sourire aux amoureux de la 911 qui voient ici un retour de la 911 originelle. Le Speedster permet de clôturer la génération des 911 Type G dignement.
Immédiatement célébrée comme une vraie classique lors de son lancement en 1989, la Porsche 911 Speedster était un hommage à la première Porsche 356 Speedster des années 1950. Avec son pare-brise plus bas de 8 cm et plus incliné de 5° par rapport au cabriolet standard, cette voiture affichait une allure minimaliste et pesait 70 kg de moins. Cette Porsche 911 en série limitée était donc une véritable voiture de passionné. Équipé du moteur Porsche Flat 6 de 3,2 litres et développant 231 ch, le Speedster s'appuyait sur la plateforme de la 911 Carrera 2, avec une suspension aux spécifications « Turbo ».
Les deux sièges arrière avaient été supprimés par l'usine pour laisser place au carénage recouvrant la capote en tissu, ce qui donnait à la voiture une allure unique et dynamique. A l'époque, Porsche proposait des options comme un différentiel autobloquant, une sellerie en cuir, une peinture métallisée et un système d'air conditionné. Sur la production totale de 2 200 voitures, seulement 171 ont été dotées de la carrosserie étroite, ce qui fait de ce Speedster « non Turbo-Look » une voiture particulièrement désirable pour les collectionneurs.
Alors que l'idée d'une future troisième génération de 911 effleure les oreilles des fans, une quatrième déclinaison voit le jour. Imaginez donc. Une 911 Speedster reprenant la ligne, le concept et la philosophie de la 356. Comme son ancêtre, la 911 Speedster est construite sur la base de la version cabriolet. Les places arrières sont supprimées et remplacées par un couvre-capote à double bosselage qui, en baissant l'avant et soulevant légèrement l'arrière d'améliorer l'aérodynamique. Le pare-brise hérite de la même spécificité que la 356 : il est rabaissé, renforçant le côté agressif. Alors que le premier cabriolet 911 était en cours de développement, depuis le milieu des années 60 ; Peter Schutz et Helmuth Bott ont commencé à explorer une idée pour relancer l'intérêt pour la marque en ramenant le Speedster. En basant le projet sur le cabriolet une fois le travail de développement terminé, le duo a théorisé qu'il serait possible de le produire. Les cabriolets ont commencé à sortir de la chaîne de montage en 1982 et, à la satisfaction de Schutz et Bott, la production des cabriolets SC a dépassé les 4 000 unités et a presque égalé celle des coupés. Entre 1984 et 1989, la production totale de cabriolets a dépassé celle de la Targa de près de dix pour cent.
Dans l'intervalle, deux prototypes de Speedster ont été produits. Le premier, appelé le Speedster Schutz, était basé sur une Carrera à l'allure turbo avec des ailes évasées et un pare-brise amovible de huit pouces. Le second, appelé Bott Speedster, était assemblé sur une carrosserie étroite de cabriolet avec un pare-brise ultra bas qui s'enroulait autour pour rencontrer un solide couvre tonneau avec un appui-tête surélevé derrière le conducteur. En octobre 1987, Porsche a présenté le concept Speedster Clubsport au salon de l'automobile de Francfort, montrant ce qui était essentiellement une version plus élaborée du prototype à carrosserie étroite que Bott avait conduit mais en réduisant le cabriolet à une configuration monoplace avec un couvre tonneau plat et un pare-brise bas intégré.
Le succès est là puisque 2 274 exemplaires sortiront des ateliers Porsche. Un très beau score quand on sait que la 911 de type 964 est entrée en production quelques mois après seulement.
Lorsque Porsche a dévoilé sa nouvelle gamme de modèles, certains concessionnaires européens qui avaient déjà passé des précommandes pour le Speedster ont été consternés d'apprendre que Porsche avait décidé de construire le Speedster sur la plateforme Turbo pour séduire le marché américain. Le marketing, les ventes et la production ont délibéré ensemble pour trouver une solution et ont fini par commander une série de 171 Speedsters à carrosserie étroite, soit 8% de la production !
Plus aérodynamique, les performances s'en trouvent avantagées. Elles le sont d'autant plus grâce à une cure d'allègement. Les vitres sont désormais manuelles, les portes perdent leur poignée intérieure et les sièges arrière. Le succès qu'elle rencontre fait d'elle un des modèles les plus emblématiques de la marque. La 911 Speedster demeure agréable à mener, suffisamment puissante et agile, bien que la conduite soit celle d'une voiture ancienne.
Immatriculée en septembre 1989 avant d'être vendue en France où elle réside aujourd'hui, la voiture a passé une partie importante de sa vie au Japon, comme en témoigne les factures d'entretiens et le carnet très complet et n'affiche que 76 000 kilomètres au compteur. Elle est accompagnée de manuels en japonais et en anglais, ainsi que d'un jeu d'outils appropriés. Les tests d'épaisseurs de la peinture laissent présager que cette auto est, à l'exception d'une aile, en peinture d'origine.
Très bien entretenue, une des Porsche les plus rares de la production.
Une voiture parfaite pour les beaux jours qui arrivent !
In 1989, Porsche resurrected the Speedster appellation. A version that brings a smile back to the faces of 911 lovers who see here a return of the original 911. The Speedster brings the generation of 911 Type G's to a fitting close.
Immediately celebrated as a true classic when it was launched in 1989, the Porsche 911 Speedster was a tribute to the first Porsche 356 Speedster of the 1950s. With its windscreen 8 cm lower and 5° more inclined than the standard convertible, this car had a minimalist look and weighed 70 kg less. This limited edition Porsche 911 was therefore a real enthusiast's car. Equipped with the 3.2-litre Porsche Flat 6 engine and developing 231 hp, the Speedster was based on the platform of the 911 Carrera 2, with a "Turbo" specification suspension.
The two rear seats had been removed by the factory to make way for the fairing covering the fabric soft top, giving the car a unique and dynamic look. At the time, Porsche offered options such as a limited-slip differential, leather upholstery, metallic paintwork and an air conditioning system. Of the total production of 2,200 cars, only 171 were fitted with the narrow bodywork, making this "non-Turbo-Look" Speedster a particularly desirable car for collectors.
While the idea of a future third generation of 911s is still in the minds of the fans, a fourth variant is being developed. Just imagine. A 911 Speedster with the line, concept and philosophy of the 356. Like its ancestor, the 911 Speedster is built on the basis of the convertible version. The rear seats are removed and replaced by a double bubble soft top cover which, by lowering the front and raising the rear slightly, improves aerodynamics. The windscreen inherits the same specificity as the 356: it is lowered, reinforcing the aggressive side. While the first 911 cabriolet was under development, since the mid-60s, Peter Schutz and Helmuth Bott began exploring an idea to revive interest in the brand by bringing back the Speedster. Basing the project on the convertible once the development work was completed, the duo decided that it would be possible to produce it. The convertibles began to come off the assembly line in 1982 and, to the satisfaction of Schutz and Bott, production of the SC convertibles exceeded 4,000 units and almost equaled that of the coupes. Between 1984 and 1989, the total production of convertibles exceeded that of the Targa by almost ten percent.
In the meantime, two Speedster prototypes were produced. The first, called the Speedster Schutz, was based on a turbo-looking Carrera with flared wings and a removable eight-inch windscreen. The second, called the Bott Speedster, was assembled on a narrow convertible body with an ultra-low windscreen that wrapped around to meet a solid tonneau cover with a raised headrest behind the driver. In October 1987, Porsche presented the Speedster Clubsport concept at the Frankfurt Motor Show, showing what was essentially a more elaborate version of the narrow-bodied prototype that Bott had driven but reducing the convertible to a single-seater configuration with a flat tonneau cover and an integrated low windscreen.
The success is there, with 2,274 examples coming out of the Porsche workshops. A very nice score when you know that the 911 type 964 went into production only a few months later !
When Porsche unveiled its new range of models, some European dealers who had already placed pre-orders for the Speedster were dismayed to learn that Porsche had decided to build the Speedster on the Turbo platform to seduce the American market. Marketing, sales and production deliberated together to find a solution and ended up ordering a series of 171 narrow-body Speedsters, representing 8% of production!
More aerodynamic, the performance benefits. They are even more so thanks to a lightening cure. The windows are now manual, the doors lose their interior handles, and the rear seats are lighter. Its success has made it one of the brand's most emblematic models. The 911 Speedster remains pleasant to drive, sufficiently powerful and agile, although the driving experience is that of a classic car.
Registered in September 1989 before being sold in France where it now resides, the car has spent a significant part of its life in Japan, as proven by the maintenance bills and the very complete logbook, with only 76,000 kilometers on the odometer.
It is delivered with its Japanese and English manuals, as well as a set of appropriate tools. Paint thickness suggests that this car is, with the exception of one wing, in original paint.
Very well maintained, one of the rarest Porsches in production.
A perfect car for the beautiful days ahead!