This listing is no longer available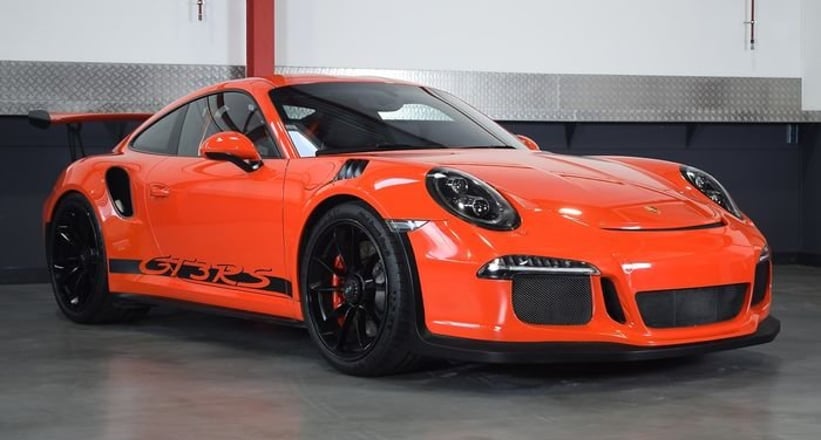 Summary
Location
Description
This classic car is for sale on Catawiki. To have more information or to place a bid click on the "BID NOW" button. .Don't miss this opportunity and become the new owner of this beautiful and unique collector's Porsche GT3 RS coupé! This is a NO RESERVE AUCTION.
Speed and more speed, that's what a Porsche 991 GT3 RS is all about. With a 4L 6-cylinder boxer engine, you can sprint from 0 to 100 km/h in 3.3 seconds. There aren't many cars that can do that. The 991 GT3 RS is one of the fastest Porsches ever built and a great experience to drive! The GT3 RS is actually a circuit car but also allowed on public roads.
The bonnet and boot lid are made of carbon fibre, the roof is made of magnesium and the side windows.are made of polycarbonate. The spoilers provide good downforce, the bucket seats keep you in place on the track and the roll bar offers protection in case of a head roll. The GT3 RS is also equipped with a six-point belt, a fire extinguisher and preparation for an emergency switch that turns off the electrics. Also standard: the Pit Speed knob for setting the maximum speed for the pit lane.
The GT3 RS has a six-cylinder boxer engine with 500 hp, which is 24 hp more than the GT3. In addition to the sprint from 0 to 100 km/h in 3.3 seconds, this supercar has a top speed of over 310km/h. The GT3 RS was completely stripped, all 'unnecessary' things have been removed to keep the weight as low as possible.
This Porsche is in original condition (engine, transmission and interior are all original). The vehicle starts immediately, it shifts through all gears and brakes properly. The interior is still in mint condition and looks very cool with the M2A Lava Orange paintwork. What makes this Porsche even more attractive is that it only has 46,726 km on the odometer, the original manual and booklets are included. The car was always maintained by a Porsche dealership (digital proof), it was recently serviced by the dealer (28 July 2021 at 41,848 km).
The car was originally delivered in the Emirates, it currently has a German registration and a new TUV (periodic vehicle inspection) valid for 2 years. The car also features a NAVI update (2021) for the EU and a PIWI test.
This Porsche was properly maintained by the dealer and comes with maintenance history. So don't wait too long and become the owner of this beautiful and very unique GT3 RS Porsche!
Information about the car:
Porsche - 991 (911) GT3 RS Coupé 4.0L - 2016
Brand: Porsche
Type: 991 (911) GT3 RS Coupé 4.0L
Year of manufacture: 2016
Colour: M2A Lava Orange
Engine and power: 4.0L (3996CC) 6-cylinder Boxer, 500 HP (Matching numbers)
Fuel: Petrol
Transmission: 7v dual-clutch automatic transmission
Odometer reading: 46,726 km
Number of keys: 1
Margin: Yes, German margin car
Registration: German registration and recent TUV inspection (October 2021, valid for 2 years)
VIN: WP0ZZZ99ZGS185175
OPTIONS:
- ABS
- Adjustable steering wheel
- Air conditioning
- Automatic headlights
- On-board computer
- Bucket seats
- Central armrest
- Central locking
- Cruise control
-Driver's airbag
- Headlight washers
- Windscreen wipers with interval
- Leather upholstery
- Leather seats
- Original manual
- Passenger airbag
- Power brakes
- Electrically adjustable mirrors
- Power steering
- Power windows
- Radio
- Revolution counter
- Tyre pressure sensor
- Traction control
- Trip odometer
- ADDITIONAL REMARK:
- New TUV inspection as of October 2021 (valid for 2 years)
- Booklets are included
- Maintained by the dealer (digital history)
- Offered with a PIWI test
This is an imported car with a German registration and a technical (TUV) periodic vehicle inspection that is valid for 2 years. Please check the requirements for a registration of this vehicle in your country (such as a COC, this will not be included). The seller can assist and advise, but it's ultimately the buyer's responsibility to register the car in their country.
The car can be viewed and picked up in Schiedam, the Netherlands. All technical inspections, test drives and viewings are possible prior to placing a bid. You may contact the auctioneer in case you have any questions.