This listing is no longer available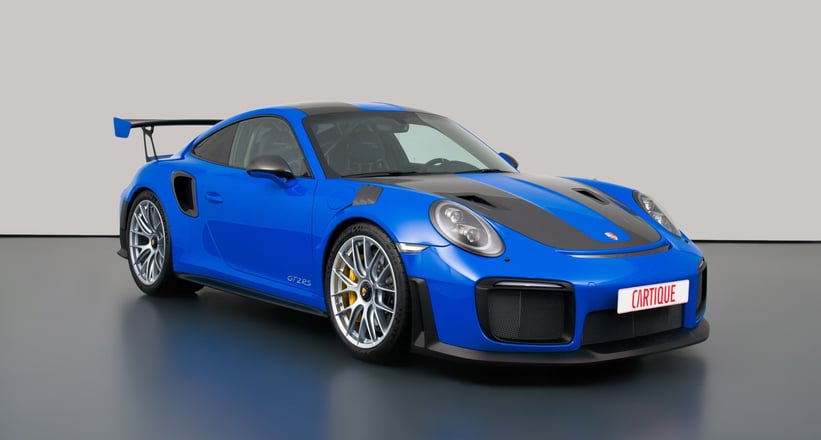 2018 Porsche 911 GT2
991 GT2 RS
Summary
Exterior brand colour

Individualfarbe Vodooblau
Location

Performance

700 PS / 515 kW / 691 BHP
Description
Der Porsche GT2 RS
Zwischen dem Aluminium-356 SL Coupé von 1951 und dem 919 Hybrid Evo, der im April 2018 in Spa bei einem Demonstrationslauf den Formel-1-Rundenrekord brach, liegen fast 67 Jahre. In dieser Zeitspanne hat Porsche wie kein anderer Hersteller der Welt in den unterschiedlichsten Motorsportklassen eine unglaubliche Anzahl an Titeln errungen. Egal ob auf der Rundstrecke, bei Rallyes oder Bergrennen, Porsche triumphierte bei jeder Disziplin. Doch am beeindruckendsten lieferten die Stuttgarter schon immer auf der Langstrecke ab, wo neben Schnelligkeit auch Zuverlässigkeit und strategische Weitsicht gefragt sind. Demnach ist es kein Wunder, dass sie für die längste aller Strecken, dem normalen Straßenverkehr, ebenfalls das dominanteste und überlegenste Fahrzeug seiner Zeit bauten. Den Porsche 911 GT2 RS. Mit dem neuen 911 GT2 RS hielt die 3,8-Liter-Maschine aus dem 911 Turbo Einzug in die Top-Liga der Hochleistungsmotoren. 2009 debütierte der 3,8-Liter-Boxermotor, dessen Prozessluft zwei Turbolader mit variabler Geometrie (VTG-Lader) vorverdichteten. Eine Technologie die Porsche als erster Hersteller bei einem Benzinmotor einsetzte. Aus ursprünglich 368 kW (500 PS) Leistung entwickelten die Ingenieure von Porsche jetzt 515 kW (700 PS) – eine Steigerung um 40 Prozent bei unverändertem Hubraum. Damit überflügelte der neue 911 GT2 RS auch seinen Vorgänger mit 3,6-Liter-Triebwerk um 59 kW (80 PS). Das Hubraumplus steuerte darüber hinaus einen Teil zu dem gewaltigen Drehmoment von 750 Newtonmetern bei. Erstmals schickt der Hochleistungsmotor seine Kraft über ein automatisch und ohne Zugkraftunterbrechung schaltendes Siebengang-Getriebe an die Hinterachse. Das GT-spezifisch abgestimmte Porsche Doppelkupplungsgetriebe (PDK) verfügt über Sonderfunktionen, die den Fahrer beim Einsatz auf der Rundstrecke unterstützen. Das Intelligent Shift Program (ISP) der elektronischen Getriebesteuerung sorgt für spontanere und schnellere Zughochschaltungen – und mit einem sportlichen Zwischengasstoß für sehr dynamische Schub-Rückschaltungen. Im Modus "PDK Sport" erfolgen die Rückschaltungen beim Bremsen aggressiver, beim Beschleunigen verlagern sich die Schaltpunkte zu höheren Drehzahlen. Doch nicht nur beim Herz des Typ 991 wurde brachial auf Rennsport gesetzt. Ein neues Kurbelgehäuse, neue Kolben, Krümmer mit größerem Querschnitt, eine Titanabgasanlage, größere Ladeluftkühler, Frischluftkanäle mit mehr Durchsatz und einiges mehr fand seinen Weg in den neuen Elfer. Mit Hilfe von Teilen aus CFK oder Karbon, wie Kofferraumabdeckung und Dach, Stabilisatoren, Koppelstangen, Kotflügeln und Luftschächten konnte das Gewicht im Vergleich zum 911 Turbo um 130 Kilogramm auf 1470 Kg gesenkt werden. Weitere 27Kg wurden eingespart, falls das Weissach-Paket verbaut wurde. Dieses Gewicht in Kombination mit der erhöhten Leistung des Boxer-Motors, sorgten für eine unglaubliche 0-100 Zeit von gerade einmal 2,8 Sekunden. Nach 8,3 Sekunden waren bereits 200 km/h erreicht und die von Porsche angegebene Höchstgeschwindigkeit von 340 km/h wurde, laut diversen Testberichten, vom GT2 RS auch gerne einmal überschritten. Dank Hinterachslenkung und reinrassigem Rennsportfahrwerk mit speziell abgestimmten Fahrdynamikregelsystem sowie 265/35 Reifen auf 20-Zoll-Felgen vorn und 325/30 Reifen hinten, die auf 21 Zoll großen Felgen montiert sind, konnte der GT2 RS mit einem extrem direkten Lenkverhalten und genauem Handling beeindrucken. Zusätzlich reduzierten die Magnesium-Felgen aus dem Weissach-Paket das Gesamtgewicht, sowie die ungefederten Massen. Gebremst wurde mit Hilfe einer Carbon-Keramik-Bremsanlage die vorne mit gelochten 410mm großen, beziehungsweise hinten 390mm großen Bremsscheiben, die G-Kräfte bis in unbekannte Höhen vorschnellen ließ. Die Basis eines Straßenfahrzeuges konnte nur noch im Interieur erkannt werden. Den Innenraum des neuen Porsche 911 GT2 RS dominierten serienmäßig Alcantara und schwarzes Leder sowie Interieurteile aus Sichtcarbon. Gesteuert wurde der GT2 über ein spezielles Sportlenkrad, Fahrer und Beifahrer saßen in aus Sichtcarbon gefertigten Vollschalensitzen. Diese sind erstaunlich komfortabel, bieten aber dennoch enormen Seitenhalt an Oberschenkeln und Rücken. Lediglich das Infotainmentsystem hingegen kam konventionell wie in jedem Elfer daher. Dafür wurde aber dank Weissach-Paket ein Überrollbügel aus Titan eingebaut.
Das hier angebotene Fahrzeug wurde am 18. August 2018 an seinen ersten und bis dato einzigen Besitzer durch das Porsche Zentrum Winterthur ausgeliefert. Bei der Konfiguration des Wagens wurden sämtliche Möglichkeiten der Porsche Exclusive Manufaktur ausgeschöpft, beginnend bei der Individualfarbe Voodoo Blau, Felgen in Sonderfarbe Silber, sowie einem einzigartigen Interieur, welches unter anderem durch Nähte in Sonderfarbe, sowie zusätzlich belederten Oberflächen seinen Manufaktur Charakter unterstreicht. Mit einer Laufleistung von lediglich 1.700 Kilometern befindet sich dieses Fahrzeug selbstverständlich optisch wie auch technisch im absoluten Neuwagenzustand. Die Porsche Approved Garantie besitzt noch bis zum 17.08.2022 ihre Gültigkeit. Für Detailfragen steht Ihnen unser Verkaufspersonal jederzeit gerne zur Verfügung.
Ausstattungsliste:
003 F Clubsportpaket
082 F Kraftstofftank 90l
452 F 20-/21-Zoll GT3 RS Magnesium-Schmiederä-der
474 F Liftsystem Vorderachse
583 F Raucherpaket
608 F HomeLink® (Garagentoröffner)
630 F Licht-Design-Paket
744 F Warranty 2 + 2 years
789 F Individualfarbe
7I2 F Porsche Vehicle Tracking System Plus (PVTS Plus)
886 F Lenkradkranz mit 12-Uhr-Markierung in Rot
9VL F BOSE® Surround Sound-System
CFX F Individuelle Fußmatten mit Ledereinfassung
CLN F Blenden Gurtaustritt Alcantara®
CLP F Interieur-Zusatzpaket Türtafel Leder/Alcanta-ra®
CSX F Fensterdreieck Carbon
CXX F Individuelle CT-OPTION (nur nach Rücksprache)
CZW F Interieur-Zusatzpaket Schalttafel Leder
DFS F Fahrzeugschlüssel lackiert und Schlüsseletui Leder
P1F F Swiss Package 991 GT2 RS
P70 F Weissach-Paket
XLJ F Deckel Ablagefach Alcantara® mit Porsche Wappen
XLU F Sonnenblenden Alcantara®
XPS F Leichtbau Privacy-Verglasung
XSH F Sicherheitsgurte silbergrau
XVA F Verkleidung Lenksäule Leder mit farblich ab-weichender Ziernaht
XVX F Interieur-Paket Ziernähte und Stickungen in ab-weichender Farbe
XXD F Türeinstiegsblenden Carbon beleuchtet
004 B RS - AUSFUEHRUNG 022 G Zifferblatt Drehzahlmesser schwarz
025 F ZIFFERBLAETTER STOPPUHR SCHWARZ
071 C EU-LAENDERAUSFUEHRUNG
HA 140 S DYNAMISCHE MOTORLAGERUNG (PADM)
153 S MITTENKUEHLER (ERH. MOTORKUEH-LUNG)
170 C AKUSTIKPAKET
21 S Porsche Torque Vectoring Plus (PTV Plus)
227 G DUNLOP / MICHELIN
250 S Porsche Doppelkupplungsgetriebe (PDK)
256 F AUSSENSPIEGEL MAN. ANKL.,AUTOM.ABBL
265 C AUSSENSPIEGELGLAS LINKS ASPHAE-RISCH
268 F Regensensor
276 F Automatisch abblendende Innen-/Außenspiegel
277 C SCHWEIZ-AUSFUEHRUNG
284 C AUSSENSPIEGELGLAS RECHTS KONVEX
288 S SCHEINWERFER-REINIGUNGSANLAGE
308 G PDK-WAEHLHEBEL
GTX ALCANTARA
340 G FELGEN IN GRUNDFARBE LACKIERT
373 G SCHALENSITZ 918 SPYDER LI.
374 G SCHALENSITZ 918 SPYDER RE.
426 S OHNE HECKSCHEIBENWISCHER
450 S Porsche Ceramic Composite Brake (PCCB)
454 F Tempostat
465 C NEBELSCHLUSSLEUCHTE LINKS
470 S Hinterachslenkung
475 S Porsche Active Suspension Management (PASM) inkl. 10-mm-Tieferlegung
478 S ZENTRALVERSCHLUSS (RAEDER)
482 G REIFENDRUCKKONTROLLE RDK
488 C SCHILDER IN DEUTSCHER BESCHRIFTUNG
521 C NEIGUNGSGEBER
523 C WEGFAHRSICHERUNG
529 S Außenspiegel SportDesign
534 S Alarmanlage mit Innenraumüberwachung
554 S BUGSPOILERLIPPE BEIGELEGT
567 S Windschutzscheibe mit Graukeil
573 G 2-Zonen-Klimaautomatik
578 F 6-PUNKT GURT FAHRER
579 F 6-Punkt-Gurt für Beifahrerseite
585 S GETRAENKEHALTER (CUPHOLDER)
589 F SICHERHEITSKAEFIG TITAN
594 S Dachhimmel Alcantara®
605 S LED-TAGFAHRLICHT
621 S 12V STECKDOSE (BF-FUSSRAUM)
652 S OHNE SCHIEBE-/HUBDACH
655 C LENKSAEULE MECH.VERSTELLB. MIT ELV
657 S SERVOLENKUNG STANDARD
UG G Navigationsmodul für PCM 7X9 F Rückfahrkamera
808 F Weissach-Paket ohne Überrollkäfig
877 G SPORTLENKRAD GTX ALCANTARA
951 S SITZBEZUEGE VORNE ALL (ALCANTARA)
975 S INNENAUSSTATTUNG ALCANTARA
981 F LEDERAUSSTATTUNG
991 S AIRBAGMODUL IN LEDER
9ZC C Smartphone-Ablage
B13 C TYPPRUEFLAND SCHWEIZ
D97 B 6-ZYL. BOXER TURBO 3,8L 515KW GT2-R
L5 C ONLINE DIENSTE PLUS
I8L G Porsche Communication Management (PCM) inkl. Online-Navigation
IY2 S MODELLJAHRESZEITRAUM 2 (AB KW45)
KK3 C KAELTEMITTEL R1234YF
QH1 V SPRACHSTEUERUNG
QR5 F Sport Chrono Paket (in Verbindung mit Porsche Communication Management (PCM))
QV3 F Digitalradio
UI2 G USB-Schnittstelle hinten
UX6 G RDK-Ventil in Silber
XES F Vorverkabelung Türeinstiegsleiste
XEY F LED-Hauptscheinwerfer schwarz inkl. Porsche Dynamic Light System (PDLS)
XGB G ZIERBLENDE SCHALTTAFEL CARBON
XHM G Blende Mittelkonsole Carbon
XJW S SportDesign Außenspiegel-Oberschale Carbon
XWC F ZIERBLENDE TUERTAFEL CARBON
XXP S Heckleuchten abgedunkelt
XYB S Tankdeckel Alu-Optik
00480 GT silber Farbwahl Faden
09971 CT-Einbau Zuffenhausen-Produktion 2
4102 GT silber Stick Mitteltunnel Fond mit abweichendem Faden
24103 GT silber Nähte Lenkradkranz mit abweichendem Faden
24104 GT silber Nähte Sitze und Stick Kopfstütze mit abweichendem Faden
24901 GT silber Nähte der Schalttafel mit farblich abweichendem Faden
24902 GT silber Nähte der Türverkleidung (Oberteil) mit farblich abweichendem Faden
24905 GT silber Nähte der Fondseitenverkleidung mit farblich abweichendem Faden
24906 GT silber Nähte des Deckel Ablagefach Mittelkonsole mit abweichendem Faden
24931 $1Z12/voodooblau Farbe nach Wahl
26741 GT silber Nähte des Türspiegels mit farblich abweichendem Faden
26751 GT silber Nähte der Armauflage mit farblich abweichendem Faden
26761 GT silber Nähte der Zuziehgriffe mit farblich abweichendem Faden
90027 GT silber Verkleidung Lenksäule Leder mit abweichenden Nähten
_______________________________________________________________________________
The Porsche GT2 RS
Between the aluminium-356 SL Coupe from 1951 and the 919 Hybrid Evo, which broke the Formula-1 lap record at Spa in April 2018 during a demo run, almost 67 years have passed. In this timespan, Porsche won titles in almost all major motorsport classes like no other manufacturer did. Circuit races, rallyes or hillclimbs, Porsche was always the one to celebrate its triumph. But they always performed best in endurance racing, where not only speed, but reliability and strategic planning were they key to success. Therefore, it came as no surprise when Porsche built the most dominant and supreme sportscar for the longest race of them all. The new 911 GT2 RS was a racecar for a track called "road". With the new 911 GT2 RS, the 3.8-litre engine of the 911 Turbo celebrated its entrance into the Hall of high-power engines. When the 3.8-litre-boxer debuted in 2009, it was the first engine equipped with variable-geometry turbochargers, a technology which Porsche implemented into a petrol-engine as the first manufacturer ever. Originally producing 368 kW (500 HP) of power, the engineers at Porsche raised it to 515 kW (700 HP) – a 40 Percent increase, without modifying the displacement. The new 911 GT2 RS even surpassed his predecessor, with its 3.6-litre engine, by 59 kW (80 HP). More displacement also played a role in the massive 750 Nm of torque. For the first time ever, the engine transferred its power via an automatic seven-speed dual-clutch transmission to the rear wheels. The GT-specific Porsche dual-clutch transmission (PDK) was equipped with special features, supporting the driver on the track. The Intelligent Shift Program (ISP) of the electronic transmission controller, ensured more instant and faster upshifting while accelerating – and with its double-clutch function, downshifting was made more dynamic. In the "PDK Sport" mode, downshifts while braking are more aggressive, while upshifts are moved to higher rpms, to ensure full power. But not only the heart of the type 991 was pure motorsport. A new crankcase, new pistons, a larger manifold, a titanium exhaust system, bigger intercoolers with more throughput and much more found its way into the new 911. Parts made of carbon or CFRP, like the trunk lid, roof, stabilizers, fenders and air ducts, helped to reduce the weight of the car by 130kg in comparison to the 911 Turbo, to only 1470 Kg. Another 27 Kg could be saved by the Weissach-Package. This weight, in combination with the increased Power of the Boxer-engine, allowed the car to accelerate from 0 to 100 km/h in only 2.8 seconds. After 8.3 seconds the car had already reached 200 km/h, while the top-speed of 340 km/h, specified by Porsche, was exceeded easily by the GT2 RS according to test drives. Thanks to rear-wheel steering and purebred racing-chassis with specifically adjusted electronic stability control systems, as well as 265/35 tyres with 20-inch wheels in the front and 325/30 tyres with 21-inch wheels in the back, the new GT2 RS was able to impress with an extremely direct and accurate steering paired with exceptionally great handling. Additionally, the Weissach-package wheels made of magnesium help to reduce the overall weight, as well as the unsprung mass. With carbon-ceramic brake discs at the front (410mm) and rear (390 mm), the driver was able to experience more g-force while braking, than in any Porsche ever before. The base of a street-legal car could only be found inside the car.
The vehicle offered here was sold to its first and only owner on August 18, 2018 Porsche Center Winterthur delivered. When configuring the car, all the possibilities of Porsche Exclusive Manufaktur exhausted, starting with the individual color voodoo blue, rims in special color Silver, as well as a unique interior, which, among other things, through seams in special color, as well as in addition leather-covered surfaces emphasizes its manufactory character. With a mileage of only 1,700 Kilometers, this vehicle is of course visually as well as technically absolute new car condition. The Porsche Approved Guarantee is still valid until August 17, 2022. For detailed questions our sales staff is at your disposal at any time.
Spec:
003 F Club sports package
082 F fuel tank 90l
452 F 20- / 21-inch GT3 RS magnesium forged wheels
474 F lift system front axle
583 F smoking package
608 F HomeLink® (garage door opener)
630 F light design package
744 F Warranty 2 + 2 years
789 F individual color
7I2 F Porsche Vehicle Tracking System Plus (PVTS Plus)
886 F steering wheel rim with 12 o'clock marking in red
9VL F BOSE® surround sound system
CFX F Individual floor mats with leather edging
CLN F covers belt outlet Alcantara®
CLP F additional interior package for door panel leather / Alcanta-ra®
CSX F window triangle carbon
CXX F Individual CT OPTION (only after consultation)
CZW F Interior additional package for dash panel leather
DFS F car key painted and key case leather
P1F F Swiss Package 991 GT2 RS
P70 F Weissach package
XLJ F Alcantara® storage compartment lid with Porsche crest
XLU F sun visors Alcantara®
XPS F lightweight privacy glazing
XSH F seat belts silver gray
XVA F leather steering column trim with decorative stitching that differs in color
XVX F interior package with decorative stitching and embroidery in a different color
XXD F Carbon door sill guards
004 B RS - VERSION 022 G Dial rev counter black
025 F DIAL STOPWATCH BLACK
071 C EU COUNTRY VERSION
HA 140 S DYNAMIC MOTOR MOUNTING (PADM)
153 S CENTER COOLER (INCREASED ENGINE COOLING)
170 C ACOUSTIC PACKAGE
21 S Porsche Torque Vectoring Plus (PTV Plus)
227 G DUNLOP / MICHELIN
250 S Porsche dual clutch transmission (PDK)
256 F EXTERIOR MIRROR MAN. ANKL., AUTOM.ABBL
265 C EXTERNAL MIRROR GLASS LEFT ASPHAE-RISCH
268 F rain sensor
276 F Automatically dimming interior / exterior mirrors
277 C SWITZERLAND VERSION
284 C EXTERIOR MIRROR GLASS RIGHT CONVEX
288 S HEADLIGHT CLEANING SYSTEM
308 G PDK SELECTOR LEVER
GTX ALCANTARA
340 G WHEELS IN BASIC COLOR PAINTED
373 G BUCKET SEAT 918 SPYDER LI.
374 G BUCKET SEAT 918 SPYDER RE.
426 S WITHOUT REAR WIPER
450 S Porsche Ceramic Composite Brake (PCCB)
454 F Tempostat
465 C LEFT FOG LIGHT
470 S rear axle steering
475 S Porsche Active Suspension Management (PASM) incl. 10 mm lowering
478 S CENTRAL LOCK (WHEEL)
482 G TIRE PRESSURE CONTROL RDK
488 C SIGNS IN GERMAN LABELING
521 C INCLINATOR
523 C IMMOBILIZER CONTROL
529 S exterior mirror SportDesign
534 S alarm system with i