This listing is no longer available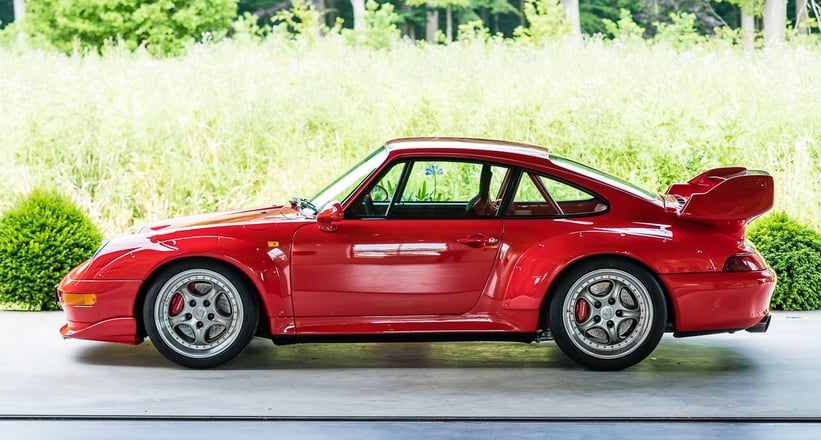 1996 Porsche 911 GT2
GT2 Clubsport
Location
Description
• One of only 21 Homologation GT2 Clubsport
• Highly desirable spec
• Fully restored to perfection by Porsche
* Part of the "Leichtbau Collection"
The "Leichtbau Collection"
We are very delighted to offer this small but highly exclusive collection of the best Porsche 993 models - the "Leichtbau Collection". The collection was brought together by a German collector and Porsche enthusiast to honor the pinnacle of modern Porsche air cooled models. Each of the four cars stands for the best of the best, either road or track, normal aspirated of turbo powered! This is the first time that this collection becomes public and it for sale!
Model history:
The 993 GT2 was initially built in order to meet homologation requirements for the international GT2 class racing. The 993 GT2 featured widened and riveted front and rear fenders and an extra large rear wing with air scoops in the struts for improved engine cooling. The 993 GT2 3.6-litre flat-6 bi-turbo engine generated a maximum power output of 430hp. The engine is based on the 993 turbo unit, but without the four-wheel drive and without a traction control. From 1998 the engine was upgraded to 450hp. The GT2 is 200 kg lighter than the 993 Turbo and featured aluminium doors and bonnet. The very light Speedline rims, which were partly made out of magnesium, came as a standard. An airbag and air conditioning was optional.
The even more extreme version of the GT2 was the ultra rare GT2 Clubsport, which included a welded Matter roll cage, six-point harnesses, a battery switch, a full fire extinguishing system and bucket seats.
A total of 175 GT2 were produced, but only 57 cars were built for homologation purposes, and from the 57 just 21 had the Clubsport package as an option.
Specific history of this car:
This specific GT2 Clubsport was built by Porsche in Weissach in 1996 with highly desirable options (M-codes) for the German market:
• M002 - Carrera GT2 street version
• M003 - Club Sport version
• M004 - GT2
• M197 – Stronger battery
• M567 – Top-Tinted windscreen
• M573 – Air Conditioning
• M220 – LSD Limited Slip Differential
• M224 – ABD Automatic Braking Differential (Traction Control)
• M384 – Leather bucket seat, left
• M385 – Leather bucket seat, right
• M405 – 18" Carrera GT2 wheels
• M459 – Strut bar
• M471 – Club Sport rear wing
• M480 – Manuel gearbox, 6-speed
• M488 – Stickers in German
• M499 – Version for Germany
• M530 – Immobilizer
• M545 – 92-litre fuel tank
• M564 – No airbags
• M566 – Front fog lights
• M657 – Power steering
• M659 – Board computer
• Color code: L80K - Guards Red
Today the car is presented in fully restored condition. The restoration was carried out by the Porsche Zentrum Inntal in the South of Germany, an official Porsche Classic dealership, whilst under ownership of the "Leichtbau Collection". The restoration is nicely documented and was featured in the official Porsche magazine as a "master piece" restoration. The current mileage is 15.280 kms from new. This is a very rare opportunuty to buy the ultimate Porsche 993 that can still be driven in normal traffic. Only very rarely does such a nice Porsche 993 GT2 Clubsport come to the market.