This listing is no longer available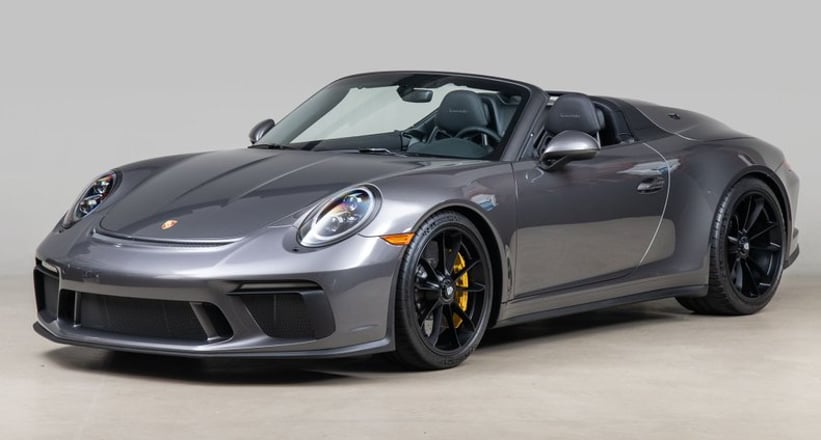 Location
Description
Click here to view high resolution photos https://www.flickr.com/gp/[email protected]/cQn28G
"Limited-edition" model
316 miles - Owned by Southern California's most famous car enthusiast
6-speed manual transmission, GT3-derived 502hp 4.0-liter flat six engine
Spec'd in optional Agate Grey Metallic with Black Leather interior
Options include Front Axle Lift, Ext. Range Fuel Tank, Bose Surround Sound, LED headlights, and more
The word "Speedster" evokes many different emotions for a wide variety of Porsche enthusiasts throughout the world. Max Hoffman, the premiere importer of many European sports cars for the United States, requested that Porsche make a special version of their 356. He guessed that American customers wanted a stripped down, lightweight, powerful, and elegant sportscar. Hoffman's vision turned out to be spot on and the 356 Speedster proved to be a fantastic hit, and went on to become one of the most popular 356 variants worldwide. Porsche produced a number of other Speedsters for different generations using the 911 platform. The G-series 911, 964, the very rare 993, and the 997 were all variations that were considered special editions, with unique bodywork and special performance. With Porsche's 70th anniversary since their first Porsche road car was registered in 1948 quickly approaching, the German car maker revealed the concept for one of the most stunning open-top Porsches ever made: the 991 Speedster.
Revealed to the automotive world in the middle of 2018, the 991 Speedster Concept expanded upon previous generations' styling with far more performance than before. A long sloping rear panel, 2" chopped windshield, 4.0-liter 502hp flat six engine, 6-speed manual transmission only, and plenty of carbon fiber components to lighten the car all around. Met with acclaim all around and with the public begging Porsche to put it into production, Porsche did what they often do best: give the public what they want.
The 991 Speedster is a low-production variant and the final model for the 991 Porsche 911 platform. Only 1,948 examples were produced, honoring the year of 1948 when the first Porsche road car was registered, 356-001. A 4.0-liter 502hp flat six engine was chosen to propel the Speedster, paired with a 6-speed manual transmission. Carbon fiber body panels keep the weight down, carbon bucket seats keep you firmly planted while cornering, and a number of other aesthetic cues (like the 2" chopped windshield) carry over from the concept car. Overall, the 991 Speedster is a perfectly executed exercise in the balance of vintage and modern styling molded together, paired with mega modern performance to be one of the best open-top supercars ever made.
This 2019 Porsche 911 Speedster was ordered new from Porsche Santa Barbara in Santa Barbara, California. Optioned in Agate Grey Metallic with a Black Leather interior, the car was spec'd with popular options including: Extended Range Fuel Tank, 23.7 gallons, Front Axle Lift System, Transparent Stone Guard, 2-zone automatic climate control incl. air conditioning, Bose Surround Sound System, LED Headlights in Black with PDLS, and Door Sill guards in Carbon Fiber (illuminated), along with others.
The sole owner, the most prominent car guy/car enthusiast in Southern California, kept the car in his collection of other special automobiles. He drove the car sparingly, accumulating only 316 miles on the odometer to date. Having enjoyed the car for a little while, he decided that it was best that someone new should be able to experience one of these fantastic Speedsters. Bruce Canepa, a very close friend was asked to help find the car a new home with someone that would absolutely appreciate the car just as the first owner did.
Porsche is no stranger to creating special editions of their legendary 911 lineup, injecting their own tried-and-true heritage into new models that many new and veteran car enthusiasts can enjoy. The 991 Speedster might be one of the best variants ever made to embrace this formula. With stunning good looks and a rocket launcher of an engine, this new Speedster exudes excitingly good looks and spectacular performance. With more than enough power to get you into trouble, comfort to use anytime, and the drop-dead gorgeous looks to celebrate the 70th year since Porsche's first road car, one can say that the 991 Speedster is the definitive modern Speedster to own.