This listing is no longer available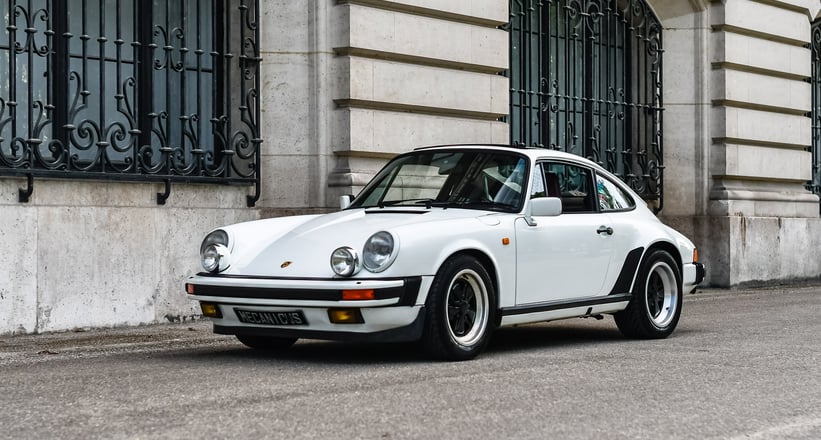 1988 Porsche 911 "G"
3.2 G50
Location

Performance

231 PS / 170 kW / 228 BHP
Description
English below
Notre Porsche 911 3.2 G50
Notre examplaire fut livré neuf en 1988 dans le sud de le France. L'auto a connu 6 propriétaires avant son dernier acquéreur, situé en région Lyonnaise. Nous disposons de l'historique du véhicule depuis 2002. Celui-ci se compose d'une photo du carnet d'origine et de toutes les factures depuis 20 ans.
Commençons par sa configuration: blanc Grand Prix avec un magnifique intérieur prune. Une configuration rare, élégante et terriblement efficace. Les phares longue-portées d'origine (en option à l'époque) viennent parfaire le style eightee's de cette reine de beauté. Sur l'étiquette présente sous le capot, chère au Porschiste, sont présents les codes options suivants: C05, 395, 425, 567, 650. Ces chiffres traduisent un toit-ouvrant, un essuie-glace arrière, un pare-brise teinté vert ainsi que des jantes en métal légers forgées. Au cours de sa vie notre auto a subi un seul choc, réparé avec le plus grand soin par Porsche, factures à l'appui. Délaissons cette partie rébarbative pour le côté passionnel de l'auto.
La type G reste pour nous l'une des générations les plus abouties de 911.
Le 6 cylindres à plat reste une valeur sûre procurant plaisir et sensations tout en restant fiable et raisonnable. L'utilisation du 3.2L est sublimée par la nouvelle boîte maison G50. Apparue en 1987, elle apparaît plus efficace et utilisable en conduite dynamique que sa devancière 915. La polyvalence est un atout prépondérant de la 911 et la type G en est un bon exemple.
Cette 911 3.2 G50 constitue une belle opportunité d'acquérir l'essence même de la 911 dans une configuration rare. La côte de ces autos étant sur une pente ascendante, il devient urgent de se faire plaisir…
Our Porsche 911 3.2 G50
Our examplar was delivered new in 1988 in the south of France. The car had 6 owners before its last buyer, located in the Lyon region. We have the history of the car since 2002. This consists of a photo of the original logbook and all the invoices for the last 20 years.
Let's start with its configuration: Grand Prix white with a beautiful plum interior. A rare, elegant and terribly effective configuration. The original long-range headlights (optional at the time) complete the eightee's style of this beauty queen. On the label under the bonnet, dear to the Porschist, are the following option codes: C05, 395, 425, 567, 650. These numbers indicate a sunroof, a rear windscreen wiper, a green tinted windscreen and forged light metal wheels. During its life, our car has suffered only one shock, which was repaired with the utmost care by Porsche, with invoices to prove it. Let's leave this boring part for the passionate side of the car.
The G-Type remains for us one of the most successful generations of 911.
The 6-cylinder flat engine remains a safe bet, providing pleasure and sensations while remaining reliable and reasonable. The use of the 3.2L is enhanced by the new G50 gearbox. Introduced in 1987, it appears more efficient and usable in dynamic driving than its predecessor 915. Versatility is a major strength of the 911 and the G-Type is a good example.
This 911 3.2 G50 is a great opportunity to acquire the essence of the 911 in a rare configuration. With the price of these cars on the rise, there is an urgent need to treat yourself...
Victor Roney: +33 6 46 88 35 86