This listing is no longer available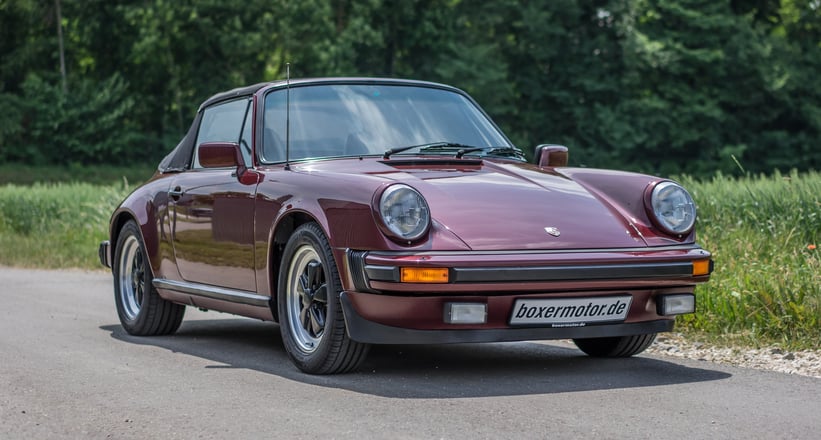 1983 Porsche 911 "G"
3,0l SC Cabriolet
Location

Performance

180 PS / 133 kW / 178 BHP
Description
Porsche 911 3,0l SC Cabriolet
-sehr werthaltiger Alltagsklassiker
-Fahrzeug innen und außen in sehr gutem Zustand
-Fahrzeugtechnik in sehr gutem Zustand
-Fahrzeug springt sofort an, sehr guter Rundlauf
-original Scheckheft 911 SC (Warranty & Maintenance - Model ´83)
-original "owner´s Manual - Model 83" vorhanden
-Unfallfrei
-Rostfrei
-Fahrzeug Erstauslieferung 1983 in die USA nach Nevada - im Jahr 2013 wurde der SC wieder nach Deutschland zurück importiert
-Carfax Dokumentation vorhanden
-seit der Zeit in Deutschland wurden diverse Service und Aufbereitungs/- Verbesserungsarbeiten durchgeführt, diese sind durch diverse Rechnungen belegbar
-diverse Rechnungen aus den USA vorhanden (zusätzlich zum Carfax), komplette Dokumentation vorhanden!
-TÜV/ AU neu
-Sommerfahreug
-Garagenfahrzeug
-Kurzgutachten aus 2013 und 2016 vorhanden
-Fahrzeug war in Las Vegas im Besitz eines bekannten und gelisteten "Forbes" Casino Milliardär, ein Foto vor dem Casino, sowie ein Auszug aus dem Forbes-Magazin ist vorhanden, der aktuelle Besitzer ist mit dem Casino Milliardär in Kontakt getreten (Emailverlauf vorhanden)
-Fahrzeug aus 4. Hand, zwei Besitzer in den USA, zwei Besitzer in Deutschland
-Garantieversicherung möglich (bitte erfragen Sie ein genaues Angebot)
-Finanzierung möglich (bitte erfragen Sie ein genaues Angebot)
-Historie des Fahrzeugs umfangreich dokumentiert
-5- Gang Schaltgetriebe
-original Fuchs Felgen
-Kilometerstand sehr gut dokumentiert und nachweisbar
-nachgerüstetes originales Windschott von Porsche (Rechnung aus 2020 vorhanden)
-Sport Endtopf wurde 2020 montiert, der originale Endtopf ist vorhanden, Rechnung vorliegen
Sonderausstattungen:
-Geschwindigkeitsmesser mit Doppelskala MPH- KM/h
-Stärkere Batterie
-Leichtmetallräder geschmiedet, 6 und 7 x 16
-Symbole und Beschriftung für Schalter und Instrumente
-Alarmanlage
-Nebelscheinwerfer weiß
-Frontscheibe im oberen Bereich stark eingefärbt
Auch Tausch gegen 991 Targa möglich!
Dies ist eine einmalige Chance einen wunderschön- gepflegtes 911 3,0l SC Cabriolet mir vollständig dokumentierter Historie zu erwerben!
Das Cabriolet ist eines der letzten 3,0l Cabriolets, die ausgeliefert wurden. Es ist ein Fahrzeug, welches bereits das spätere "3,2l" Gehäuse bekommen hat, mit den verstärkten Gehäusestehbolzen.
Fahrzeugbeschreibung vorläufig und unverbindlich und wird in dieser Form nicht automatisch zum Vertragsinhalt.
Differenzbesteuerung nach §25a UStG
Änderungen, Tippfehler, Zwischenverkauf und Irrtümer vorbehalten!
Finanzierung und Leasing möglich!
Bitte melden Sie sich vorab an, wenn Sie das Auto besichtigen möchten. Es ist sonst nicht gesichert, dass das Fahrzeug zum Zeitpunkt Ihres Besuches zu besichtigen ist.
Wir freuen uns auf Ihren Anruf oder Ihre Email.
Ihr Boxer Motor Team
Porsche 911 3,0l SC Cabriolet
-very valuable everyday classic
-vehicle inside and outside in very good condition
-vehicle technology in very good condition
-vehicle starts immediately, very good concentricity
-original checkbook 911 SC (Warranty & Maintenance - Model '83)
-original "owner's Manual - Model 83" available
-accident free
-Rust free
-vehicle first delivery 1983 to the USA to Nevada - in the year 2013 the SC was imported again back to Germany
-Carfax documentation available
-Since its time in Germany, various service and reconditioning/improvement work has been performed, these can be documented by various invoices
-various invoices from the USA available (in addition to the Carfax), complete documentation available!
-TÜV/ AU new
-summer driving
-garage vehicle
-short appraisals from 2013 and 2016 available
-Vehicle was owned in Las Vegas by a well known and listed "Forbes" casino billionaire, a photo in front of the casino, as well as an excerpt from Forbes magazine is available, the current owner has been in contact with the casino billionaire (email history available)
-vehicle from 4th hand, two owners in the USA, two owners in Germany
-Warranty insurance possible (please ask for exact quote)
-Financing possible (please ask for exact quote)
-History of the vehicle extensively documented
-5-gear manual transmission
-original Fuchs rims
-Mileage very well documented and verifiable
-Retrofitted original wind deflector from Porsche (invoice from 2020 available)
-Sport muffler was installed in 2020, original muffler is present, invoice available
Optional equipment:
-Speedometer with dual scale MPH- KM/h
-Strengthened battery
-forged alloy wheels, 6 and 7 x 16
-Symbols and lettering for switches and instruments
-Alarm system
-Fog lights white
-Front windshield in the upper area heavily colored
Exchange for 991 Targa also possible!
This is a unique chance to acquire a beautifully maintained 911 3.0l SC Cabriolet with fully documented history!
The Cabriolet is one of the last 3,0l Cabriolets that were delivered. It is a vehicle which already got the later "3,2l" housing, with the reinforced housing studs.
Vehicle description preliminary and non-binding and does not automatically become part of the contract in this form.
Differential taxation according to §25a UStG
Changes, typos, prior sale and errors excepted!
Financing and leasing possible!
Please register in advance if you would like to view the car. Otherwise it is not guaranteed that the car is available for viewing at the time of your visit.
We look forward to your call or email.
Your Boxer Motor Team