This listing is no longer available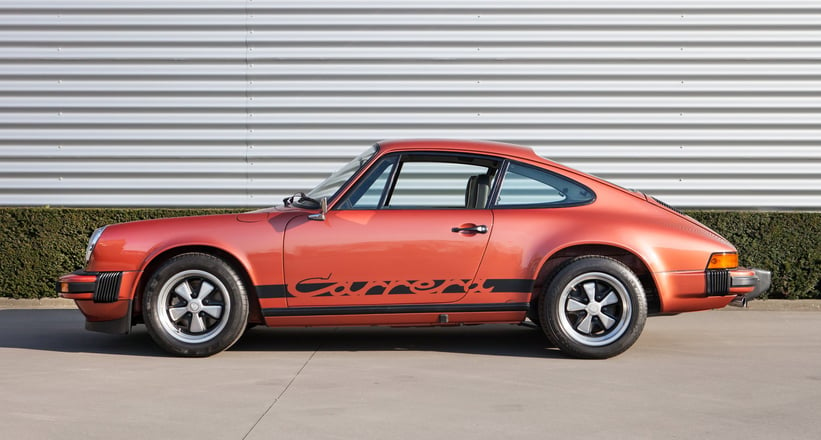 1974 Porsche 911 "G"
2.7 MFI
Location

Performance

210 PS / 155 kW / 208 BHP
Description
- 2.7 RS engine; 210hp
- Bosch Mechanical Fuel Pump
- Complete matching
- COA + Kardex
- 1 of 1633 2.7L MFI's
Beautiful European Porsche 911 Carrera 2.7 MFI in a unique color!
The 2.7 MFI
In '74 Porsche launched the new 911, the G-model, with the famous impact bumpers. To continue the 2.7RS succes Porsche took the engine and suspension (and more) and fitted to this new design and called it the Carrera MFI. This new 2.7MFI was more luxurious but still had the same weight as the 2.7RS Touring. The powerful 2.7 engine, with mechanical fuel injection feels great at every speed and rpm. This rare car delivers 210hp, in a car weighing just 1075kg, this still feels impressive to this date!
Our 2.7 MFI
This lovely MFI is a complete matching car (engine, gearbox, colors) and was delivered new to its first owner by Sonauto, France. The current and third owner added this beautiful car this extensive collection and decided to redo the paint and front seats. Still wearing the original Salmon metallic, this car was repainted to achieve a perfect paint finish. The original floor is of course still there and still absolutely perfect!
The 2.7MFI is a very special car, carrying the real 2.7RS DNA at just a fraction of the cost! The car comes with the Porsche Certificate of Authenticity, extensive history and the original factory maintenance booklet!