This listing is no longer available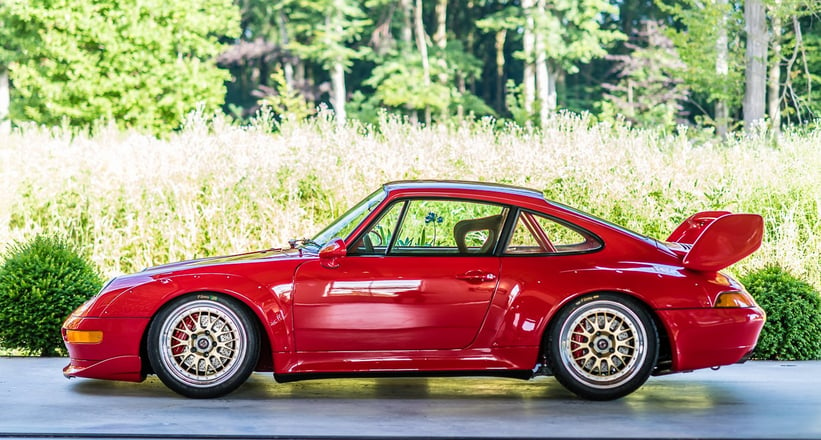 1998 Porsche 911 / 993 RSR
Location
Description
• One of only 30 original RSR
• Delivered new to Germany
• Fully documented racing history
* Part of the "Leichtbau Collection"
The "Leichtbau Collection"
We are very delighted to offer this small but highly exclusive collection of the best Porsche 993 models - the "Leichtbau Collection". The collection was brought together by a German collector and Porsche enthusiast to honor the pinnacle of modern Porsche air cooled models. Each of the four cars stands for the best of the best, either road or track, normal aspirated of turbo powered! This is the first time that this collection becomes public and it for sale!
Model history:
The 993 RSR, or officially called the Cup 3.8 RSR, is based on the 993 Cup car, but was upgraded with an advanced suspension and the wider fender flares from the 993 GT2. It is the ultimate normal aspirated version of the 993 range.
The RSR was intended to compete in 24-hour endurance events such as Daytona, Spa-Francorchamps and Le Mans, in a "Just add the driver" formula. Straight from the factory the RSR included a full welded Matter roll cage, alloy bonnet, front strut brace, two-way adjustable Bilstein suspension, ball-jointed suspension, a single racing seat and harness, battery switch, fire extinguishing system and special front spoiler and adjustable rear wing. 
The 993 RSR was powered by the famous M64/75 3.8-litre flat-6 engine, having its origins in the 993 3.8 RS model, but the top end was significantly more lively. The maximum power output was 350hp at 6.900 rpm and the weight was reduced to 1.200 kg! A true factory-build race car and track weapon and the last truly hand made 911. Only 30 cars were produced between 1997-1998.
Specific history of this car:
This specific 993 RSR was sold new to the German racing team Zakspeed im 1998. The original bill of sale issued on 27 February 1998, states a total price of 284.265 Deutsche Mark. The original DMSB Wagenpass (log book) perfectly documents the three years of racing under Zakspeed, mainly at German races as the VLN. The car was sold in 2001 to a German amateur driver, who continued racing the car.
A few years later, the car joined the "Leichtbau Collection" in Germany. This is a very rare opportunity to puchase one of only 30 original Porsche 911 / 993 RSR out of a fantastic collection.