This listing is no longer available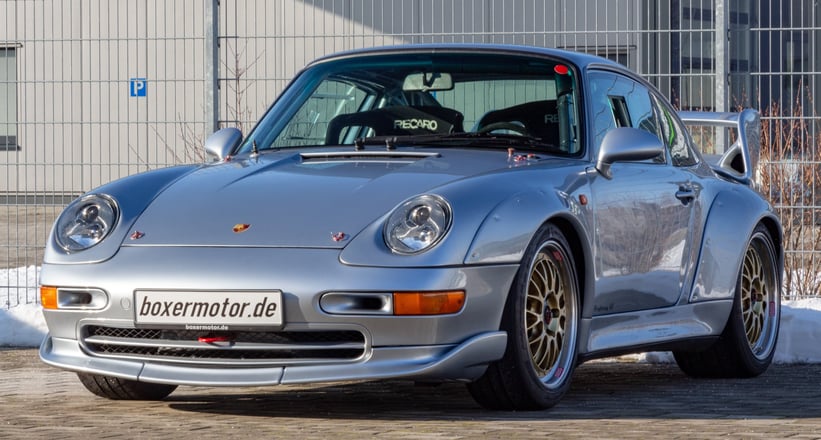 1995 Porsche 911 / 993 RSR
3,8l RSR
Location

Performance

350 PS / 258 kW / 346 BHP
Description
Porsche 993 3,8l RSR - Straßenzulassung
-Fahrzeug innen und außen in gutem Zustand
-Fahrzeugtechnik in gutem Zustand
-Scheckheft original vorhanden
-US-Import Fahrzeug
-TÜV/ AU neu
-Sommerfahrzeug
-Garantieversicherung möglich (bitte erfragen Sie ein genaues Angebot)
-Finanzierung möglich (bitte erfragen Sie ein genaues Angebot)
-Zentralverschluss Felgen
-Historie des Fahrzeugs gut dokumentiert
-6-Gang Schaltgetriebe
-Wertgutachten vorhanden
-"Stempel-Anlage" installiert
-"Lösch-Anlage" installiert
-Lenkrad abnehmbar
Nach der Präsentation des 993 RSR wünschten sich drei Kunden diesen Wagen mit Straßenzulassung. Porsche konnte und wollte diesem Wunsch nicht nachkommen, die Firma Freisinger hingegen kam diesem Anliegen nach und baute drei Fahrzeuge. Einen Wagen in Rot, einen in Schwarz und diesen Wagen in Silber. "Wir haben diesen Wagen kompromisslos aufgebaut, er war der Beste", erinnert sich Herr Freisinger noch heute.
Die Basis des silberfarbenen RSR ist identisch mit der Basis der Rennfahrzeuge. Alle 993 RSR wurde nämlich bei der Firma Matter bei Karlsruhe mit einem Sicherheitskäfig versehen, auch der RSR "Freisinger".
Die Montage erfolgte dann bei der Firma Freisinger. Alle Komponenten inklusive des originalgetreu nachgebautem RSR-Motors und des gerade verzahnten Getriebes wurden bei Porsche gekauft (Unterlagen vorhanden). Das Teilepaket hat einen Gegenwert von ca. 150.000 Euro.
Als Basis für die Straßenzulassung wurde ein in die USA ausgelieferter 993 (Unterlagen vorhanden) verwendet.
Alle RSR-Spezifikationen sind eingetragen.
Fahrzeugauslieferung des Basisfahrzeug war am 31.05.1995 in die USA.
Dieser 993 RSR überzeugt sowohl optisch, als auch technisch!
Fahrzeugbeschreibung vorläufig und unverbindlich und wird in dieser Form nicht automatisch zum Vertragsinhalt.
Differenzbesteuerung nach §25a UStG
Änderungen, Tippfehler, Zwischenverkauf und Irrtümer vorbehalten!
Finanzierung und Leasing möglich!
Bitte melden Sie sich vorab an, wenn Sie das Auto besichtigen möchten. Es ist sonst nicht gesichert, dass das Fahrzeug zum Zeitpunkt Ihres Besuches zu besichtigen ist.
Wir freuen uns auf Ihren Anruf oder Ihre Email.
Ihr Boxer Motor Team
Porsche 993 3,8l RSR - road approval
-vehicle inside and outside in good condition
-vehicle technology in good condition
-chequebook original available
-US Import Vehicle
-TÜV/ AU new
-summer vehicle
-Guarantee insurance possible (please ask for a detailed offer)
-financing possible (please ask for an exact offer)
-central locking rims
-History of the vehicle well documented
-6-speed manual gearbox
-Value appraisals available
"-Stamping-machine" installed
"-extinguishing system" installed
-Steering wheel removable
After the presentation of the 993 RSR, three customers wanted this road legal car. Porsche could not and did not want to comply with this wish, but Freisinger followed this request and built three vehicles. One car in red, one in black and this car in silver. "We built this car without compromise, it was the best," Mr Freisinger remembers even today.
The base of the silver-coloured RSR is identical to that of the racing cars. All 993 RSR were equipped with a safety cage at the company Matter near Karlsruhe, also the RSR "Freisinger".
The assembly took place then with the company Freisinger. All components including the original RSR engine and the straight gear transmission were purchased from Porsche (documentation available). The parts package has an equivalent value of approx. 150,000 Euros.
The basis for the road approval was a 993 delivered to the USA (documents available).
All RSR specifications are registered.
Vehicle delivery of the basic vehicle was on 31.05.1995 in the USA.
This 993 RSR convinces both optically and technically!
Vehicle description provisional and noncommittal and does not become in this form automatically the contract contents.
Difference taxation according to §25a UStG
Changes, typos, prior sale and errors excepted!
Financing and leasing possible!
Please register in advance if you want to visit the car. Otherwise it is not certain that the vehicle can be viewed at the time of your visit.
We look forward to your call or email.
Your Boxer Motor Team