This listing is no longer available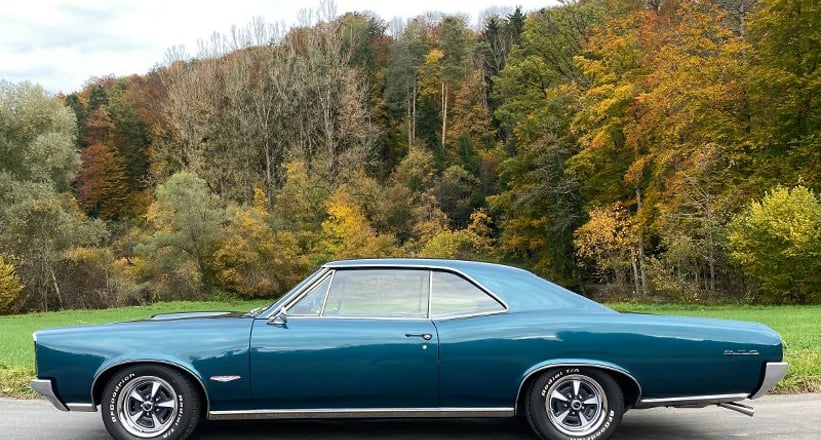 Summary
Location

Performance

365 PS / 269 kW / 361 BHP
Description
Pontiac GTO
First Registration 1966, Pontiac GTO Coupé, 396ci with "Six-Pack" register double carburators
4-speed manual gearbox (new rebuilt)
Swiss road registration with "Veteran" entry
Matching Numbers
Production numbers in 1966: 2'044 (hardtop coupé with 4-speed gearbox and six-pack)
Engine rebuilt by Eggenberger Motorenbau (incl. hydro pushrods and Roller-Cams)
Electronic ignition
Front disc brakes
Direct steering (13:1 instead of 17:1)
Eibach shock absorbers and Hotchkis springs
Thicker anti-roll bars Delrin-mounted
High-precision wheel alignment
Gardner Exhaust Systems chrome steel exhaust system
Ceramic coated exhaust manifolds
The "muscle cars" are still much-loved cult cars with big displacement and powerful engines. Back then the performance-hungry first American post-war generation, who rebelled against their parents' boring road cruisers with inexpensive power coupés. Pontiac president John DeLorean personally set this fire when he transformed the rather plain Pontiac Tempest into the red-hot GTO. With around 365 hp from three twin carburettors, the GTO became the fastest projectile in the popular quarter-mile sprints. In this discipline, the Gran Turismo Omologato (GTO) even succeeded in beating the Ferrari model by the same name, as the astonished motoring press had to note in a spectacular test.
This Pontiac GTO has been optimised in suspension, brakes and steering. These sensible modifications give this muscle car a very precise handling and now contribute significantly to the driving fun. The 6.4-litre V8 with three twin carburettors pushes this breathtakingly beautiful coupé forward with a violence that is beyond imagination, especially when the additional throttle valves are opened with the kickdown position of the accelerator and the second rocket stage is ignited. An experience that leaves you speechless every time and puts a big grin on the face of the vehicle's passengers! Accompanied by an incredibly beefy V8 thunderstorm!
Painted in "Reef Turquoise", this GTO is in absolutely perfect and dreamlike condition; no matter from which perspective it is viewed, whether from the outside, the inside, the engine compartment or the underbody. According to the Classic Data certificate, the full restoration dates back to 2011. The complete V8 engine was also extensively overhauled and fine-balanced this year by Eggenberger Motorenbau. The gearbox was also rebuilt on this occasion.
A unique Pontiac GTO waiting for its new owner or rather "tamer".
Please, check our website www.lutziger-classiccars.ch for more detailed pictures.
GERMAN LANGUAGE:
Pontiac GTO
Jahrgang 1966, Pontiac GTO Coupé, 6.4-Liter mit "Six-Pack" Register-Doppelvergaseranlage
4-Ganghandschaltung (neu revidiert)
Schweizer Strassenzulassung mit Veteraneneintrag
Matching Numbers
Produktionsstückzahl 1966: 2'044 (Hardtop-Coupé mit 4-Ganggetriebe und Six-Pack)
Motorrevision by Eggenberger Motorenbau (inkl. Umbau Hydrostössel und Roller-Cams)
Elektronische Zündung
Scheibenbremsen vorne
Direktere Lenkung (13:1 statt 17:1)
Eibach-Stossdämpfer und Hotchkis-Federn
Dickere Querstabilisatoren Delrin-gelagert
Hochpräzise Fahrwerksvermessung
Gardner Exhaust Systems Chromstahl-Auspuffanlage
Keramikbeschichtete Auspuffkrümmer
Die "Muscle-Cars" sind noch heute heiss geliebte Kultautos mit grossem Hubraum und bärenstarken Motoren. Die damals leistungshungrigen erste amerikanische Nachkriegsgeneration, die mit preiswerten Power-Coupés gegen die langweiligen Straßenkreuzer der Eltern rebellierte. Pontiac-Präsident John DeLorean persönlich legte dieses Feuer, als er den eher biederen Pontiac Tempest zum brandgefährlichen GTO transformierte. Mit rund 365 PS aus drei Doppelvergasern wurde der GTO schnellstes Geschoss bei den populären Viertelmeilen-Sprints. In dieser Disziplin gelang es dem Gran Turismo Omologato (GTO) sogar, das gleichnamige Vorbild von Ferrari zu schlagen, wie die verblüffte Fachpresse in einem spektakulären Vergleich feststellen musste.
Dieser Pontiac GTO wurde in Bezug auf Fahrwerk, Bremsen und Lenkung optimiert. Diese sinnvollen Massnahmen verleihen diesem Muscle-Car ein sehr präzises Fahrverhalten und tragen nun massgeblich zum Fahrspass bei. Der 6.4-Liter grosse V8 mit drei Doppelvergasern schiebt dieses atemberaubend schöne Coupé mit einer unvorstellbaren Gewalt voran, insbesondere wenn mit der Kickdown-Stellung des Gaspedals die zusätzlichen Drosselklappen geöffnet und die zweite Raketenstufe gezündet werden. Ein Erlebnis das jedes Mal sprachlos macht und den Fahrzeuginsassen ein breites Grinsen ins Gesicht zaubert! Begleitet von einem unnachahmlich bulligen V8-Gewitter!
In der Lackierung "Reef Turquoise" befindet sich dieser GTO in einem absolut perfekten und traumhaften Zustand; egal aus welcher Perspektive ob von aussen, von innen, im Motorraum oder der Unterboden betrachtet. Die Vollrestauration liegt gemäss Classic Data Gutachten im Jahr 2011 zurück. Der komplette V8-Motor wurde ausserdem dieses Jahr durch Eggenberger Motorenbau aufwendig revidiert und feingewuchtet. Das Getriebe wurde bei dieser Gelegenheit auch revidiert.
Ein einzigartiger Pontiac GTO, der auf seinen neuen Besitzer oder besser gesagt "Bändiger" wartet.
Irrtümer, Fehler und Zwischenverkauf vorbehalten.
Weitere, detaillierte Bilder von diesem Pontiac GTO, finden Sie auf unserer Homepage www.lutziger-classiccars.ch