This listing is no longer available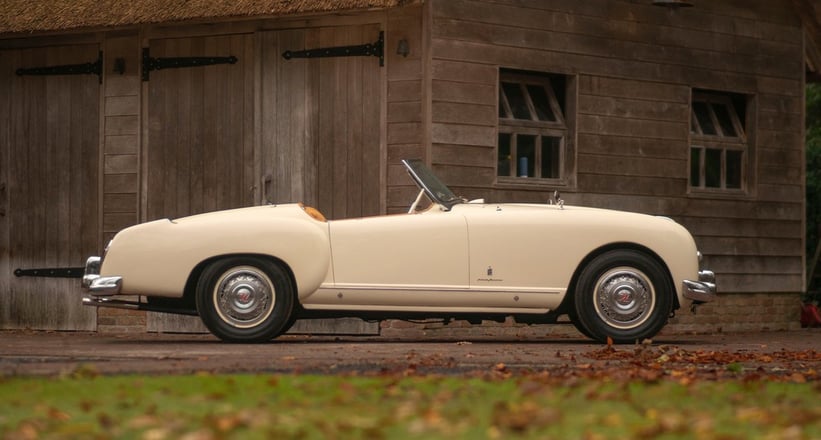 1953 Nash-Healey Roadster
Location

Performance

104 kW / 142 PS / 140 BHP
Description
Model year: 2022
Number of cylinders: 6
Engine capacity: 4.100 cc
Empty weight: 989 kg
Emission class: Euro 0
Number of owners: 1
Registration number: DZ-24-39
(English version)
If Superman had one, it must be pretty good. Right? Indeed, the legendary Nash-Healey Roadster was driven by the one and only Clark Kent himself. And yes, car number 454 of only 520 produced Nash Healey's is absolutely superb. Even fewer Roadsters were built. But we saved the best news for last: this perfectly restored Nash Healey Roadster is concours-ready!
History
You may wonder what else you need when a beautiful classic like the Nash-Healey belongs to your private collection. Ask the former owner and he'll say: "Two more Nash-Healey's." Next to this Roadster, the man possessed two Coupes. How did founder Charles Williams Nash manage to do develop something as gorgeous as the Healey? He collaborated with Donald Healey to design the ladder frame of the luxury convertible. The body itself, including aluminum hood and tailgate, is 100% Italian. Of course it is…
Design
The elegant curves, sporty configuration and special features like the inboard headlamps are all thought out by the great Pininfarina, making the Nash Healey Roadster a charmer from the front to the rear. The 50s style light beige lacquer and soft-top are in excellent shape, just like cognac leather interior. When it comes to pure beauty, every single detail counts. Our Roadster has it all: large chrome bumpers + window frame, an ultra-thin 3-spoke steering wheel, traditional gauges and meters, push and pull switches and of course a characteristic ashtray in the dashboard. Wow, what a time machine!
Technique
Nash turned out to be a real hero too by providing the Healey Roadster with a 4.1 liter S6 power unit. The 6-cylinder Dual Jetfire engine is all American and has twin carbs, overhead valves plus an aluminum cylinder head. More than enough to show super power. The 24 Hours of Le Mans in 1952 is the ultimate proof, with a Nash Healey Coupe on the podium. Reason for Charles Nash to launch a genuine Le Mans edition of the legend. And reason for the former owner of this Roadsters to add 2 of these Limited Editions to his collection. All three were once for sale at Prins. But for how long? That's up to you. Who's dreaming about taking part of the Mille Miglia already?
Kind regards, Prins Classics.