This listing is no longer available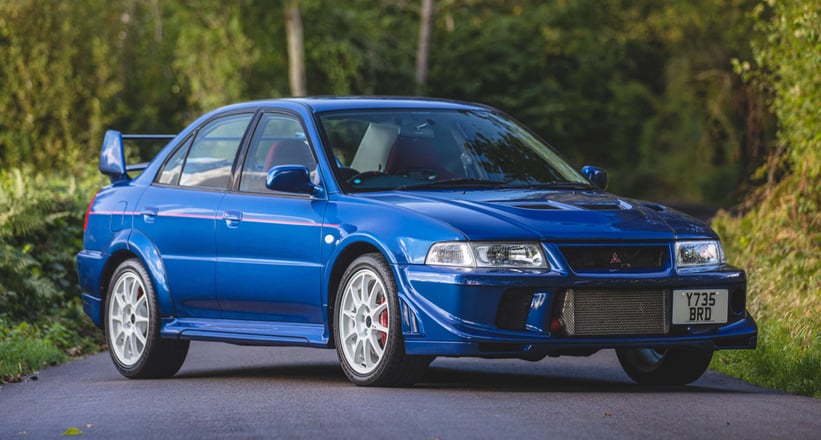 2001 Mitsubishi Evolution
Summary
Location
Description
Car #060 of 250 officially imported UK-market 'TME' cars sold only through authorised Ralliart dealerships
1 of 50 UK cars in Canal Blue paintwork, a more understated TME maybe
Bought new by vendor, all original paperwork present
Always garaged, routinely serviced, hardly ever seen rain and a fully verifiable 25,000 miles
The underside is as original as the bodywork, a collector-quality example
TMEs are considered the most desirable of the Lancer Evolution range, rightly highly prized and very collectable
Silverstone Auctions sold TME #001 for £146,250 in July 2021 – a world record price
By mid-1996, Mitsubishi's rallying success began to really reflect in Lancer Evolution sales. The 1996 WRC season brought Mitsubishi, together with a blisteringly quick Finn named Tommi Makinen, its first World Rally Championship drivers' title. The fiercely competitive Makinen borrowed the phrase "maximum attack" and used it to devastating effect.
By 1997, rallying had captured the imagination of petrol-heads all over the world and Mitsubishi sold 6,000 Evolution IVs in the first three days of its launch! In quick succession, the Lancer Evolution VI came to be and in the latter-half of 1999, Mitsubishi unleashed a special edition to celebrate its favourite son's four consecutive WRC drivers' titles from 1996-1999 - the Mitsubishi Lancer Evolution VI 'Tommi Makinen Edition' (TME). The Evolution VI was already a technological tour de force, but the TME had a more responsive titanium turbocharger, uprated and lowered suspension ('tuned to give improved initial response on tarmac surfaces'), quicker steering, a different exhaust, a new ECU, beefed-up transfer case internals, a redesigned front bumper for even better cooling and authentic 17-inch WRC Enkei alloy wheels. Plus, there was a special interior, featuring embossed Recaro seats, a MOMO steering wheel and red stitching. The performance upgrades saw the 0-60 mph sprint obliterated in 4.4 seconds and a maximum top speed of 150 mph. Power was rumoured to be over 300bhp, rather than the 276bhp 'agreement'.
Widely regarded as the finest Lancer to wear the Evolution badge, it was now available in five colours, with Passion Red and Canal Blue joining Scotia White, Pyrenean Black and Satellite Silver. Only 250 TMEs (across the five colours) were officially imported into the UK, with 100 examples going to Australia, and the rest sold domestically in the Japanese Market. Official figures show that of the UK's allocation, only 50 examples were in Canal Blue, perhaps the more discreet colour for a TME.
The car presented here is one of those in Canal Blue, which contrasts very favourably with the white Enkei alloy wheels. Not only is it a genuine Evolution VI Tommi Makinen Edition (CP9A / SNGF2) car, but it is also an official UK-market example. This means it was officially imported by Mitsubishi-affiliated 'Ralliart UK', hence it would have been professionally SVA'd and is supplied with UK service books, a calibrated speedometer, an unleaded-spec fuel restrictor, cold-climate battery and an alternator, plus it is individually numbered with a plaque in the cabin, reading #060.
Remarkably, this very special car has covered a fully verifiable 25,000 miles from new, supported by MOT and service records. It has always remained within the same family, all being Mitsubishi enthusiasts. It is accompanied by its original purchase receipt and paperwork, service booklet, a large history file, plus its original and complete book-pack.
The car was bought new on the 9th February 2001 from Ralliart dealership Mill Lane Mitsubishi of Odiham in Hampshire by Mr Ian Clacy, going back to Ralliart for their upgraded Magnex exhaust, ECU and red coachline. Finding that he wasn't using it very much, in October 2002, he subsequently part-exchanged it back with the same dealership for a new Mitsubishi Space Wagon. After only a few months, missing his TME, he bought it back. Once again he only used it occasionally, and then just on dry days, keeping it in a heated garage. In 2013 he sold it to his son-in-law (our vendor), who initially placed the car in his father's name (to help with the cost of insurance), before placing it in his own name in 2018. Our vendor is a car engineer and Mitsubishi enthusiast, ensuring the car has wanted for nothing, to say he is passionate about its upkeep is an understatement! The condition of this car, both cosmetically (original paint and underseal present) and mechanically (engine has never been apart, just serviced, always using AYC oil) is a credit to its committed custodianship. It goes without saying, the car is completely rust-free, having had the Ralliart underside treatment from new.
In the hands of our vendor, the car has received just a few subtle and wholly beneficial upgrades (which are all easily reversible, with all OEM parts still present and accompanying the car to auction, plus a second set of genuine brand new & boxed TME alloy wheels), including: 3" front pipe, 3" de-cat, 3" cat back Magnex exhaust (fitted by Ralliart UK), Walbro 255 fuel pump (fitted correctly), metal EVO 9 recirc valve, Zaklee clear timing belt cover, Gates Racing Kevlar timing and balance shaft belts, HKS mushroom filter, upgraded Samco hoses, Girodisc brake pads, Apexi AVCR boost controller (with 3 switchable boost settings), standard TME ECU with EcuTek map to 350bhp @ 1.2 bar (safe with knock and overboost detection/protection), carbon fibre wrapped NAPPA vent, genuine carbon fibre centre bonnet vent, red pinstripe whilst inside there is an Apexi AVCR boost controller, Ralliart style floor mats, stainless steel instep sill protectors, and a custom one-off Alcantara re-trimmed TME steering wheel.
Over the years, Silverstone Auctions have been privileged to achieve some exceptional prices for a number of these rare and special Japanese sports cars, considered by many as the 'ultimate Mitsubishi' for the road. Indeed, for modern-classic collectors in America, they can as of 2023/24, legally import and enjoy these cars – what an opportunity! 'Type UK' TMEs are hugely coveted and rightly so and rarely do examples this exceptional appear for sale on the open market, not to be missed.