This listing is no longer available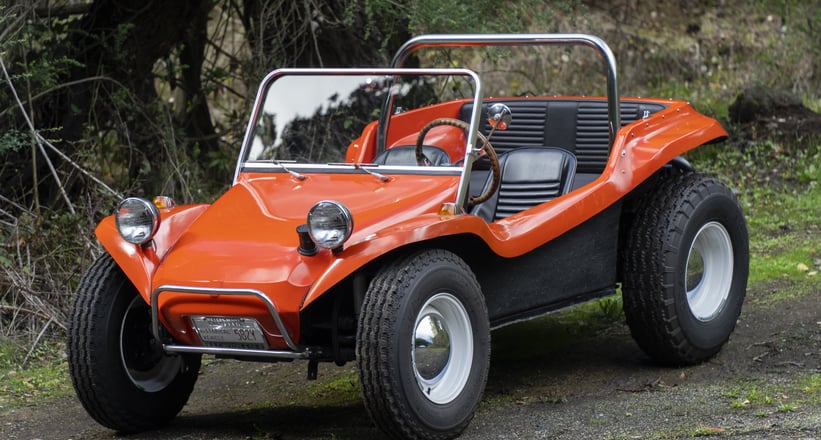 Summary
Location
Description
Currently live on BaT at NO RESERVE: Rare "Pre-tag" Manx built on a 1962 Volkswagen chassis and titled in California as such. Presented in original gelcoat and fitted with desirable Solex carburetors, Grant wood wheel, and fresh Mickey Thompson Baja Pro tires. Offered with almost 20 years of recordsWalkaround video: https://youtu.be/7bCjVf-tyoo
Driving video: https://youtu.be/X5KkcI3OsSg
1962 Meyers ManxChassis No. – WN68121793Exterior Color – OrangeInterior Color – BlackEngine – 1971 1600cc VW 4-cylinderTransmission – 4-speed manualCurrent Miles – 00,495 TMUCurrent Owner – Purchased in 2012General HistoryThe brainchild of California resident Bruce Meyers, the Meyers Manx became a huge part of a growing movement of 1960s era independent custom cars built on the durable VW platform. Using lightweight, low-cost fiberglass for the body shells, and creating simple modifications to the Beetle platform, Meyers was able to go from building a few prototypes in his first year of production, to producing more than 5,000 examples of the VW chassis 2nd series Meyers Manx. The dune buggy craze had hit not only American coastal cities but the craze grabbed the imagination of kids all over the world, making it easy for other builders to emulate the clever single tub fiberglass body that made the Manx both lightweight and easy to build.With copycats building on the growth of the Manx market, Meyers moves to volume production with the second series Manx bodies molded using fast-spray and cure chopper gun fiberglass for the body material. Specific body areas had rigid underside structural core ribbing for added strength. Telltale signs of original second series production bodies include the raised front emblem section, ribbed under fender structure, and other finish features typical of original Manx bodies. Manx bodied cars are rarely found as complete units today as many were modified or simply used up for the purpose originally intended – to have fun in an inexpensive sporty car that could handle all sorts of terrain.General OverviewThis Manx was purchased by the first California owner who reportedly kept it for approximately ten years. The second owner retained the car for about 20 years before selling it to the current owner in 2012. Although no documentation exists supporting the earlier ownership, the car is currently titled and registered as a 1962 Volkswagen, built on a 1962 chassis. Now outfitted with a 1600cc VW engine (circa 1971) the engine has a few performance enhancements which help with overall power and ease of operation.Of particular interest is that the pan has been welded which matches the original Meyers Manx assembly instructions, and the brake lines have been routed in the same manner also called out in the Meyers Manx assembly instructions. The car runs a set of 15" wheels and welded mounting plates are affixed to the axle beam which provide bolt-on attachment for the tow bar included with this car. A period engine skid plate has been added and period fiberglass bucket seats are installed.
Records dating back to 2002 include receipts for EMPI parts, dual Solex carburetors, a Grant Wood steering wheel, a Classic Manx polished stainless steel roll bar purchased in 2013, new brakes (master cylinder, new front and rear wheel cylinders) and reservoir line, installation of rear view mirror, Manx windshield, and a new fuel pump also done in 2013. In 2014, a set of 15" Steel wheels finished in "Sky White" and Mickey Thompson Baja Pro front and rear tires were purchased along with a set of four Moon style smoothie hubcaps, and new lug bolts.General ConditionToday this Meyers Manx displays an honest, jaunty look reflective of the original vibe these early clever Manx dune buggies immediately achieved when they literally invented the genre. The look is clean and simple, reflective of the fun and ease of use dune buggies offered when first developed. The fiberglass body is in very good condition with only slight modifications made to the rear section of the underside of the body edges to accommodate the twin carburetors. The bright orange paint is glossy and smooth with satin black underside finishes. The body and tub have a nice rake to the overall design, enhanced by the stance. The big and little Mickey Thompson Baja Pro tires are perfectly suited for soft sand plowing or gentle city road drives. The moon style hubcaps and vintage 15" white steel wheels add to the authentic vibe of this Manx. The exposed white front shock absorbers, chrome front push bar, headlights, and roll bar all deliver a cohesive look to this dune buggy.The interior has been fitted with a pair of fiberglass molded seats covered in durable black vinyl while the rear seat area is trimmed with similar material matching the front buckets. The windshield sits at a nice rake to the body accenting by a Grant wood steering wheel with chrome hub and spokes, rear and side view mirrors, and a centrally located speedometer. There is no fuel gauge but there is a reserve tank lever which releases the reserve fuel allowing for another 10–15-mile range while heading to the nearest fueling station. As with the exterior, the black and orange color scheme work very well accenting the headlights and taillights typical of period builds.The 1600cc VW engine is perched at the tail of the car with custom EMPI exhaust, twin Solex carburetors, and Bosch alternator. The engine block is stamped AH043938 while the underside edge of the body is stamped with the VIN that matches the corresponding California title. The engine is clean, runs great, and the finishes are consistent with care and maintenance which is easy to perform with so much convenient access to all the major components. The underside of the car is in good condition including an engine shroud installed for protection when riding on rugged terrain. A section of the floor pan has been welded in with a patch panel directly below the battery location. Brakes, inner wheels, and lines are all clean and tidy, indicative of minimal use since installation.Meyers Manx dune buggies are becoming increasingly hard to find, especially vehicles with California title and registration. This is a great example ready for fun and adventure just as originally conceived by one of the most innovative and charismatic automotive entrepreneurs of the 1960s.Items Included with the CarThe car is accompanied by a trailer hitch tow bar, a set of VW logo floor mats, and copies of period magazines with cover feature articles on Dune Buggies.