This listing is no longer available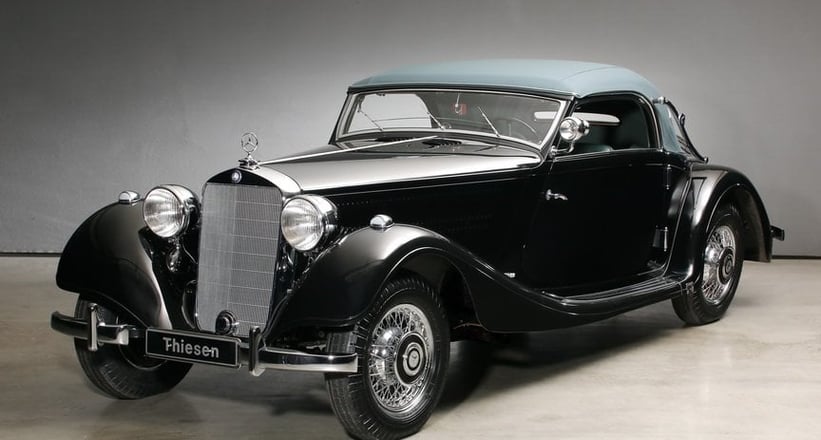 1938 Mercedes-Benz Typ 320
Cabriolet A
Location
Description
- Eines der wenigen originalen MB 320 Cabriolet A
- Vollständig restauriert
- Traumhafter Zustand
Beschreibung:
Der Mercedes Typ 320 wurde 1937 als Nachfolger des 290 vorgestellt. Der Typ 320 war als Reisewagen prädestiniert. Viel Platz, Bequemlichkeit und Komfort zählen zu seinen herausragenden Vorzügen. Alle Cabriolet A Versionen wurden im Werk Mannheim hergestellt. Die elegante Ausführung als Cabriolet 320 A wird oft auch als "kleiner Bruder" des 540 K Cabriolet bezeichnet.
Seit langer Zeit taucht wieder ein seltenes und originales Exemplar eines der formschönsten aller Vorkriegs-Mercedes-Wagen auf! Ein authentisches Mercedes 320 Cabriolet A mit der langen Motorhaube und den begehrten 5-Gang Getriebe (Autobahnferngang-Getriebe). Das Fahrzeug war über viele Jahre in der bekannten Blackhawk Collection in Kalifornien / USA beheimatet. Vor einigen Jahren gelangte der Mercedes zurück nach Deutschland und wurde von einem Spezialisten für hochwertige Vorkriegsfahrzeuge vollständig restauriert. Ein Kandidat für jeden wichtigen Concours d'Elegance!
1 von nur ca. 30 produzierten 320 Cabriolet A!
---
- One of very few original MB 320 Cabriolet A
- "Nur and Bolt" - Restoration
- Concours Condition
Description:
The Mercedes Type 320 was presented in 1937 as the suc-cessor to the 290. The Type 320 was predestined as a touring car. Plenty of space, comfort and convenience were its out-standing characteristics. All Convertible A versions were produced at the Mannheim plant. The elegant Convertible 320 A version is often referred to as the "little brother" of the 540 K Convertible.
For a long time a rare and original example of one of the most beautifully designed of all prewar Mercedes cars has surfaced again! An authentic Mercedes 320 Cabriolet A with the long bonnet and the coveted 5-speed transmission (Autobahnferngang-Getriebe). The car was for many years part of the famous Blackhawk Collection in California / USA. A few years ago the Mercedes returned to Germany and was costly restored by a specialist for high-quality prewar vehicles.
1 of only 30 320 Cabriolet A produced!