This listing is no longer available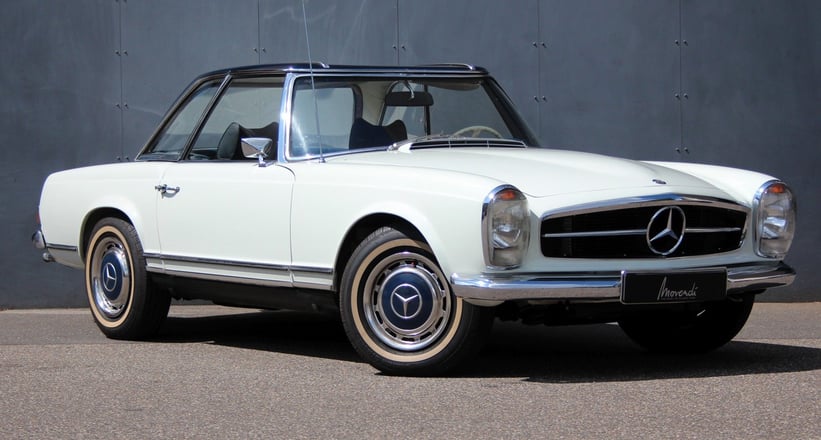 1970 Mercedes-Benz SL Pagode
280
Location

Performance

170 PS / 126 kW / 168 BHP
Description
- Seit 51 Jahren in Familienbesitz
- Deutsche Erstauslieferung in Solingen
- Restauriert zwischen 2011 und 2019
- Automatik-Getriebe, Notsitz hinten, Hardtop
Fahrzeughistorie:
Diese 280 SL Pagode wurde am 26. März 1970 in Solingen an Herrn Heinz Felder erstausgeliefert. Seit mehr als 51 Jahren befindet sich das Fahrzeug nun im Familienbesitz. Herr Felder hat den Wagen mit dem optionalen Automatik Getriebe und dem hinteren Notsitz bestellt. Bei der Innenausstattung und dem Cabriolet-Verdeck hat er sich für die Farbe Dunkelblau entschieden. Das Hardtop ist ebenfalls dunkelblau in dem Farbton 903. Im Dezember 1976 wurde bei Mercedes-Benz ein Austauschaggregat eingebaut, nachdem Herr Felder in den ersten 6 ½ Jahren bereits 105.000 Kilometer mit dem Fahrzeug zurückgelegt hatte. Im Jahre 2011 entschied Herr Felder sich dazu, die Pagode restaurieren zu lassen, nachdem sie die Jahre davor nicht viel bewegt wurde und die Altersspuren der ersten 40 Jahre etwas den Ganz getrübt hatten. Heute präsentiert sich diese 280 SL Pagode in einem schönen und authentischen Gesamtzustand.
- With current owner since new
- German first delivery to Solingen in 1970
- Restored between 2011 and 2019
- Automatic gearbox, rear jump seat, hard top
Vehicle history:
This 280 SL Pagoda was first delivered to Mr. Heinz Felder on March 26, 1970 in Solingen, Germany. The vehicle has been in his possession for more than 51 years. Mr. Felder ordered the car with the optional automatic transmission and the rear jump seat. For the interior and the convertible top, he chose the color dark blue. The hardtop is also dark blue in the color shade 903. In December 1976, a replacement unit was installed at Mercedes-Benz after Mr. Felder had already drove 105,000 kilometers with the vehicle in the first 6½ years. In 2011, Mr. Felder decided to have the pagoda restored after it had not been moved much for a while. This Mercedes-Benz 280 SL Pagoda is in a beautiful and authentic overall condition.