1959 Mercedes-Benz SL 190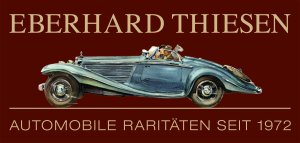 Eberhard Thiesen GmbH & Co. KG
Location
Description
• Wunderschönes klassisches Farbschema in silbermetallic (180 G) mit Leder in dunkelblau (L 1)
• Aufwendige Komplettrestaurierung bis zur letzten Schraube in einen "Neuwagenzustand" - technisch und optisch perfekt
• Motor nummernidentisch
• Nach der Restaurierung nur gut 4.000 km gefahren
• Mercedes Benz Datenkarte und Dokumentation zur Restaurierung vorhanden
• Ein toller und stilvoller Klassiker aus der Ära des deutschen "Wirtschaftswunders", der viel Glanz und Liebe zum Detail vom großen 300 SL mitbringt
Der hier vorgestellte Wagen wurde im Juli 1959 in New York ausgeliefert. Im Jahr 1994 wurde der 190 SL dann vom letzten Besitzer nach Deutschland importiert. In den letzten Jahren wurde der 190 SL vollständig auf Neuwagen-Niveau von einer deutschen Fachfirma "Frame-off" restauriert und seitdem nur gut 4.000 km gefahren. Bei der Restaurierung wurde ein Maximum an Originalität erhalten und so entsprechen Motor und Außenfarbe dem Auslieferungszustand. Eine umfangreiche Fotodokumentation zu der Restaurierung und die Datenkarte der Auslieferung liegen uns vor. Sie haben hier die seltene Gelegenheit, einen erstklassig restaurierten Wagen zu erwerben mit dem Sie sofort zu der nächsten Ausfahrt starten können. Selbstverständlich wird der Wagen mit deutschen Papieren, neuem TÜV und H-Abnahme ausgeliefert.
Gemeinsam mit seinem "großen Bruder" – dem legendären Mercedes-Benz 300 SL – wurde der 190 SL im Jahre 1954 auf der New Yorker "International Motor Sports Show" dem Publikum präsentiert. Von den über 25.000 produzierten Exemplaren ging ein großer Teil in die USA und begeisterte dort als eleganter "Sport-Tourenwagen" die Kunden – darunter Ikonen der Zeit wie Grace Kelly. Durch das sportliche Design, die bequeme Sitzposition und ausreichend Platz fasziniert der Mercedes-Benz 190 SL auch heute noch alle Oldtimer-Liebhaber, die ein stilvolles und bequemes Reisemobil für den nächsten Wochenendausflug suchen.
----------
• Beautiful classic colour scheme in silver metallic (180 G) with leather in dark blue (L 1).
• Elaborate complete restoration down to the last screw to a "new car condition" - technically and visually perfect
• Engine identical in number
• After the restoration only 4.000 km driven
• Mercedes Benz data card and restoration documentation available
• A great and stylish classic from the era of the German "economic miracle", with a lot of glamour and attention to detail from the great 300 SL
The car presented here was delivered in New York in July 1959. In 1994, the 190 SL was imported to Germany by its last owner. In recent years, the 190 SL has been completely restored ("frame-off") to new car standard by a German specialist company and has only been driven a about 4,000 km since then. During the restoration, a maximum of originality was preserved and thus the engine and exterior colour correspond to the delivery condition. An extensive photo documentation of the restoration and the delivery data card are available. We offer the rare opportunity to acquire a first-class restored car with which you can immediately start your next drive. Of course, the car will be delivered with German papers, new MOT and H-approval.
Together with its "big brother" – the legendary Mercedes-Benz 300 SL – the 190 SL was presented to the public at the New York "International Motor Sports Show" in 1954. Of the more than 25,000 examples produced, a large proportion went to the USA and delighted customers there as an elegant "sports touring car" - including icons of the time such as Grace Kelly. With its sporty design, comfortable seating position and ample space, the Mercedes-Benz 190 SL still fascinates all classic car enthusiasts today who are looking for a stylish and comfortable vehicle for their next weekend trip.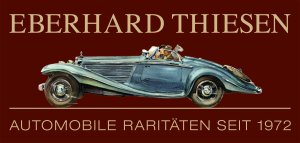 ---
Eberhard Thiesen GmbH & Co. KG
Contact Person
Kontaktperson
---