This listing is no longer available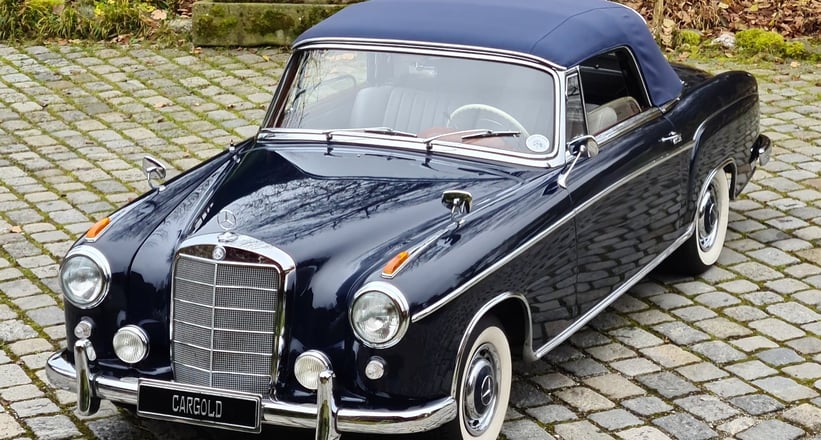 1959 Mercedes-Benz Ponton
220 SE Ponton Cabriolet Vollrestauriert
Location
Description
Vollrestauriert
Matching Numbers
Gutachten Note 1-
Nur 1.112 Exemplare
Unser Wagen wurde laut beiliegendem Serviceheft an die Daimler-Benz Niederlassung Düsseldorf ausgeliefert.
Kurze Zeit später fand er seinen Weg auf die andere Seite der Welt: Honolulu Hawaii.
Von 1961 bis 1964 finden sich zahlreiche Service Stempel aus Hawaii
Später gelangte das seltene Ponton Cabriolet nach Kalifornien, wo es 2012 vollständig restauriert wurde. Eine sehr umfangreiche (über 100 Seiten) Fotodokumentation liegt vor.
Seit 2015 befindet sich der Mercedes wieder in Deutschland. Hier wurde u.a. eine Servolenkung
nachgerüstet und jährliche Wartungsarbeiten durchgeführt. Eine Auflistung und entsprechende Rechnungen liegen bei.
Auch ein Wertgutachten mit Note 1- ist vorhanden.
Der Mercedes ist zugelassen und hat gültigen TÜV bis Aug. 2022
_____________________________________________________________________________________________________
Completely restored
Matching Numbers
Expert appraisal rating 1-
Only 1.112 examples
Our car was delivered to the Daimler-Benz branch in Düsseldorf according to the enclosed service booklet.
Shortly afterwards it found its way to the other side of the world: Honolulu Hawaii.
From 1961 to 1964 there are numerous service stamps from Hawaii.
Later, the rare Ponton Cabriolet made its way to California, where it was fully restored in 2012. A very extensive (over 100 pages) photo documentation is available.
Since 2015, the Mercedes has been back in Germany. Here, among other things, power steering was retrofitted and annual maintenance work was carried out. A list and corresponding invoices are enclosed.
A value appraisal with grade 1- is also available.
The Mercedes is registered and has valid MOT until Aug. 2022
_____________________________________________________________________________________________________
KM Stand laut Tachoanzeige, tatsächliche Laufleistung kann abweichen. Die hier gemachten Angaben sind unverbindliche Beschreibungen. Sie stellen keine zugesicherten Eigenschaften dar. Der Verkäufer haftet nicht für Irrtümer, Eingabefehler und Datenübermittlungsfehler.
Miles read from Odometer, Real One may vary, The given details are descriptions without obligations. They do not represent warranted qualities. The vendor isn`t liable for errors, input data errors, and data transfer errors.