This listing is no longer available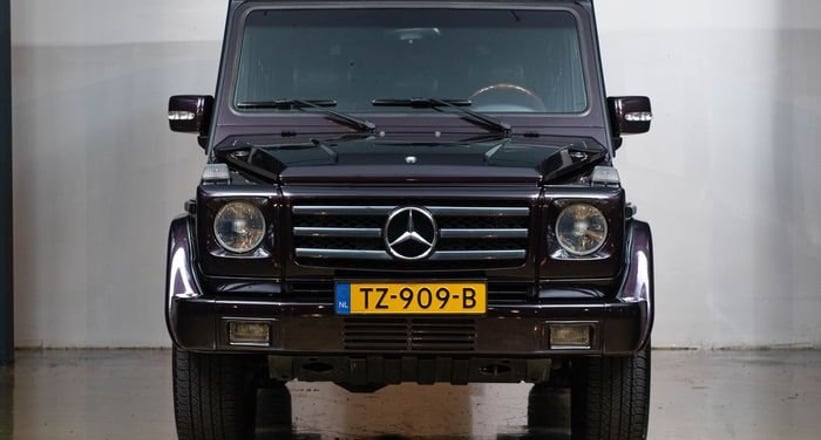 1999 Mercedes-Benz G-Class
Location
Description
The Mercedes-Benz G-Class was marketed in 1979 as a military off-road vehicle. The robust character of the car and its off-road capabilities make the Geländewagen (freely translated to off-road vehicle) the choice for the Dutch army (since 1992) and German military and numerous security units worldwide.
On the occasion of the 20th anniversary of the G-Class, Mercedes developed this special anniversary version called Classic. This version was produced as a limited edition of up to 400 units, it can be recognized by the special colour "Almandinschwarsch" metallic and the special rims. The car is equipped with, amongst other things, a sliding / tilting roof, air conditioning, parking heater with remote control and a full leather interior with red accents.
A copy of this edition was not easy to acquire. This means that the first owner of this car held an important position in the government of President Boris Yeltsin, where Vladimir Putin was prime minister. A limited batch of Mercedes G-class dedicated to the 20th anniversary of the production of this famous SUV was delivered in Moscow. Since there were very few copies available, and the demand was high, it was decided to distribute these cars to influential people and organizations.
An enclosed copy of the registration certificates contains the residential address of the first owner: Kutuzovsky Prospekt 26 in Moscow. This is a very famous house in the centre of Moscow where world famous people lived, like Leonid Brezhnev (leader of the USSR Communist Party), Yuri Andropov (director of the KGB, and after the death of Brezhnev, the next leader of the Communist Party and the president of the USSR). The car was purchased and delivered directly to the garage of a country house. It was very rarely used, mainly for hunting trips in various forests.
Because the names and addresses of VIPs are information that is not available to the public, even after they left government positions, the first information about this car appeared in open sources in 2016 after the owner's name was renewed. All information from before that time can be found in the service booklet. This also applies to the registered mileage readings during the periodic vehicle inspections.
The car can be viewed and also picked up in Katwijk, the Netherlands.This Classic Car is for sale on Catawiki. To have more information or to place a bid click on the "BID NOW" button.