This listing is no longer available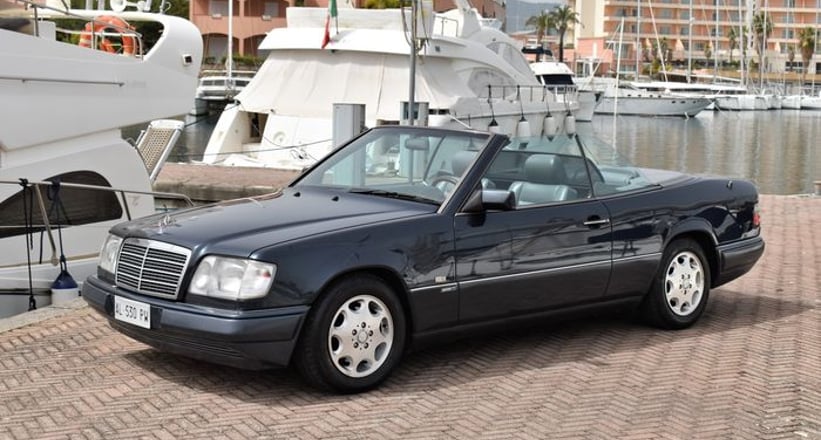 1996 Mercedes-Benz E-Class
Location
Description
One of the distinctive qualities, which still characterises the "W 124" series, is the great reliability of the engines and mechanics.
The proposed car has covered just over 121,000 km from new, and has always been scrupulously maintained.
The body is healthy and rust-free, since the car was used almost exclusively during summer months and always kept in the garage.
About 5 years ago, after more than twenty years of life, the car was completely repainted with the same rare original factory colour "Emerald Black (189U)".
This particular colour gives the car an iridescent effect. With the variation of light incidence, in fact, the reflection of the shades between black, green and blue changes.
The capote has also been replaced and the automatic opening and closing system has been overhauled.
The Sport Line set-up with which it is equipped (sports set-up, 8-hole diamond rims, leather gear knob, and identification plates on the front fenders) gives a touch of sportiness without altering the natural elegance of the car.
The leather steering wheel, original in the Sport Line package, has been replaced with the steering wheel in leather and root wood visible in the photos.
The leather interior is in excellent condition of preservation as well as the original ribbed floor carpets.
The car is A.S.I. certified and will be delivered with a renewed periodic TUV before shipping. 6,922 units with this 2-liter 136 hp engine were produced exclusively for the Italian, Spanish and Greek markets out of a total of almost 34,000 Cabriolets manufactured worldwide.
With such engine, the driving result is undoubtedly winning both in terms of low fuel consumption and in the management of operating costs. The 136 hp power, combined with the excellent elasticity of delivery of the engine, allows in-line performance to ensure pleasant journeys or simple drives during the weekend with hair caressed by the wind in total comfort and relaxation.
The factory original windbreak (option) will be supplied with the delivery.
Despite being a vehicle dating back to the end of the past millennium, the driving feeling is that of a modern car but without chips or poor electronics. Constantly increasing in its value, therefore a great investment.
It can be viewed in Messina, Italy.This Classic Car is for sale on Catawiki. To have more information or to place a bid click on the "BID NOW" button.