This listing is no longer available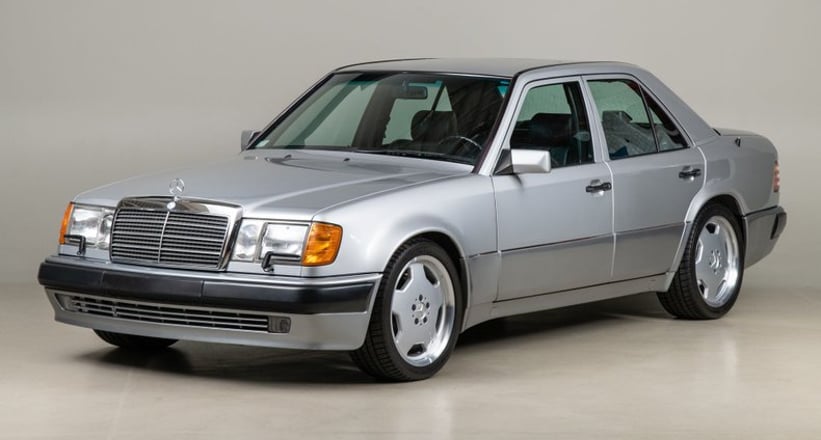 1993 Mercedes-Benz E-Class
Summary
Location
Description
1993 Mercedes-Benz 500E
View high resolution photos https://www.flickr.com/gp/[email protected]/M0AWH9
"A wolf in sheep's clothing"
Built in a collaboration between Porsche and Mercedes-Benz in limited production
Only 1,528 cars imported into the U.S. between 1990 and 1995
5.0-liter V8 engine, 4-speed automatic transmission, self-leveling suspension
Includes owner's manuals and documentation, original wheels and tires, jack, and spare
Extensive service history, large collection of service documents and maintenance booklet
One of the best under-the-radar cars in the automotive world is the Mercedes-Benz 500E. Built in collaboration with Porsche in the early 90s, it is one of the greatest Q-ship sedans ever created. Using parts from the SL sports car and accessing Porsche's handmade expertise, these special cars took a full 18 days to build from start to finish. With the immensely powerful 326 horsepower 5.0-liter V8 engine came impressive performance with an electronically limited top speed of 155mph, all while maintaining the Mercedes-Benz level of quality and comfort. A few clues gave away that this was not your ordinary W124 was its aggressive stance that has 1.5-inch wider track, 0.9-inch lower profile, flared fenders, side skirts, and a front air dam. Thankfully the final package, to the untrained eye, was subtle enough to not attract unwarranted attention from law enforcement.
This Mercedes-Benz 500E was first sold by Autobahn Motor Cars of Drexel Hill of Pennsylvania in June of 1993. Over the next 45,000 miles and 13 years the car was serviced no less than 11 times, ensuring fresh oil changes and services to keep the car working at peak condition. During the course of its history it spent time in Pennsylvania, Maine, and Maryland, finally settling down near Plano, Texas. The car remained with this owner for approximately 3 years beginning in 2012. During this time, he had Park Place Motor Cars replace the engine wiring harness which are known to deteriorate over time due to age. This service was done right before being sold to its most recent owner, Thomas Payne.
A collector of many types of cars, Tom had a special place in his heart for the Porsche-built 500E having owned 17 examples since they were first released in 1990. During his 4-year ownership Tom decided to keep the 500E in perfect working condition. Some of the major servicing and repairs that he had performed at Park Place Motorcars of Dallas, Texas included both rear air reservoirs for the air suspension, the hydropneumatic rear springs, transmission mount, the distributor and distributor cap, and injection nozzles. He drove the car sparingly, adding just over 1,500 miles during his 4 years of ownership.
Upon arrival at Canepa, the Porsche-build Mercedes was inspected thoroughly from front to back. The large collection of service documents gave peace of mind that it was properly maintained, the black interior presented in excellent condition, and the silver paint finish looked exactly like it had been stored inside for most of its life. The super sedan was immediately placed into the "Canepa Difference" process, first going through an extensive mechanical inspection and servicing as needed. Once completed, it was sent to Canepa's detail department where it was given a full concours-level detailing. This including washing the underside, exterior, and engine bay, then treating the silver metallic paintwork to a foam-pad polishing that enhanced the car's shine. The original black leather interior was delicately cleaned in order to preserve the car's surfaces.
Now with the Porsche-built Mercedes-Benz completely prepped and ready for its next owner, this super sedan will live on as one of the most memorable sedans of its era. Consisting of a joint venture that will never be forgotten, power and style that still to this day are plenty for under-the-radar driving, and the time-tested reliability of Mercedes-Benz, it's a true tour-de-force of 90s design. Not many super sedans are able to attack the backroads but comfortably drive hundreds of miles, but the Mercedes-Benz 500E can. So while your peers will be grunting about their backs and needing to stop often to "stretch their legs", you'll be driving all day with a smile on your face, surrounded in comfort, design, and power.