This listing is no longer available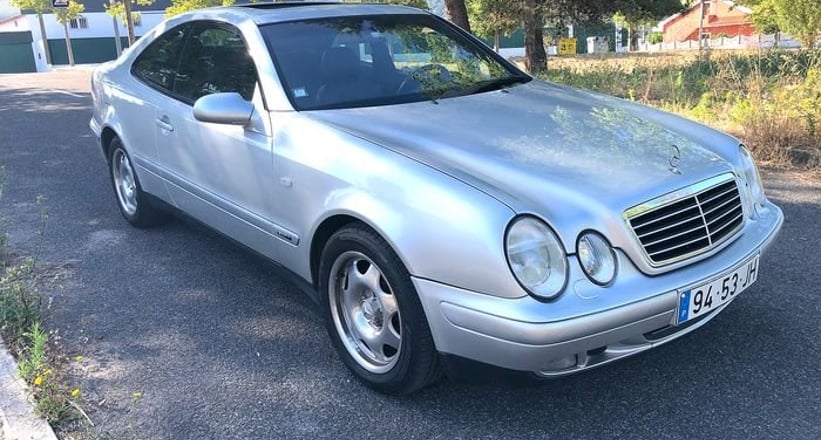 Location
Description
Mercedes-Benz CLK Kompressor Sport from 1997 in very good condition.
First series in excellent condition. Always kept in a garage. Completely original and everything works. 85,700 km with proof. Sold new in Portugal. It had three owners (the seller is the third one).
Overall the bodywork condition is excellent and without any rust. Mechanically also in excellent condition and with maintenance done 3 months and 1,000 km ago (pads, transmission fluids, brakes, engine and steering).
With service book and maintenance record. Also with the official proof of the 85,700 km by IMT (inspection record). Without leakage and the mechanical components are as new. New battery, purchased in January of 2021.
Inside, everything is working and in excellent preservation condition. Leather upholstery. The speakers have been updated. BOSE speakers of the time. Original CD radio. BT connection through adapter. It works very well. New tyres with +-1,500 km of use and with tread at +- 95%.
Original tools and first aid kit, including the ceiling opening/closing tool to open in case of malfunction. Original user guides and case.
The windows and ceiling open electrically, alarm with blocker, 4 airbags, CD radio, drive wheel control, 5-speed manual transmission, leather upholstery, headlight cleaners, xenon headlights, air conditioning, electric rear headrests, electric boot opening, key with control for opening and closing doors and boot opening, power door lock and electric mirrors.
Extras: Anti approach bar that provides a safer behaviour on the road. Mercedes CLK brochure of the time. Two keys and their code and two alarm keys. BT adapter for Smartphone connection. Spare tyre.
There are some flaws on the painting and on one of the rims, but you can barely see it (see the images). Defective outdoor temperature LED. Nothing else to point out.
It has an excellent driving and doesn't have constant noises inside or at a mechanical level.
The car can be seen in Estoril, Cascais, in Portugal.This Classic Car is for sale on Catawiki. To have more information or to place a bid click on the "BID NOW" button.