This listing is no longer available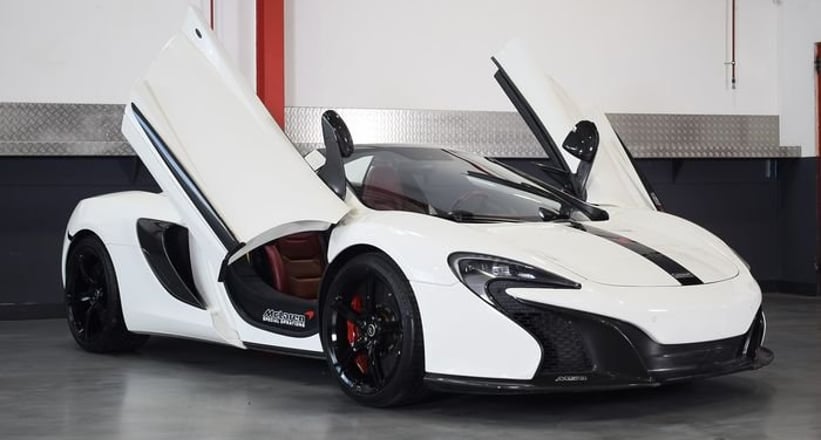 Summary
Location
Description
This classic car is for sale on Catawiki. To have more information or to place a bid click on the "BID NOW" button. .Don't miss this opportunity and become the new owner of this gorgeous Mclaren Spider! This is a NO RESERVE AUCTION.
The McLaren 650S was introduced in February 2014 as a new model, based on the existing MP4-12C. The 650S shares the carbon-fibre reinforced polymer chassis of the MP4-12C and is powered by the same 3.8-litre twin-turbo McLaren M838T V8 engine, but has a power of 650 HP. The power is transferred to the wheels via a seven-speed dual-clutch gearbox.
The 650S is an evolution of the previous 12C and uses the P1's findings to make the car more responsive and focused. It was originally designed to be offered in addition to the 12C, but the declining sales of the 12C prompted McLaren to market the 650S as a replacement. The 650 in the name of the car refers to the power of the engine.
The 650S Spider, which was first introduced in February 2014, is a convertible version of the 650S. It weighs 40 kg (88 lb) more than the coupé, but offers an almost identical performance. The Spider has the same structural stiffness as the coupé, especially since the carbon Monocell chassis is designed without a roof.
This Spider accelerates from 0 to 100 km/h within just 3 seconds and has a top speed of 328 km/h! This car is both optically, technically and engine-wise in a good (dealer) maintained condition. The car runs very neat, it is very powerful and a pleasure to drive. This English-made Spider was originally delivered new in the Emirates, but it currently has a German registration and a new technical periodic vehicle inspection (TUV) that is valid until May 2023.
The McLaren was always serviced and technically maintained. Naturally, the car still has the original (matching numbers) 3.8L (3799 cc) twin-turbocharged V8 650 HP engine and the original seven-speed automatic gearbox with double clutch. The car is further offered with the original manual. No maintenance booklet present.
Don't miss this opportunity and become the new owner of this unique McLaren Spider with top performance!
Information about the car:
McLaren - 650S Spider 3.8L Twin Turbo V8 - 2015 (Matching numbers)
Make: McLaren
Model: 650S Spider 3.8L Twin Turbo V8
Year of manufacture: 2015
Colour: White
Engine and power: 3.8L (3799 cc) twin-turbocharged V8 650 HP (Matching numbers)
Fuel: Petrol
Transmission: seven-speed dual-clutch automatic gearbox
Odometer reading: 73875 km
Number of keys: 1
Margin: Yes, German margin car
Registration: German registration and TUV periodic vehicle inspection until May 2021
VIN: SBM11FAB6FW004278
OPTIONS:
- ABS
- Adjustable steering wheel
- Air conditioning
- Reversing camera
- On-board computer
- Bucket seats
- Central locking
- Daytime running lights
- Dimming dashboard lights
-Driver's airbag
- Electric parking brake
- Windscreen wipers with interval
- Keyless entry
- Leather upholstery
- Leather seats
- Passenger airbag
- Power brakes
- Electrically adjustable seats
- Power steering
- Radio
- Folding roof
- Revolution counter
- Traction control
- ADDITIONAL REMARK:
- New German periodic vehicle inspection (TÜV) in May 2021
- Original manual included
- Digital dealer maintenance history available
This is an imported car with a German registration and a technical (TUV) periodic vehicle inspection that is valid for 2 years. Please check the requirements for a registration of this vehicle in your country (such as a COC, this will not be included). The seller can assist and advise, but it's ultimately the buyer's responsibility to register the car in their country.
The car can be viewed and picked up in Schiedam, the Netherlands. All technical inspections, test drives and viewings are possible prior to placing a bid. You may contact the auctioneer in case you have any questions.