This listing is no longer available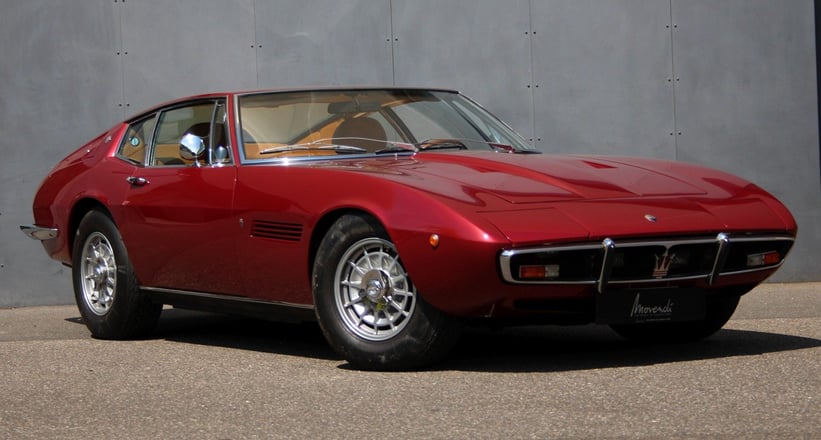 1973 Maserati Ghibli
4900 SS
Location

Performance

335 PS / 247 kW / 331 BHP
Description
- Coachwork bei Ghia - verantwortlich Giorgetto Giugiaro
- Fünfgang ZF Getriebe
- Deutsche Erstzulassung ausgeliefert über Auto König KG München
- Sehr original, nie restauriert, hervorragender Zustand
- Pappdeckelbrief vorhanden
Fahrzeughistorie:
Über die Auto König Personenwagen KG in München 1972 ausgeliefert, ist dieser Ghibli SS mit dem großen 4.9 Liter Motor für Deutschland eine absolute Rarität. Der Münchner Architekt Michael Otto Reitter war mit Sicherheit im Stadtbild der bayrischen Metropole mit diesem Wagen eine absolute Ausnahme, bedenkt man doch welche Automodelle und Formen die Zeit während der Olympiade 1972 in München prägten. Giugiaros Entwurf, damals für das Haus Ghia, revolutionierte die barocken 3.500er Maserati und läutete mit klaren Kanten und den großzügigen Proportionen eine neue Ära ein.
Dieser Ghibli SS ist nie restauriert worden. Das Auto wurde durchgehend als edler Klassiker gewartet. Lediglich die Lackierung ist neu und das empfindliche originale weiße Interieur wurde gegen das attraktive Leder in der Farbe Cognac ersetzt.
- Coachwork at Ghia - person in charge: Giorgetto Giugiaro
- Five-speed ZF transmission
- German first registration delivered via Auto König KG Munich
- Very original, never restored, excellent condition
- Old cardboard registration paper at hand
Vehicle history:
Delivered via Auto König Personenwagen KG to Munich in 1972, this Ghibli SS with the large 4.9-liter engine is an absolute rarity for Germany. The Munich architect Michael Otto Reitter was certainly an absolute exception in the cityscape of the Bavarian metropolis with this car, considering the car models and shapes that characterized the time during the 1972 Olympics in Munich. Giugiaro's design, then for the House of Ghia, revolutionized the baroque 3,500 Maserati and ushered in a new era with its clear edges and generous proportions.
This Ghibli SS has never been restored. The car has been maintained throughout as a noble classic. Only the paint is new and the delicate original white interior has been replaced with attractive cognac leather.