This listing is no longer available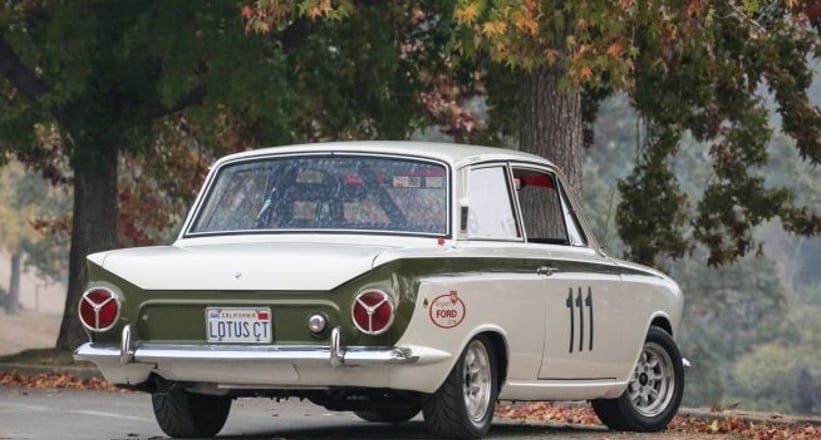 Summary
Location
Description
Extensively Documented Dual Purpose LHD Cortina Suitable for Spirited Road Use or Track Time.
1966 Lotus Cortina
s/n BA74FY59190
Ermine White and Sherwood Green with Black Interior
The Lotus Cortina was developed under an innovative partnership between Ford UK and Lotus Cars. The collaboration began in 1963 using the Ford Cortina Mark 1 sedan. By this time, Colin Chapman and Ford had already shared engine development for racing applications including work with Cosworth. Ford UK challenged Chapman to develop a sophisticated and potent twin-cam engine specifically for 1000 Ford Saloons to achieve Group 2 homologation. Suspension modifications were extensive including shorter front struts, forged track control arms, and wider steel wheels. The rear suspension was altered significantly with vertical coil springs and dampers along with trailing arms and stiffening braces. Additional mechanical features further enhanced the 1880 lb. Lotus Cortina making it a formidable player in rally and road racing events. Much like Shelby would do for the Mustang, the Lotus Cortina enticed a more youthful population to reconsider the formerly conservative Ford brand. Brisk sales resulted in 3,300 Mark 1 and over 4,000 Mark 2 models being produced.
Almost immediately, the Lotus Cortina earned a stellar reputation as enthusiasts who had previously considered a Mini Cooper or other sports cars moved to the more spacious and comfortable Lotus Cortina without sacrificing performance. The newly refined 1557 cc 105hp twin cam engine was both capable and durable, while the improved handling allowed for great cornering and spirited performance. All the cars were painted white with green flashes, front corner bumpers, and Lotus badges. Over the years, the Lotus Cortina has developed into a legend thanks to its intoxicating combination of sophisticated driveline and suspension, innocuous looks, and world-class performance.
This particular left-hand drive example is a later series Mark 1 that has been under long-term care and ownership by a well-known Lotus enthusiast and racer, whose ownership spanned the period from 1984 up until a few years ago when the car was sold to the current owner. The previous owner continually refined the car while retaining records of parts and service, and a hand written log from September 1985 – May 1987 covering mileage from 92,421 – 105,367. Further records include multiple receipts for parts and service during the 1980s and 90s, and into the 2000s. The car was the subject of extensive restoration and race prep engineering throughout his ownership, including approximately $28,000 in restoration and prep work in 2003 by Auto Scientific of Belmont, CA. In 2005, with 16,627 miles showing, Auto Scientific rebuilt the engine for $12,314.20. In more recent years, the car has received new brakes with Dunlop caliper kits and pistons, new rear brake shoes and refinished drums, axle bearings, new rear end housing, a new straight cut close ratio synchonized gearset and ring set, new transmission mounts, and a new clutch and master cylinder.
Although the car is well-suited for street use and has been used for this purpose in recent years, it was raced extensively in the past, through the 80s, 90s, and as late as 2011. The included logbooks show events in as far back as October 1987 through CSRG with races at Sears Point, Reno, Hilton 1996 Vintage Gran Prix,Thunderhill, Laguna Seca, VARA Buttonwillow, through to Laguna Seca 2008, Infineon Charity Challenge 2009, Infineon Alfa Romeo Centenario 2010, and Laguna Seca in April-May 2011.
Today, this purposefully built car has been prepared for both street use and vintage racing, exemplifying the dual-purpose use of a pump-gas street car while also delivering performance capability on the track. The overall visual condition reveals a nicely prepared car showing glossy paint over smooth body surfaces with racing livery touches. The divided paint lines separating the distinctive Cortina two tone colors are crisp and correctly done. Some door edge chips are evident, and minor paint and body blemishes appear as well upon closer examination in various areas, but overall the finish is smooth and in keeping with nice race car cosmetics. The chrome plated front bumpers are nicely finished, while the rear bumper has light hazing. The doors open and shut smoothly and show good panel fit with the passenger side door closing slightly proud at its trailing edge. The hood and trunk open and shut smoothly with good fit, showing a few minor paint chips at the cowl and inner fender area where the hood closes. The lighting and glass are in good condition, displaying correct fit to the body and nice detailing. The various aluminum trim and hood emblem, while complete and cosmetically tidy has typical signs of use and mild patina. The Minilite wheels are clean and have a nice finish, accented by chrome lug nuts. A set of steel wheels with hubcaps is available as well. The tires show good tread remaining and are suitable for street use.
The interior is nicely presented with correct upholstery and black carpeting showing general use, although it is still quite presentable. The door panels fit nicely and the dash is correct and in good shape. As a later series Mark 1, this car has the Cortina GT interior featuring the sporty 6 gauge dashboard. The instruments and vintage trim deliver a purposeful performance look to the simple and functional interior. The interior has a nice patina in general, having been properly restored in the past and remaining in good condition overall. The interior blends competition touches with the original and correct components from 1966. The trunk compartment has been updated with a fuel cell and internal filler. The original exterior fuel cap is still retained. The battery is located in the rear, shrouded in a protective cover.
Under the hood, the Lotus twin cam engine displays the iconic polished twin cam head, carefully sourced hardware, and mechanical refinement that further conveys the theme of this performance-oriented build. Attention to detail continues in the air cleaner assembly and cleanliness of the engine compartment, highlighted by a pair of Weber carburetors on the passenger side, while tuned exhaust nicely finishes the driver's side of the cross-flow head. The underside of the car is clean and properly finished, displaying a sound floor and sanitary presentation of the mechanical and structural components.
The car starts easily and idles with a nice burbling lope, revealing the performance cams. Nonetheless, the engine is tractable and well-mannered for street use. Once seated inside, the interior feels comfortable and quite roomy with all controls easily within reach, a comfortable seating position, and plenty of visibility. Clutch and shifter engage easily as a touch of the throttle sets you on your way. The car tracks nicely, exhibiting composure and confidence as you move through the gears. The gearbox operates well, with some vagueness to the shifter but good synchromesh, positive gear engagement, and evocative and purposeful gear wine from the straight cut gear. The clutch is light and easy to modulate. Brakes are effective from cold, while steering is quick and sharp, with a pleasing immediacy to the car's responses. The chassis is very competent, with a gratifying and confidence-inspiring chuckabaility. Overall, the driving experience is visceral: with a responsive and eager character that is at home on the street but has also been enhanced for superior performance on the track.
A large file with records from the long-term ownership, dyno test results and engine specifications from rebuild as well as receipts for parts and previous service are included with the car. The racing logbook, misc. photos, previous registrations, and parts supply literature are also included.
This classic Lotus Cortina is a wonderfully developed car with charming cosmetics and enthusiast preparation, ready for the new owner to enjoy on the street or to further pursue the vintage racing legacy that richly decorates the history of this car.