This listing is no longer available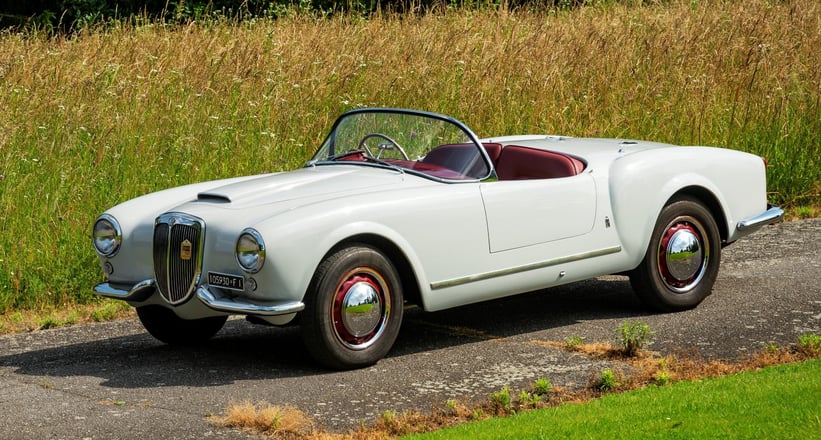 1955 Lancia Aurelia
B24 Spider America
Summary
Location
Description
• With Lancia Registro Storico Certificate
• An iconic Pinin Farina design that precedes its Ferrari California Spider
• Matching numbers, presented as delivered in delicate Grigio Lancia with Rosso
• Eligible for world-class events and eminently useable, a Lancia for driving and enjoying this summer
"There is no question about it. What still amazes me is how advanced they are even now in terms of road-holding, handling and performance, to say nothing of the extraordinary quality" – Lancia aficionado and collector Dr Michael Coucher speaking in 1989 of his own Aurelia B24 Spider America
The brilliant Aurelia was the model that saved the Lancia name in the Fifties. In time, the well-engineered car by Vittorio Jano and Gianni Lancia, with its advanced V6 and transaxle, would earn Lancia a whole new generation of lifelong friends among the world of motoring's cognoscenti.
These were people for whom ownership of an Aurelia became a kind of religion, particularly the B20 GT coupé and Convertible and, most of all, the B24 Spider America.
The Aurelia B24 Spider America
The Lancia Aurelia B20 coupé was a landmark model when it was introduced in 1951 and was arguably the world's first Gran Turismo. It was a remarkably original and technically advanced design with wonderful styling by Pinin Farina. It had the first series-built alloy V6, a single-cam engine mated to a four-speed transaxle in the rigid, unitary construction body.
The Aurelia Coupé went through two further iterations that saw the introduction of a 2,451cc version of the V6 before what many consider the finest 4th series car was introduced in 1954. Underneath the fastback lay a significant alteration to the rear suspension: a de Dion set-up with semi-elliptic leaf springs.
The first roadster version of the B20 started life in 1954 on a shortened (2450mm vs. 2660mm) wheelbase and was known simply as the 'B24 Spider'. 'America' was added later, as the US was clearly Lancia's target market for the car.
Like all the best-looking cars, Pinin Farina's Aurelia B24 Spider was a mixture of masculinity and femininity in exactly equal measure, curves that suggest both tense muscle and soft, yielding allure, plus a futuristic suggestion of a jet fighter's canopy in its deeply curved screen.
All were built on the chassis of the fourth series of the B20 GT and, shorter wheelbase aside, were mechanically identical. Due to its light weight and 118bhp V6 it was the fastest of all the Aurelias, capable of cruising at 90mph and handling well courtesy of the de Dion set-up. Thanks to its oversized brake drums, it also stopped with alacrity.
In total, just 240 were produced, only in 1955, 59 of which were right-hand drive. The following year it was replaced by the less sporting and softer B24 Convertible.
This Motor Car
According to the Lancia Registro Storico Certificate (no. 2515, 28/12/2010) that accompanies the car, chassis B24-1034 was first registered in 1955. Its colour was Grigio (the palest of shades, near-enough white) with a Rosso leather interior – the configuration in which it is presented today.
Research by marque experts has revealed the following chain of ownership:
• First owner: purchased with a bill of sale dated 13 June 1955 from the Sardinian official concessionaire Lancia Sassari and registered by the Automobile Club d'Italia Sassari 'SS 8321' on 15 June 1955 in the name of Costanza Ronchetti In Sorcinelli di Luigi. On 17 April 1956 the same owner re-registered the car in Cagliari, also in Sardinia, 'CA 19924'.
• Second owner: sold to Dott. Giovanni Manca Di Vittorio, a fellow resident of Cagliari, on 4 April 1956 for 500,000 lire. Registered 'CA 19924'.
• Third owner: sold to Tommaso Corsini of Florence on 30 January 1958 for 1,400,000 lire. A new registration was issued for change of province: 'FI 105930', the mark it bears today. Corsini was a Tuscan prince and member of the Assemblea Costituente della Repubblica Italiana, the Italian Constituent Assembly formed post-War and charged with writing the new republic's constitution.
• Fourth owner: sold to Valerio Cozzi of Scandicci, Florence, on 2 February 1965 for 400,000 lire.
• Fifth owner: sold to Florio Sarti, Florence, on 4 March 1969 for 2,000,000 lire. Sarti was a familiar sight in Florence. A car parts specialist known as 'Tarzan', he used the Lancia as a summer car in the hotspots of Versilia on the Ligurian coast.
• Sixth owner: sold to Anna Aliboni (Sarti's wife), Florence, on 20 September 1995 for 20,660,000 lire.
• Seventh owner: sold to dealer Classic Motor SrL of Milan on 6 November 2001 who kept the Florence registration.
• Eighth owner: our client, who bought the car on 15 February 2002.
Having bought the car in 2002, the current owner commissioned a total restoration that was completed in 2005 with great attention paid to originality, repainting it from red to its correct and subtle Grigio Lancia. The Lancia Registro Storico inspected the car in 2010 and issued certificate no. 2515 on 28 December 2010, noting the 2002-2005 restoration to be "radicale e rispetta la configurazione originaria" – one that was "radical and respected the original configuration".
Liveried in authentic Fifties Lancia colours, ready for immediate enjoyment and top-tier events including the Mille Miglia Storica, '1034' upholds the marque's history of fast, well-engineered and responsive sports cars. Perhaps no automotive design better sums up La Dolce Vita...