This listing is no longer available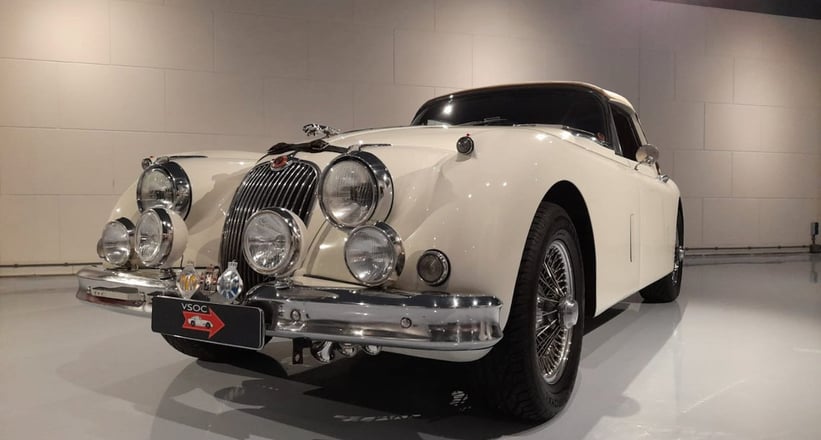 1958 Jaguar XK 150
4.2 DHC - Impressive rally prepared Jaguar
Location

Performance

254 PS / 187 kW / 251 BHP
Description
Model history
When the Jaguar XK120 was launched in 1948, it was unique. The new Jaguar sports car brought racing car performance to the road, yet it did so with a level of comfort and sophistication unknown in such a vehicle. The car was intended for limited production only to try out Jaguar's new twin overhead camshaft engine, designated during design and development by the initials 'XK'. The pioneering XK120 was succeeded by the XK140 in 1954. Essentially the same concept, the XK140s were themselves superseded in 1957 by the XK150s.
The method of construction of the XK150 was very similar of the 140, but most panels were rather different in shape. The most obvious change was the considerable straightening of the wing line. The appearance was modernized significantly by the adoption of a one-piece windscreen and the wider bonnet made it far easier to work on the engine.
While the XK150 was a little old-fashioned in the late fifties with its separate chassis and live rear axle, performance was gradually boosted. The car benefitted from the real advantage and prestige of having new disc brakes.
The Jaguar XK150 was produced in 3 body configurations: as a Open Two-Seater (OTS), a Fixed Head-Coupé (FHC) and as a Drophead Coupé (DHC). Initially two versions of the XK engine were available, 3.4 and 3.8 litre six cylinders, and later several more. The standard car used the 140 engine, but Special Equipment models were fitted with an engine incorporating the newly development B-type cylinder head. Also an 'S' version was added to the range. The 'S' versions of the 3.4 and 3.8-litre engines used three 2in SU carburetors. Power was from 190 bhp in the 3.4 litre to 265 bhp in the 3.8 S engines.
The appeal of XK's today is probably based on such intangibles as nostalgia and style, but they can be very practical cars. The performance, even by today's standards, is highly respectable.
This example
This particular example is an impressive rally prepared XK150 Drophead Coupe from 1958. In 1998 this car was exported to the Netherlands and only had 3 owners since. These dedicated owners attended a lot of rallies with this Jaguar and this car is well known at the famous Tulpen Rallye. The last enthusiastic owner acquired the car in 2018 and upgraded and maintained her mostly himself.
This XK150 benefits from many rally preparations such as power-steering, a roll cage, sports seats, larger brakes, rally lights and a full rally equipment. A powerful XJ6 4.2 Litre Jaguar engine with triple Weber carburetors is fitted. The back of the bonnet is lifted for extra cooling.
With the car comes a nice documentation file with many invoices and the correct seats which can be easily re-installed if requested. Beautifully finished in Old English White with a brown leather interior. A real pleasure to drive, this is a nice and fast Jaguar with great rally potential. An ideal candidate to rally all over the world. Dutch registered.
Price is an attractive Euro 95.000,-.
We look forward to your visit. Please make an appointment for a private viewing.
Very Superior Old Cars is a classic sportscar consultancy company founded in 1992. We work for our customers to assist with all aspects of their car interests. From acquisition consultancy with restoration advice and management to private sales in our boutique art gallery.
VSOC is centrally located between Amsterdam and The Hague, only 17 km (11 miles) from Schiphol Airport. There is a broad selection of classic sports cars on display, in very good or excellent condition, varying from beautiful yet affordable sports cars to rare and valuable collectors' items. When you intend to visit us in The Netherlands, we would advise you to make an appointment so that we can give you some quality time. If you arrive by plane or train, we would be happy to pick you up at the airport or train station. Besides Dutch we speak English, German, French and Italian.