This listing is no longer available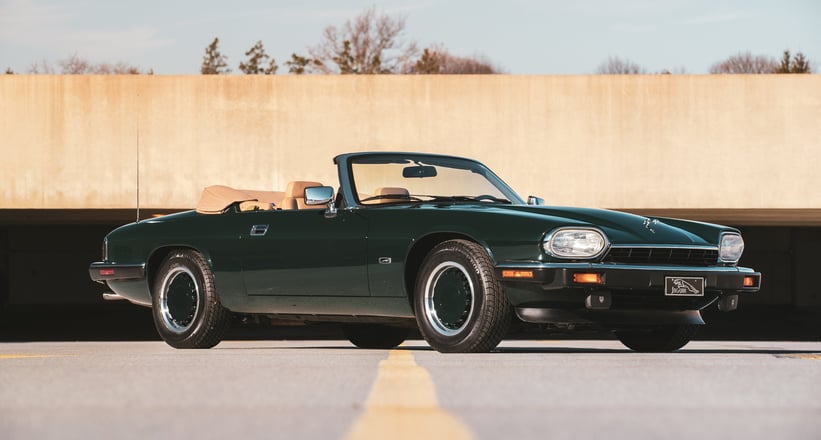 1993 Jaguar XJS
Convertible
Location
Description
- Chassis # SAJNW4783PC187848
- Engine # 9EPCLA173006
- Equipped With A Rare Factory 5-Speed Manual Transmission
- Finished In Iconic British Racing Green Over Barley Interior
- Showing Just 47,225 Miles From New
- Includes Original Factory Wheels And Spare, Original Window Sticker, Manuals, Jaguar Heritage Certificate, And More.
The period of the 1990s really saw a resurgence of great design and engineering from many car manufacturers and Jaguar was no exception. Their E-Type replacement, the XJS, had been in production since 1975 and through a series of design revisions had become a solid grand touring vehicle. It was not until its second update, in 1991, that the public was really given the true potential of the platform. For this new facelift, the design was smoothed out further, creating a more sleek and aerodynamic profile along with some other basic mechanical alterations. The biggest changes though were the introduction and inclusion of the new 4.0-liter AJ6 engine and the addition of a 5-speed manual transmission. These two items are what really transformed the XJS and when equipped provide the driver with an experience that can only be likened to that of E-type from the 1990s!
Despite the way it transformed the car, the 5-speed manual transmission was not a popular option and in the end, only approximately 62 convertibles were ordered with this option. The XJS was unloved for quite some time but over the last 10 years, these fantastic grand tourers have seen a resurgence in popularity for their sleek good looks and genuine Jaguar character, especially when fitted with the ultra-rare factory manual transmission.
We first learned of this 1993 Jaguar XJS Convertible, chassis number SAJNW4783PC187848, in 2009 and it took us the better part of 10 years to chase it down and get it bought. What really sold us on this particular car and made us pursue it for so long were the combination of the British Racing Green over Biscuit color combination and the ultra-rare 5-speed manual transmission.
Originally sold new to its first owner in Troy, Michigan, it appears that this XJS spent its early years being used regularly and maintained properly. By 2004 it had accrued a total of 43,745 miles. In 2008 it was sold to its second owner located in Pennsylvania, with 44,182 miles on the odometer, which is where we first became aware of this vehicle. We spent the next 10 years pursuing the purchase of this extremely rare example until we were finally given the opportunity to purchase it in 2019 with 46,319 miles on the odometer. We treated this car to a full comprehensive service at Leading Edge Auto Sport in West Chester, PA, after which it found a new home with its 3'rd owner, a good friend and local collector who is the current consignor of the vehicle.
As it sits today, this rare 5-speed XJS convertible has just 47,225 original miles and remains in excellent condition both mechanically and cosmetically thanks to a series of careful and loving owners. Before the current owner decided to list the vehicle for sale with us, we facilitated the fitment of a set of 15" Jaguar Sport Speedline wheels, finished in body color with a machined lip. These were most commonly seen on European spec XJRS but really compliment the sleek styling and give it an awesome extra touch. The original wheels are included with the sale of this vehicle.
This 1993 Jaguar XJS convertible represents the ultimate in what anyone could ask for in a collectible XJS. Finished in its iconic color scheme of British Racing Green over Biscuit interior and fitted with the rare factory 5-speed manual transmission, this XJS is undoubtedly "the one" and ensures that it will remain highly sought after for years to come.
Included with the sale of this vehicle are the original window sticker, original wheels, factory spare, original manuals in their pouch, 3 keys with 2 remotes, Jaguar Heritage Trust Certificate, and available service documentation.