This listing is no longer available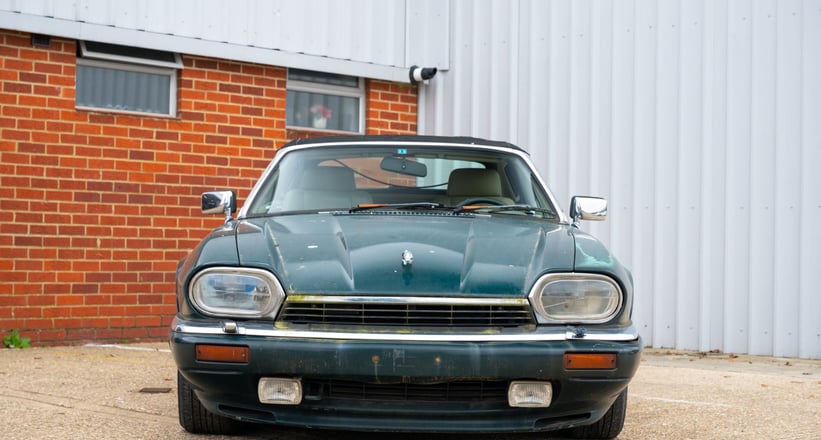 Summary
Location

Performance

202 kW / 275 PS / 271 BHP
Description
Dieses 1993 Jaguar XJS V12 6.0 Cabriolet ist ein Modell der dritten und letzten Serie des XJS Cabriolets. Es ist die letzte Entwicklungsstufe des Modells, bei dem der V12 Motor von 5.3 auf 6.0 Liter vergrößert wurde. Es ist einer der seltenen Linkslenker, die nicht in die USA ausgeliefert wurden. Dieser Wagen wurde als Sonderanfertigung mit Linkslenkung nach Japan geliefert und hat bei 2 Vorbesitzern dort nur 98.000 km gelaufen. Es ist einer von nur 24 Linkslenkern aus dem Baujahr 1993, die nicht in die USA gingen.
Die Lackierung ist in dem seltenen Unifarbton "British Racing Green". Das Interieur ist in beigem Doeskin-Leder, beigen Teppichen und Walnuss ausgeführt. Das Verdeck ist schwarz.
Der XJS wurde die Letzen zwei Jahre nicht bewegt, da der jetzige Halter eine Restaurierung plante. Der Wagen lief vor 2 Jahren, zeigt allerdings nun einen ECU Fehler an.
Das Cabriolet ist nicht beschädigt, benötigt jedoch eine Restaurierung.
Es ist aber eine strukturell sehr solide Basis und eine gute Gelegenheit ein sehr seltenes 6-Liter-Cabrio von Jaguar wieder aufzubauen. Der Preis eines Wagens im guten Zustand beträgt ein Vielfaches.
Der Wagen kann nach Absprache jederzeit bei uns in 33415 Verl besichtigt werden. Eine Hebebühne steht Ihnen dafür selbstverständlich zur Verfügung.
Wir haben den Wagen hier im Auftrag des Eigentümers, einem britischen Autohändler eingelagert, der auch der Verkäufer des Wagens ist. Der Wagen ist bereits verzollt, benötigt aber nach der Restaurierung neuen TÜV um Deutsche Papiere zu bekommen. Er wird mit englischen Papieren verkauft.
Bitte sprechen Sie uns an, wenn Sie an weiteren Informationen Interesse haben.
Wir erstellen unsere Beschreibungen und Inserate sehr gewissenhaft und sorgfältig. Trotzdem bitten wir um Verständnis, dass die hier gemachten Angaben unverbindliche Beschreibungen sind, die keine zugesicherten Eigenschaften darstellen. Wir haften nicht für Irrtümer, Eingabefehler und Datenübermittlungsfehler und behalten uns Änderungen und den Zwischenverkauf vor. Der Verkauf erfolgt in diesem Fall im Kundenauftrag ohne Ausweis der Umsatzsteuer, da der Wagen differenzbesteuert ist.
-
This 1993 Jaguar XJS V12 6.0 Convertible is a model of the third and final series of the XJS Convertible. It is the last evolutionary stage of the model where the V12 engine was increased from 5.3 to 6.0 liters. It is one of the rare left-hand drive cars that were not delivered to the USA. This car was shipped to Japan as a custom left hand drive and has run only 98,000 km with 2 previous owners there. It is one of only 24 left hand drive cars built in 1993 that did not go to the USA.
The paint is in the rare solid color "British Racing Green". The interior is finished in beige doeskin leather, beige carpets and walnut. The soft top is black.
The XJS has not been moved for the last two years, as the current owner was planning a restoration. The car ran 2 years ago, but now shows an ECU fault.
The convertible is not damaged but needs restoration.
However, it is a structurally very sound base and a good opportunity to rebuild a very rare Jaguar 6-liter convertible. The price of a car in good condition is many times more.
The car can be viewed at any time by appointment with us in 33415 Verl. A lifting platform is of course available for this purpose.
We have stored the car here on behalf of the owner, a British car dealer, who is also the seller of the car. The car is already customs cleared, but needs a new MOT after restoration to get German papers. It will be sold with English papers.
Please contact us if you are interested in more information.
We create our descriptions and advertisements very conscientiously and carefully. Nevertheless, we ask for your understanding that the information given here are non-binding descriptions, which do not represent guaranteed properties. We are not liable for errors, input errors and data transmission errors and reserve the right to make changes and prior sale. In this case, the sale is made on behalf of the customer without disclosure of VAT, as the car is subject to differential taxation.