This listing is no longer available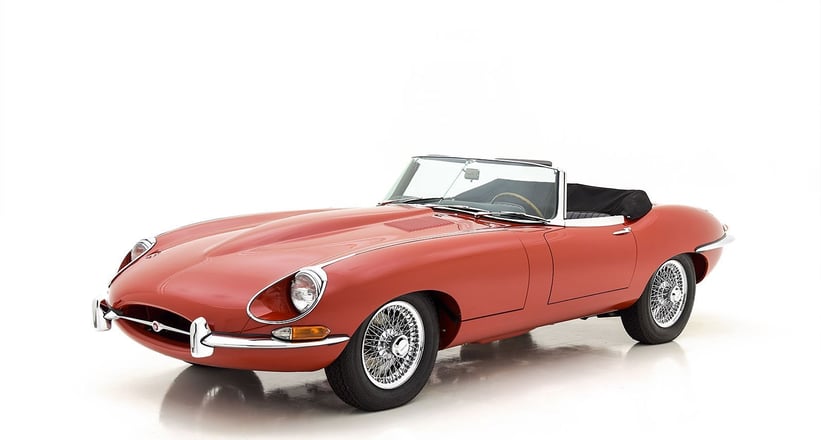 1968 Jaguar E-Type SI
E-Type
Summary
Location
Description
When the time came for Jaguar to replace the aging XK-150, which traced its roots back to 1948 with the XK-120, Jaguar boss Sir William Lyons relied again on his proven strategy of applying race-proven technology and exotic styling to a mass-market car to keep costs in check. Lyons and his chief aerodynamicist Malcolm Sayer worked together to design the new sports car, which employed a semi-monocoque tub utilizing ingenious bolt-on front sub-frames to support the engine and independent front suspension, inspired by the Le Mans-winning D-Type. The new E-Type featured the inventive modular independent rear suspension with inboard brakes, pioneered on the Mk10. The E-type also boasted such exotic tech as four-wheel disc brakes, torsion bar front suspension, and a 3.8-liter version of the XK twin-cam inline six pumping out a startling 265 horsepower; numbers one would expect from a car costing twice as much. Along with its impressive mechanical spec, the gorgeous body was quite unlike anything ever seen before. Beautiful and curvaceous yet with sporty aggression, the E-Type was a smashing success from day one, stunning audiences at the 1961 Geneva Auto Salon, and earning praise from the press, public, and fellow automakers alike.
An improved 4.2-liter version of the E-Type superseded the 3.8 for the 1965 model year. Torque and flexibility improved, and a new interior offered superior comfort. Soon, increasingly strict safety and emissions regulations in the USA forced Jaguar's hand to revise the E-Type again in late 1967. Halfway through the model year, the covered headlamps of the original design gave way to a new, safety-friendly open headlamp design that carried over to the Series II, although the small taillights of the first design remained. The shift to the full-fledged Series II was gradual as Jaguar ran through their stocks of parts and slowly adopted the new ones. Other differences included the use of rocker switches in place of toggles and the fitment of twin Stromberg carburetors in place of the triple SU units for improved emissions. These interim cars are colloquially known as "Series 1.5" (yet officially still the Series 1 4.2-liter), and interestingly, many of them differ from car to car as Jaguar gradually introduced new parts. By late in 1968, the Series II arrived, marking the end of the very short-lived Series 1.5.
This 1968 E-Type Series 1.5 Open Two Seat roadster is a US-market car, dispatched from the Jaguar works in Coventry on 28 December 1967. The subject of a comprehensive restoration completed in 2018, it is beautifully presented in its original colors of Carmen red over a black leather interior and black top. The accompanying Heritage certificate shows it arrived via Jaguar Cars, New York early in 1968 though little else is known of its initial history. From the early 1980s, it lived in the Province of Ontario, Canada, with records showing just two family owners between 1984 and 2003. In approximately 2008, the car was disassembled for a meticulous restoration, documented in a series of photos. In 2014, the restored and painted shell arrived at Autofarm Ltd, a British car specialist shop in Monkton, Ontario, for assembly, a new interior, and final fettling.
Looking fresh and highly attractive, this E-Type presents today in beautiful condition. The body is exceptionally straight, and the notoriously tricky doors and bonnet fit properly with even, consistent gaps. Paintwork in the original Carmen red is excellent, with deep gloss and good quality detailing. Brightwork consists of a mix of new bumpers and door trims, with original door handles and other minor fittings. It rides on a set of sparkling wire wheels supplied by MWS International and fitted with black wall Vredestein Sprint Classic radial tires.
Like the body, the black interior is restored to a high standard and appears quite fresh. Black leather on the seats is taut, with virtually no creasing or signs of use. Proper, factory-correct materials are used throughout the cabin and in the boot, including the vinyl sills, Hardura top well, wool carpet, door panels, and dash covering. With a late 1967 production date, this car has rocker switches in place of the earlier-style toggles, yet it still has all of the charm and appeal that makes an E-Type feel so special from behind the wheel.
Beneath the clamshell bonnet sits the original, numbers-matching 4.2-liter XK engine, backed by a four-speed manual gearbox. The presentation is outstanding, with beautifully detailed chassis components and hardware. A trio of SU carburetors replaced the troublesome emissions-era Zenith-Stromberg units for improved reliability, performance, and road manners. For the purist, the original carburetors and manifold are included in the sale. Beyond the carburetor change, the engine is authentically detailed, with correct ribbed cam covers, period-appropriate wiring and plumbing, and gorgeous new porcelain-coated exhaust manifolds. Looking underneath, the paint on the floors is nearly as lovely as it is on top. Gloss black suspension components feature all new hardware, and a polished Bell stainless steel exhaust system delivers beautiful looks and a suitably throaty soundtrack.
Fresh from restoration and ready for enjoyment, this marvelous E-Type OTS is ideally suited for touring, club events, and casual show. The extensive restoration is thoroughly documented through hundreds of digital photos, notes, and numerous receipts. In addition, a Jaguar Daimler Heritage Trust certificate, owner's manual and original carburetors accompany the sale. This E-Type is one of the best examples of the Series 1.5 we have offered, freshly restored and ready for enjoyment.