This listing is no longer available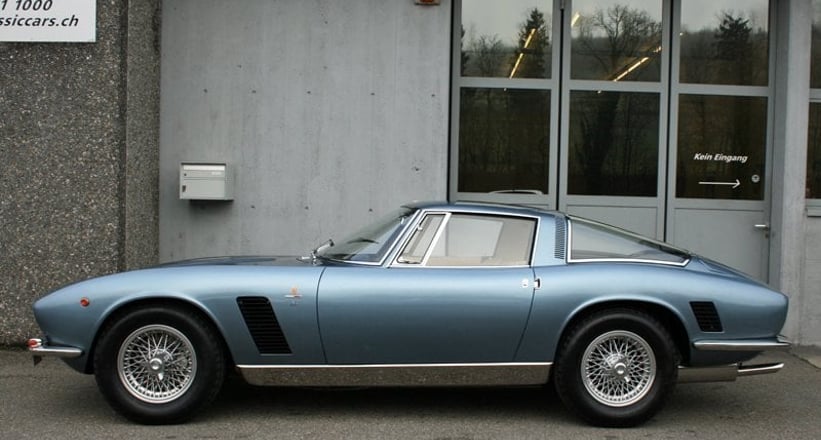 Location

Performance

300 PS / 221 kW / 296 BHP
Description
Iso Grifo GL 300 Series I
1966, Iso Grifo GL 300 Series I, total restoration at the highest level
This classic car is located in Germany so far and is also registered there.
Originally, this Iso Grifo was delivered to the USA as a new car and had as one of the previous owners the author of the book "Iso Rivolta, the men, the machines". In professional circles, Winston Goodfellow is known as an excellent historian and connoisseur of the Iso brand.
From the first series of the Iso Grifo GL 300, only 77 units were built and this example is in a uniquely perfect concours condition. In 2007 this vehicle was transferred to Germany and in the years between 2008 and 2013 it was extensively totally restored.
In 2014 we sold this vehicle to the current owner and we are offering now this car again.
This Iso Grifo is by far one of the most beautiful and tasteful classic cars we have had on offer in recent years. We would be happy to advise you on further details of this stunning Coupé.
Please, check our website www.lutziger-classiccars.ch for more detailed pictures.
GERMAN LANGUAGE:
Iso Grifo GL 300 Serie I
Jahrgang 1966, Iso Grifo GL 300 Serie I, Totalrestauration auf höchstem Niveau
Das von uns angebotene Fahrzeug, mit Standort Deutschland, ist auch dort verzollt und zugelassen.
Ursprünglich wurde dieser Iso Grifo als Neufahrzeug in die USA ausgeliefert und hatte als einen der Vorbesitzer den Autor des Buches "Iso Rivolta, the men, the machines". Winston Goodfellow ist in Fachkreisen als anerkannter Historiker und Kenner der Marke Iso bekannt.
Vom Iso Grifo GL 300 der ersten Serie wurden lediglich 77 Fahrzeuge gebaut und dieses Exemplar befindet sich einem einmalig perfekten Concours-Zustand. 2007 wurde dieses Fahrzeug nach Deutschland überführt und in den Jahren zwischen 2008 und 2013 aufwendig totalrestauriert.
2014 haben wir dieses Fahrzeug dem aktuellen Besitzer verkauft und bieten dieses Fahrzeug nun wieder an.
Dieses Fahrzeug gehört mit Abstand zu den schönsten und geschmackvollsten Classic-Fahrzeugen, die wir in den vergangenen Jahren im Angebot hatten.
Gerne beraten wir Sie über weitere Details dieses atemberaubenden Coupés.
Irrtümer, Fehler und Zwischenverkauf vorbehalten.
Weitere, detaillierte Bilder von diesem Iso Grifo GL 300 Serie I, finden Sie auf unserer Homepage www.lutziger-classiccars.ch