This listing is no longer available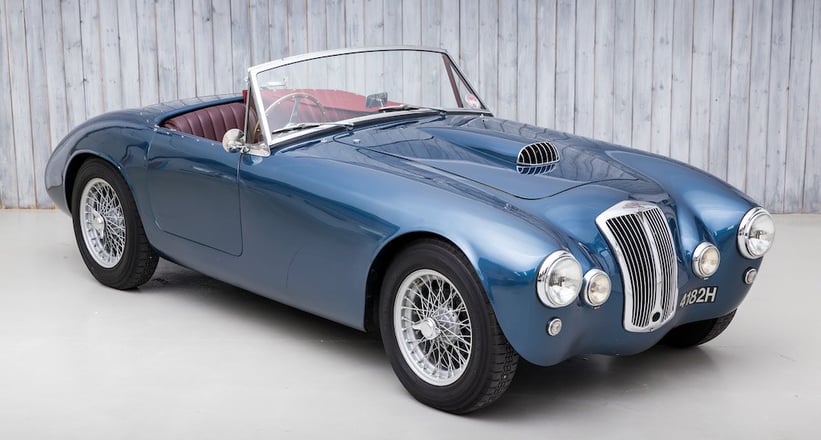 1953 Frazer Nash Targa Florio
Ex - Noel Carr
Location
Description
William I'Anson Ltd are pleased to offer for sale the timelessly attractive ex - Noel Carr 1953 Frazer Nash Targa Florio.
Frazer Nash has the distinction of being the only British manufactured car ever to win the famous Sicilian Targa Florio. The name Frazer Nash is synonymous with and epitomises, Britain's passion for motorsport and motoring both before and after the war. A passion and following that very much lives on and has not diminished to this day.
This stunning example we have the privalidge to offer for sale is 1 of only 14 Targa Florio ever produced and the last of the 10 desirable early bodied examples. Sold new to Noel Carr of Carr's Biscuits in June 1953 and with the rare feature of the spare wheel mounted in the front wing, giving you enhanced boot space.
Still on its original UK registration and with a well known ownership history to date. Beautifully presented in Uniform Blue with burgundy leather interior and 16 inch wire wheels, 188 has been cherished, raced, rallied and toured in its current family ownership since 2006.
An extremely eligible, prestigious, rare and importantly welcome entry to such a wide array of prestigious events world wide, both on the road and on the track.
An ideal entry for the Woodcote Trophy, Goodwood Revival, VSCC, Modena Cento Ore, Tour Auto, infamous Nash Raids and so much more.
Anyone who has been lucky enough to driven one of these stunning Targa Florio, with its lively 2-litre Bristol engine can attest as to what a fun and highly usable 50s sports car they are. As the wide array of events open up before us, this is a perfect opportunity to experience one for yourself.
For further information on the 1953 Frazer Nash Targa Florio available at William I'Anson Ltd, please enquire.