This listing is no longer available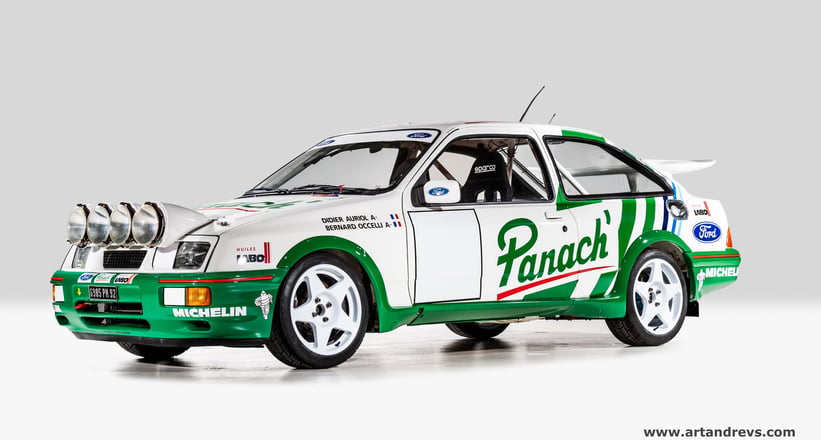 1987 Ford Sierra
Cosworth GR.A - Ex Didier Auriol 1987/88 FRC Champion
Location
Description
- Built by RED for Didier Auriol, 1987/88 FRC Champion
- Sparely used since Ford France days
- Fully documented and ready to run
This impressive car was first registered at the name of « Ford France » on the 7th of January 1987 with number plate 6985 PM 92. This is one of the two cars ( the second being 7857 PM 92 ) used by Didier Auriol to win the French Rally Championships in 1987 & 1988. 
This program was run by Ford France and back then this championship was highly disputed and saw a fabulous competition against the very well funded BMW France program hiring Prodrive to enter two M3s for Chatriot and Béguin. Auriol's car was prepared by RED ( Racing Engineering Development ) a peripheral structure of Ford Motorsport that notably prepared Jimmy McRae's cars in the British championship. Managed by Peter Cattanach who developed a close relationship with Stuart Turner, RED had previously prepared Auriol's Metro Gr.B that won the FRC in 1986. 
In a Motorsport article from 1989 about RED it is stated that « After becoming France's new Champion in the Metro, and having money in his pocket in the shape of backing from '33 Export, Auriol was heavily courted by the Snobeck team, which was running semi-works Mercedes-Benz, but in the end he decided to stay if RED could run him in a competitive car. Stuart Turner, the head of Ford motorsport, convinced Ford France to become involved, and the happy result for all parties was further championships in both 1987 and 1988, and an invitation for the popular Frenchman to join the works Lancia team in 1989 ».
Nicely painted into the iconic « 33 Export » in 1987 and « Panach' » in 1988, Didier Auriol drove this very car at the following rallies :
- Rallye d'Antibes 1987 : 2nd
- Rallye Alpin 1988 - DNF
- Rallye du Rouergue 1988 - 1st
- Rallye des Cévennes - Accident ( new bodyshell )
- Rallye Var 1988 : 1st
The then young Didier Auriol was clearly the best hope on the French rally scene and with the Sierra gained his seat as a Lancia factory driver, ensuring that this Sierra was among the most important cars of his career. With this car he clinched at Rallye du Var his last France Champion title before joining Lancia. In a recent conversation with Art & Revs Didier Auriol remembered how good these days were and the quality of the work carried by RED and he described the car into these words : « The Sierra was literally doing whatever I wanted it to do, it was super easy. The way I was driving it, was to give an impulsion at the enter of the curves and control a reasonable drift. There was no interest to give it too much of angle, driven like this it was extremely efficient. »
In 1989 Ford France would pursue their effort in the FRC entering again both cars for Pierre César Baroni and our car was driven at :
- Rallye du Rouergue 1989 : 3rd
- Rallye des Garrigues 1989 : 4th
- Rallye Alsace Vosges 1989 : 1st
The car was sold in January 1990 to well know collector and dealer Jean Jacques Bailly in France. He sold it in March 1994 to M.Trimatis who sold it in January 1998 to M. Aguzzi who kept the car until 2009. From 1990 to 2009 the car was very sparingly used, mainly for demos and local rallies. 
It was purchased in August 2009 by Roman Bielan, a German Ford rally car collector and historic racing driver who restored it chassis up into the original 1988 FRC iconic colors and entered the car twice at the Eiffel Rally. He subsequently sold it in November 2012 to a well know French collector. During his ownership it was kept in impeccable condition and used for a high profile demo in Spain in 2018.
This works specs Sierra still retains the very latest components developed by Boreham such as the magnesium rear arms, the latest version of the front suspension, the re-centered gearbox, the suspended engine, the Terry Hoyle engine and for sure its original Ford Motorsport body shell.
  
This genuine Auriol FRC Championship Sierra with unquestionable provenance comes with an extensive documentation including all the registrations and the period « Passeport Technique FFSA » from Ford France. A set of Tecnomagnesio rims also accompany the car.
There could hardly be a more desirable and authentic Sierra Cosworth for sale, this is unmistakably one of the most significant Ford rally cars and it would be a great addition to a major WRC collection.
Please visit our website for more information : http://www.artandrevs.com/car.php?id=633