This listing is no longer available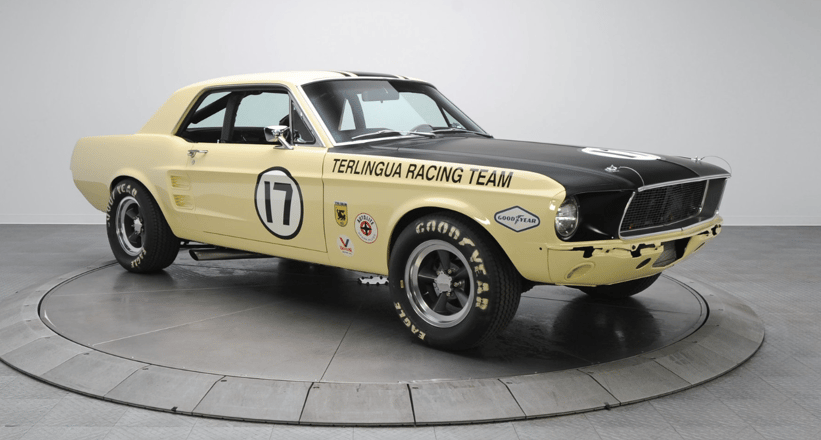 1967 Ford Mustang
Terlingua
Location

Performance

450 PS / 331 kW / 444 BHP
Description
1967 Ford Mustang Terlingua Race car
Toolroom Copy of the Jerry Titus car
Road Registered in The Netherlands
In the early sixties racing car legend, Carroll Shelby and an attorney from Dallas, Dave Witts, found themselves owning a small ghost town called Terlingua in Southwest Texas. The population stood at seven - not including nine goats and two Mexican burros. Nestled on the Mexican border between the Rio Grand River and Big Bend National Park, the pair hoped to parcel off the surrounding 200,000 acres to hunters and make a few bucks. But it was scorching, inhospitable land with nothing but rattlesnakes, a few mule deer and a whole lotta armadillos on it. So instead, several times a year Shelby, Witts and a few of their noted compadres ended up using it to have a good time. They'd load up in Shelby's DC-3 and fly down to the tiny town to have some fun hunting, riding dirt bikes and swapping tall tales.
Figuring they had something coming to them as legit owners of a bonafied town, they wasted no time forming a city council, handing out all the choice political positions to their drinking buddies: Witts elected himself mayor and Shelby named himself Social Director, alternating as the local dog catcher as well. Automotive artist, Bill Neale, became the director of the Museum of Modern Art and Tom Tierney was elected Chief Justice of the Municipal Court. Other members of the Shelby Rat Pack were doled out esteemed positions as Director of Sanitation, Director of parks and Recreation, Director of Urban Housing, Inspector of Hides and Commodore of the Terlingua Navy.
They began thinking of how they might do something to benefit the Terlingua community. While tossing ideas around about putting together a school, Tierney, a P.R. man for Ford Motor Company, asked if Neale could come up with a logo. On a napkin at a local Dallas watering hole, the rabbit with the sun and three feathers was born and the Terlingua City Council had an official coat of arms.
After the Terlingua Ranch logo was created, Shelby told Neale, "You know it would be kinda neat to use this as a racing team logo, too and the rest is history.
The car we offer is a true copy of their 1967 Team car driven by Jerry Titus and professionally built with incredible attention for detail.
It features a 450HP 302 Ci engine, a heavy-duty gearbox and a Detroit Locker.
A full picture album and video presentation is available.