This listing is no longer available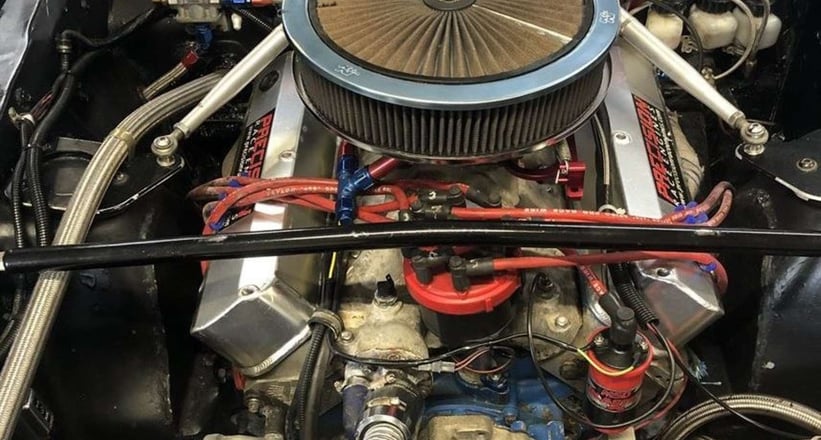 Summary
Location

Performance

466 PS / 343 kW / 460 BHP
Description
This 1965 Mustang Fastback has been raced in California and latterly the Far East, with a win at the 2011 GT International Classic Series in Malaysia
The car was brought to the UK in 2018 and although unregistered, it's on a NOVA with no taxes or duties owing
Bare metal re-sprayed in 2019 the car was given its Shelby GT350 "look" with a full mechanical overhaul and refresh
The engine is a 657bhp Dart Windsor with 9.5 deck stroked out to 427ci (7-ltr) and has AFR 225 heads, JE-Race Tec pistons and forged-steel 4" stroke crank
The gearbox is a race-prepared Jerico 4-speed dog box and the differential is a Ford 9" 3.9 gear LSD with Gold Track
The bonnet and front wings are fibreglass and the driver is protected by a full roll cage and double door bars
The history file includes Californian Title documents, race results, HMRC NOVA letter and evidence of some £100,000 spent in the last 14 years
Our vendor has used the car on track a few times but, with racing Porsches in the stable, the Mustang has been lightly used.
This striking full-race Mustang was built in 1965 as a standard production Mustang Fastback and used as a road car for the first half of its life. Within the history file are California Title documents showing that in 1994 it was registered to a Mr Swanson, however, subsequently it was purchased by car collector and gentleman racer, Gerry Kipling, and prepared by him for a life of circuit racing, largely in the Far East. The history file includes receipts that amount to some $500,000 Hong Kong dollars for race preparation and it duly won the 2011 GT International Classic Series in Malaysia with Mr Kipling at the wheel. The photographs attached show the car on track in a previous shade of blue.
According to the accompanying correspondence from HMRC, the Mustang was imported into the UK in 2018, and whilst it remains unregistered with the DVLA, the letter confirms that there are no taxes or duties owing. Our vendor, a keen amateur racer, bought the car in 2019 and informs us that he since spent £50,000 on mechanical and restorative works, and while most receipts remain in the file, some were lost during a house move. Finished in Shelby Racing Blue with white stripes, the car now looks, every inch, the iconic 'GT350'. There follows a spec-list which appears to indicate that no expense has been spared making sure that the Mustang remains competitive with top-quality, state of the art components used throughout, in fact, added up individually the sum would come to considerably in excess of today's guide price.
We believe that the Mustang will qualify for a number of UK and European Classic / Historic Championships, however, we would suggest that interested parties familiarise themselves with Championship Regulations to ensure the car with the below spec complies.
Engine
Producing 657 bhp and 577ft-lbs torque according to the dyno sheet
Dart block 351 Windsor with 9.5 deck bored/stroked to 427 (7 litre)
AFR 225 heads
JE-Race Tec pistons
Forged- steel 4-inch 'stroker' crank
Eagle H Rods
Dry Sump with oil reservoir in boot
Cam Motion cam with solid flat tappets and Jesel rollers
Super Victor intake
Race prepared Quick Fuel 850 double-pumper Holley carb
MSD ignition with adjustable shift light
Holley electric fuel pump
Alloy radiator and oil cooler
Alloy fuel cell
Transmission
Race prepared Jerico 4-speed 'dog-box'
Exhaust
REEF hand-made stainless steel exhaust giving 98db at 4000rpm
Differential
Ford 9" 3.9 gear LSD with Gold Track
Suspension
QA1 Fully-adjustable fronts
600lb springs
Solid-mounted castor rods
Bump-steer kit
Camber adjustment kit
Mid-eye 5-leaf springs
Front 1.1/8 sway bar
Delrin bushes
Adjustable Watts linkage
Brakes
Wilwood 6-pot front and 4pot rears
330 discs and bells
Body
Glass fibre bonnet
1" front and rear flares
Glass fibre front wings
Shelby Plexiglass "R" aero assisting rear window
Safety
Full welded-in cage with double door bars
'In date' driver's seat and belts
'In date' electric fire extinguisher (serviced 02/21)
Electric cutoff and extinguisher buttons
Wheels & Tyres
18 x 10 rears x 4
17 x 9 fronts x 4
Nankang ARs x 1 set